I thought I was done with the Monday Menus, but you guys have pulled me back in!
Due to popular demand from the fans on the RRG Facebook page, I've decided to keep going with the Monday Menus theme for the time being — shifting my focus from lunchboxes to easy weeknight dinners.  My goal is to provide you, each week, with one or two solid family dinner ideas that you can make within less than 30 minutes on a hectic evening, without a lengthy list of ingredients, and with lots of flavor and crowd-pleasing style.  And, of course, we'll try to make these suckers as wholesome as possible.  Man, this family dinner thing is COMPLICATED.
I'm kicking off our Monday Menus with a weeknight meal that was such a total, out-of-the-blue experiment that I never expected it to be the raging success it was.  This thing was so good that J. actually, quite literally, licked his plate.  I'm dying to make it again sometime soon, because there were NO leftovers, and I feel cheated of my fair share.  This, friends, is the Autumn Stir-Fry, which was pretty good in and of itself — but taken completely over the top by the Cheater Scallion "Pancakes," which I only threw together in desperation upon realizing that I had neither rice nor quinoa in the house.
When you're talking fast weeknight meal, stir-fry is almost always the right answer.  Add to that the fact that this particular stir-fry stretches less than a pound of meat to happily feed four people by bulking up with tons of good, colorful veggies, and it's an even BETTER answer.  Then throw that all on top of a scallion "pancake" that's made in mere minutes with refrigerator staples, and it's like takeout-avoidance heaven.
Welcome to Monday Menus: Weeknight Dinner Edition!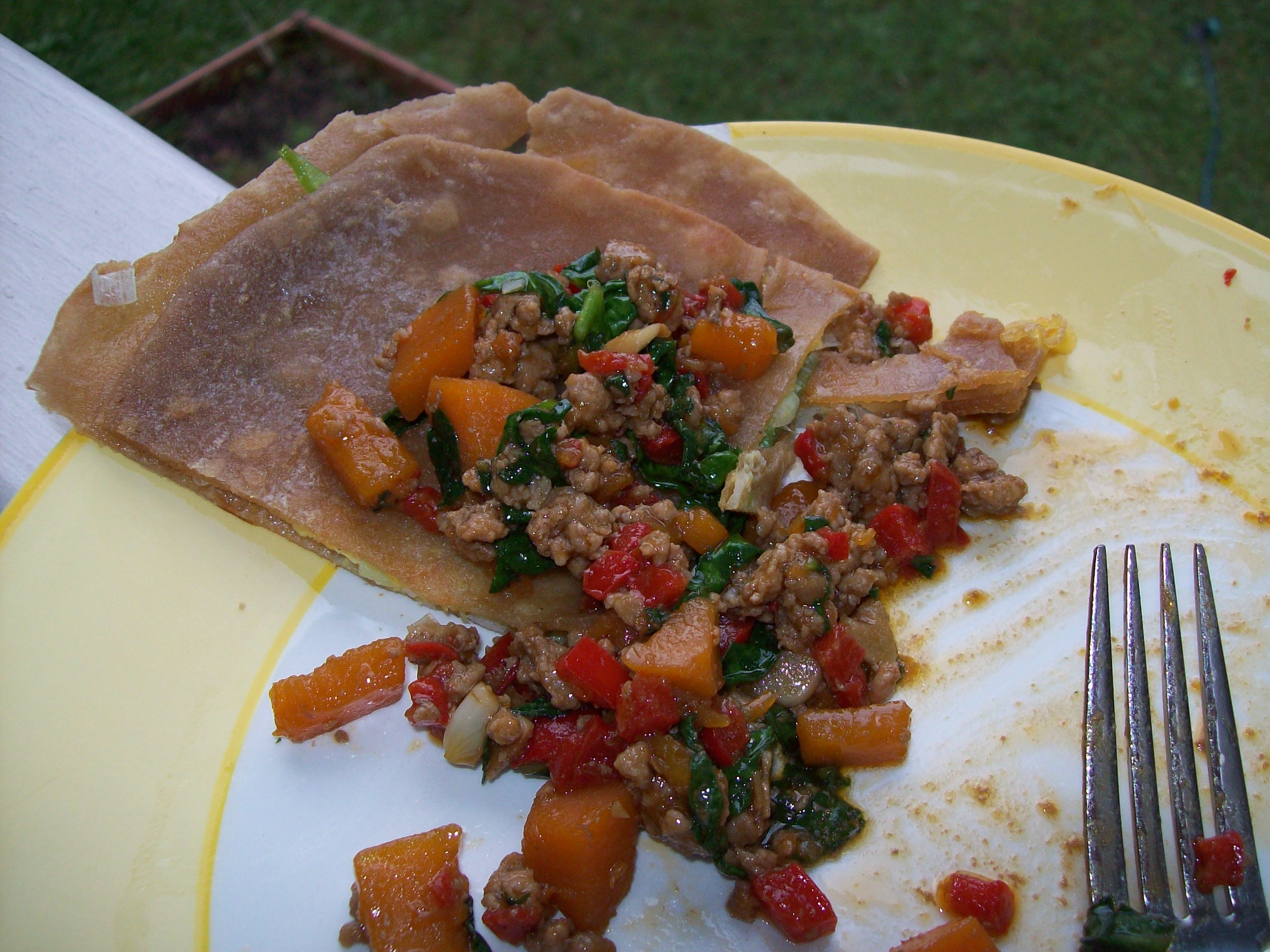 Recipe: Autumn Stir-Fry with Cheater Scallion "Pancakes"