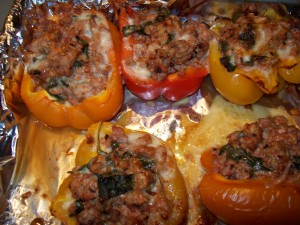 I feel like I should be writing something holidayish tonight — after all, the internet and pretty much every other food blogger out there are all aglitter with Hanukkah, Christmas, Kwanzaa, Solstice, Festivus…you name it, there's a recipe for it.  Or a DIY gift guide.  Or an inspiration board of crafty decor.  So it probably goes a bit against the grain NOT to post a recipe or guide about the upcoming holidays, but hey, I'm an against-the-grain kind of girl.
Besides, I truly believe that at this point in the season, it's probably just as pertinent to the holiday preparation fervor to offer up something that could make your day-to-day life a little easier as it is to show you yet another Christmas brunch idea.  If your calendars look anything like mine, there's something schedule-busting penciled in to just about every day of the week…and last week…and certainly, for heaven's sake, NEXT week.  Between school carol concerts, office parties, tree lightings, early dismissals, family get-togethers, and religious obligations, these few weeks in December stand to be, for most families, some of the busiest of the entire calendar year.  And of course, with so much focus on the festivities, making sure that life continues as usual is no mean feat.
So tonight, I give you a simple, humble Monday Menu.  It's perfect for this time of year because:
1) It's easy to make.
2) It's tasty and warm and filling.
3) It can be made from start to finish relatively quickly.
4) It can ALSO be made ahead of time and then cooked when you need it.
5) It's not super-expensive.
6) It can be made for a crowd, so when the relatives are visiting and you need a casual lunch or dinner for everyone, this may be the answer.
No kidding, these Simplest Stuffed Peppers are a new family favorite.  If you're really smart, you can make a double batch (or triple batch, or whatever) of the filling and stick it in the freezer.  I did that last time I made them, and not only could I have defrosted it for the stuffed peppers themselves, but the filling on its own made a great pita pizza topping for the boys' lunchboxes.  Versatile, healthy, and crowd-pleasing; I call that a solid win.