We've done it – our weeklong Pantry Challenge (aka the No-Shop Week) is over, and I have to say…it's been relatively anti-climactic.  Or, as J. put it last night as he watched me assembling dinner: "So far, you've come through this thing with an A+."
Now, I realize that it's really not major news nor a big accomplishment to have survived without doing any grocery shopping since November 23.  It wasn't intended to be; it was just supposed to be a way of stretching the budget without too much austerity or inconvenience, so we could feel more comfortable with Christmas shopping.  You know, in other words, it was a First-World-Problems kind of thing to do.  Nevertheless, I'm pleased and proud that it turned out to be so easy, and also a tad bit chagrined at the realization that we STILL managed to waste some food during this time, and that we're probably so accustomed to abundance (that's "we," our family, and "we," the relatively privileged citizens of America) that I never even registered just HOW MUCH edible food we've got hanging around at any one time.
To wit, here are the results of the second half of our no-shopping week.
Breakfasts continued to be simple, and after I baked Monday night's whole-wheat banana bread, that factored into the equation pretty heavily for all of us.  Banana bread, homemade applesauce, yogurt and honey (for as long as that lasted, which wasn't long), and raw oats were the bulk of the breakfasts around here.
Lunches required a bit of brainpower, but they stayed varied and within my standards for a "healthy" lunch.  J. and I continued to eat leftovers and things pulled from the freezer.  As for the boys:
Tuesday's lunches included banana bread sandwiches – peanut butter for L. and sunbutter for P., since one attends a nut-free school and one does not.  (This lunch, by the way, was a humongous hit with both kids.)
On Wednesday, we packed homemade pitas stuffed with bacon, cheese, and vegetables.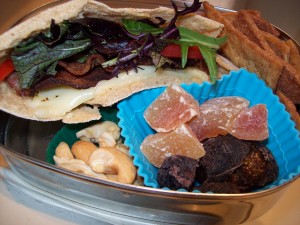 Today, it was the same pitas, but this time toasted and topped with some stuffed pepper filling I'd scared up from the freezer (turkey, kale, and marinara), along with melted cheese to make "pizzas."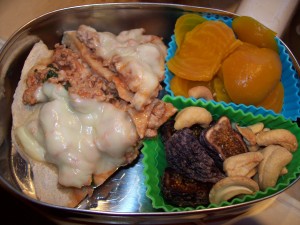 All week long, we've supplemented their main lunches with some raw vegetables that I've used up sparingly, as well as dried and frozen fruits and a few pantry "snack" items like pretzels and nuts.  We're just about out of any kind of fresh vegetable at this point, dangerously low on frozen fruits, and getting thin and spotty on dried fruits and snacks.
Dinners were both challenging and…not really challenging at all.  I knew what we had in the freezer, and I worked hard to stretch every bit of our stores to maximum benefit.  Tuesday night's meal was a big hit, actually – our family's ever-popular Do-It-Yourself Salad Platter, accompanied by homemade whole-wheat pitas.  We used up the last of the roasted turkey legs from the weekend, along with most of the fresh vegetables in the fridge, to come up with a plate of mixed fall greens, bell peppers, roasted golden beets, peas, carrots, dried cranberries, and pecans.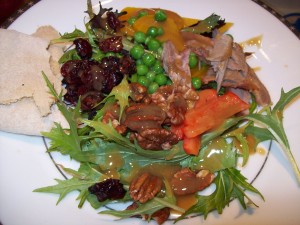 On Wednesday, with virtually no time to make dinner (this is L.'s horseback riding night, so we walk in the door just before our usual mealtime), I defrosted some of the sweet potato and leek soup I'd made before Thanksgiving, then stumbled upon a bag of shredded zucchini I froze in July or August and thawed that to make zucchini-ricotta fritters with the odd amount of ricotta cheese I needed to use up (and my last egg, as well).  I must admit the boys were less than thrilled with this dinner (though J. and I both enjoyed it thoroughly), but they did eat.
For tonight, I'd saved a small amount of boneless pork that was frozen for just such an occasion, as well as a little head of red cabbage I bought at our winter farmer's market just before the start of our challenge.  There were some potatoes that needed using and a couple of stray apples, as well as a tiny jar of bacon grease I rendered and saved early in the week as I watched our cooking oils dwindle.  We made a sweet and sour cabbage and apple sauté, pan-seared pork, and mashed potatoes.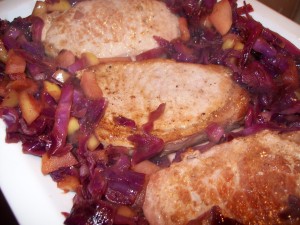 Now I can go shopping again…just in time for a harried weekend, when I truthfully really NEED to have some meals planned out and lots of supplies at my disposal so I don't waste precious minutes and brainpower creating.  But first, we will have to get through tomorrow's breakfasts (no problem!) and packing the kids' lunches (possible small problem!).
Before I leave this challenge behind, though, I have to point out that my longtime best friend commented on the first post with an interesting thought: "I would be interested to see how this would go in, say, February when your summer frozen stash is more dried up."  I had the same thought, I confess.  So…let's just say, CHALLENGE ACCEPTED, C.  I won't be taking on another pantry week in January, but look for the Deep, Dark, Winter installment of this challenge in February.  We won't have anything left of our summer stores by then, I can guarantee, and yes, I bet things will look somewhat different.  Stay tuned!