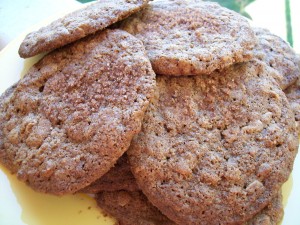 When I think about the holidays, I tend to go straight to a place where everything is filled with warm spices. Cinnamon, ginger, and cardamom are the smells and tastes of Christmas to me, and I use them both liberally and often.
I'm not a big fan of uber-fussy Christmas cookies.  Yes, they're pretty and often tasty, but if the holiday baking makes your life extra-complicated at an already hectic time of year, then I cry foul.  There's no written rule that the cookies have to be frilly and complex to be festive.  So every year, I try to think of some new and different simple drop-style cookies that can be whipped up in a hurry — minimizing both the stress, and the time between "start baking" and "get in my belly."  This year, my new favorite super-simple cookie brings together the basic drop cookie and my warm-spice obsession, to make one delicious, crispy, light, soothing bite: the Chai-Spiced Oatmeal Cookie.
It's like gingerbread, only a little more sophisticated, thanks to the cardamom.  It's like an oatmeal cookie, only more exotic.  And it's like a snickerdoodle, only thinner and crispier and more intense.  With a crunchy exterior and a buttery crumb that dissolves on your tongue, this is the perfect cookie to serve with a cup of tea, or as a spicy counterpoint to a creamy cup of eggnog.  I knew they were good when my dessert-avoiding mother oohed and aahed over the test batch.  You'll ooh and aah, too.
If you're just catching up, this post is part of the "Twelve Weeks of Christmas Treats" Blog Hop, hosted by Brenda Thompson of Meal Planning Magic.  In Week One, I posted the recipe for Double-Chocolate Gingerbread Whoopie Pies.