This week, I offered followers of my Facebook page the opportunity to choose three recipes from my subscribers-only More Joy, Less Stress holiday preparation program that would be shared here on the blog for everyone.  After a few rounds of voting, the results were in; and because the votes were so close, I decided to share four recipes rather than the three I'd promised.
The choices you made were a great bunch, encompassing lots of different uses: A slow cooker recipe that's homey but special enough for company; a make-ahead casserole recipe that has become one of our family's favorite dinners; an easy, decadent bread that's great for gifting; and a healthy, colorful dish that's perfect either as a side or as a light vegetarian meal.
Since it's the holiday season, I'll probably be taking a little time off after tonight to enjoy some unplugged moments with friends and family, but I'm happy to have the opportunity to make a gift of these four recipes to you before I take my down time.  Consider this my holiday present to you, the faithful readers of Red, Round, or Green.  Thanks for reading, thanks for voting, thanks for interacting and sharing, and have a happy holiday, whatever you might celebrate!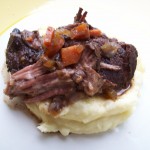 Slow Cooker Mulled Wine Short Ribs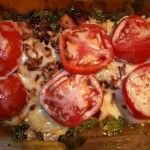 Cobb Casserole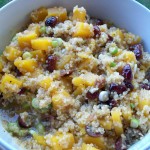 Butternut and Cranberry Quinoa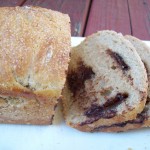 Dark Chocolate Bread