We are ALMOST THERE.
I'm writing this meal plan with the full knowledge that the next time I do this, our summer farmer's market will be ready to begin.  No, it won't be all tomatoes and roses in May or even June, but its arrival heralds the beginning of a new way of shopping, cooking, and eating each year — one that inevitably feels fresher, easier, and healthier for both our family and our community.
For this month, I'm trying to focus on eating as much of what's in our freezer as possible (lots of grass-fed beef and some chicken), while also trying to devote some energy to eating a few more low-meat and no-meat meals.  With the kids (aka the Carnivorous Brothers) around, it can be hard to come up with meatless meals that don't inspire a dinner mutiny, and frankly, sometimes I just don't have the energy to want to argue with them.  But they're growing older and their palates are expanding all the time, along with their appetites; that means that they're both becoming more accepting of alternatives, and eating more than they ever have.  Something has to give, either at the dinner table or in my wallet, so we're going to inch towards just a bit less meat and see how that goes.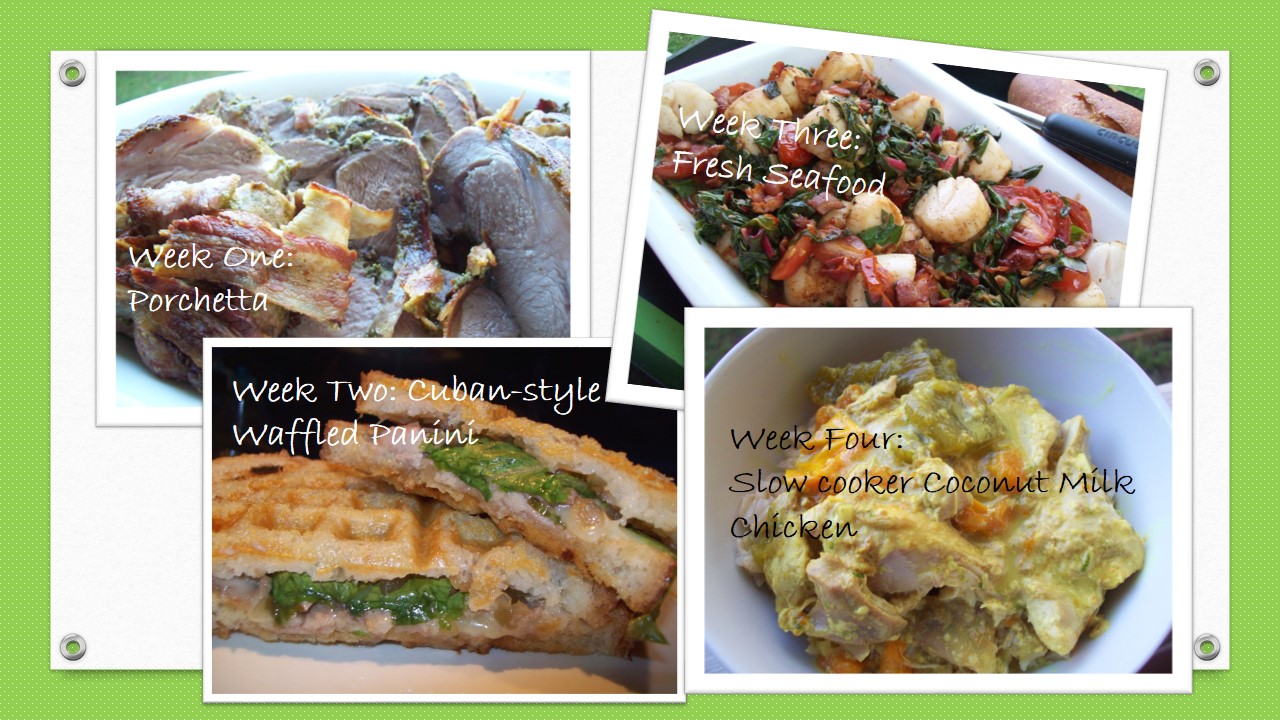 WEEK ONE:

Tuesday, 4/1: Slow cooker — grass-fed beef chili with three beans
Wednesday, 4/2: Tandoori chicken legs, spiced cauliflower, naan
Make it GF: Seek out injera bread if it's available to you — it's made with teff flour, which is naturally gluten-free.  Otherwise, you can sub rice for the naan.
Thursday, 4/3: Breakfast for dinner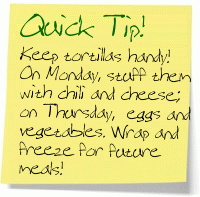 Friday, 4/4: Fend night/Kids Cook
Saturday, 4/5: "No-fuss" chicken, yellow rice, vegetables
Sunday, 4/6: Porchetta with roasted potatoes, salad
Monday, 4/7: Cheddar quinoa with early spring vegetables
WEEK TWO:

Tuesday, 4/8: Slow cooker — chicken stroganoff over egg noodles
Make it GF: Serve over rice or gluten-free pasta
Wednesday, 4/9: Cuban-style waffled panini, sweet potato fries
Make it GF: Make Cuban quesadillas with corn tortillas
Thursday, 4/10: Mom's old-school goulash, salad
Make it GF: Use brown rice or quinoa pasta, such as Jovial or Tinkyada brands
Friday, 4/11: Fend night/Kids Cook
Saturday, 4/12: "Jeremy's" Szechuan beef stir-fry over rice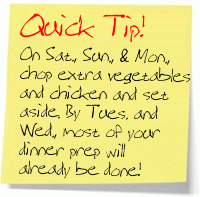 Sunday, 4/13: Sunday Roast Chicken dinner
Monday, 4/14: Pasta with sweet potatoes and peppers
Make it GF: Use brown rice or quinoa pasta, such as Jovial or Tinkyada brands
WEEK THREE:

Tuesday, 4/15: Chicken soft tacos
Make it GF: Make lettuce wraps or use corn tortillas
Wednesday, 4/16: DIY Salad night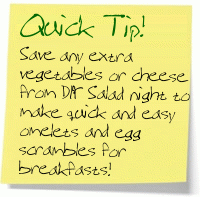 Thursday, 4/17: Seafood from our Farmer's Market
Friday, 4/18: Fend night/Kids Cook
Saturday, 4/19: Pasta "poulet" and salad
Make it GF: Use brown rice or quinoa pasta, such as Jovial or Tinkyada brands
Sunday, 4/20: Easter!  As usual, I have no idea yet what my Easter menu will be.  I'll figure it out!
Monday, 4/21: Vegetable quesadillas and refried beans
Make it GF: Use corn tortillas
WEEK FOUR:
Tuesday, 4/22: Slow cooker — Mom's meat sauce over spaghetti, salad
Make it GF: Use brown rice or quinoa pasta, such as Jovial or Tinkyada brands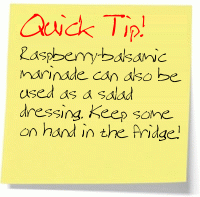 Wednesday, 4/23: Raspberry balsamic chicken, vegetables
Thursday, 4/24: I have a dress rehearsal, so we'll use leftover meat sauce to make bolognese French bread pizzas for a fast dinner!
Make it GF: Stuff peppers with the meat sauce instead and top with melted mozzarella cheese
Friday, 4/25: Fend night/Kids Cook
Saturday, 4/26: "Frog slime" meatballs before I head out for a performance
Sunday, 4/27: I've got another performance today and will be home late, so I declare it's my night off!
Monday, 4/28: Homemade spinach and mushroom ravioli in vodka sauce
Make it GF: Look for gluten-free wonton wrappers to make fast, easy ravioli
WEEK FIVE:
Tuesday, 4/29: Slow cooker — Coconut milk chicken over quinoa
Wednesday, 4/30: Cheeseburgers and roasted vegetable "fries"
Make it GF: Serve the burgers off the bun or in lettuce boats