Who loves veggies?
I love veggies. I really do. In fact, with the exception of green bell peppers (which I believe to be an abomination against food), I can't think of a single vegetable that I don't enthusiastically enjoy. That's why I was so excited to be invited back to the #LoveHealthy campaign, which is all about vegetables in the month of March.
It was, quite honestly, hard for me to decide what to post. We eat tons of vegetables in this house, so which recipe would be the best to spotlight during the campaign? I finally realized that I was coming at things from the wrong angle. I didn't want to just talk about vegetables. I wanted to talk about making them even more delicious. I wanted to make them the star of the show. And that's when it hit me.
Vegetable dips. Made of vegetables. So you can dip your vegetables IN MORE VEGETABLES.
The cool part is, dips and sauces can make a huge difference in the way people perceive foods that they're not crazy about. Kids especially can be susceptible to the power of dipping – my own son P. has always been more apt to try new foods if there are a range of dips available to him. And these two dips are not just great on vegetables. They're fantastic on pitas and crackers, mixed in with salads, slathered on meat. I even discovered, in the course of writing this post, that the two of them together make a pretty fantastic combination spread on some warm crusty bread. And for nutrition, you can't beat them.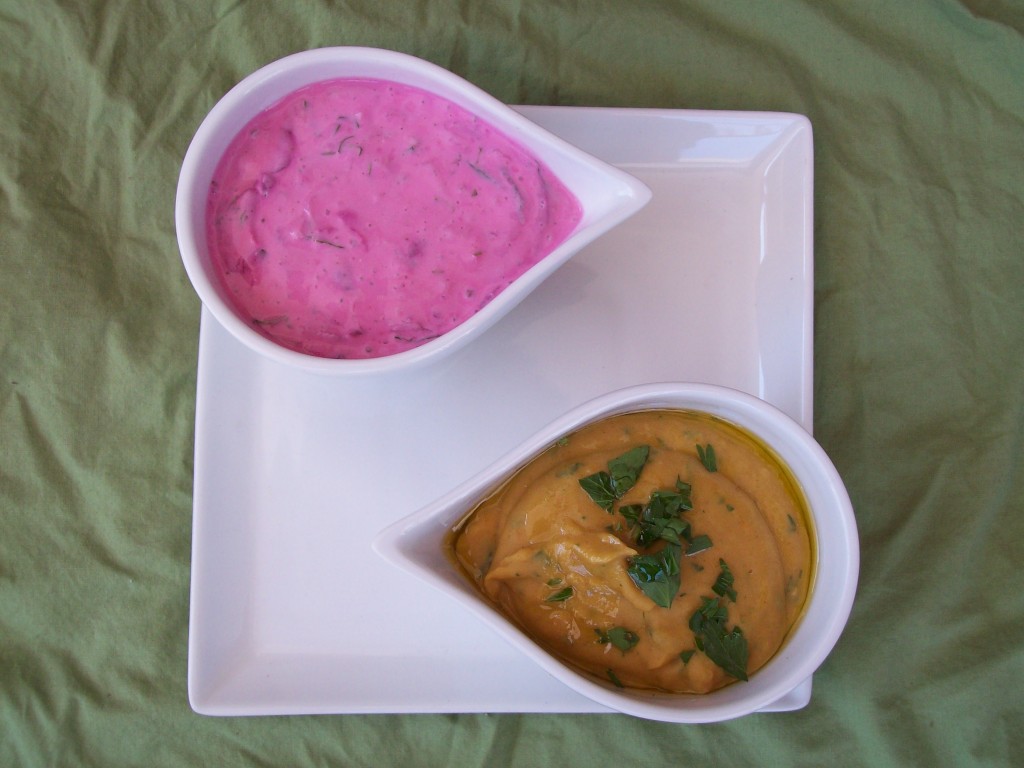 My Red Lentil Hummus is an easy, protein-packed, creamy variation on a classic. I love it with almost anything, but for a truly fabulous flavor combination, try it with some sliced avocado, arugula, and feta cheese.
Beet Tzatziki is an homage to a beautiful condiment served to me at a luncheon with my colleagues from The Family Dinner Project. Shockingly pink, cool and refreshing, it takes a simple Greek staple to new heights – and who can resist that color?
Served with crudites, in gyros or souvlaki, or enjoyed together in a vegetarian wrap, these two dips are a great way to add color and spice to your vegetable-eating life!
This post is part of the #LoveHealthy Veggie Campaign, which is all about tips, recipes, and strategies for getting more veggies into your family's day.
Follow these other #LoveHealthy bloggers:
We're posting ideas and resources all month. So don't miss out! "Like" our Facebook page to see all the posts and enter giveaways. Follow our Pinterest Board, which is loaded with ideas and recipes for veggies that will knock everyone's socks off.