Happy Spring! Or maybe not.
Spring in the Northeast is and always has been a fickle beast, but I'm not sure I remember too many other Marches that went out with as much "lion" still roaring as this one. Just a few nights ago, I finished singing a concert in Providence and walked out to a fresh coating of snow that required a legitimate brushing-off of my car; today is snow-free and not as frigid, but even 8-year-old L. conceded that he would need both his hooded gym sweatshirt and his winter coat to survive recess. The Easter forecast looks bright and sunny, but all my lovely pastel dresses will need to stay in the closet. Weather in the 40s, sunshine or not, will require heavy tights and patience for the egg hunt.
At any rate, it seems as though we're in limbo right now. It may warm up, or it may not anytime soon. The final snow piles may melt by the weekend, or they may provide intriguing hillocks for hiding Easter eggs. I imagine what my farmer friends are going through at the moment and I wonder what the growing season will look like. I'm in my usual internal rush for fresh vegetables and a riot of color in my basket, but Nature seems to be trying to tell me to wait…wait…wait. So the meal plan is a balancing act this month: Balancing my urgency for Spring with the knowledge that there isn't much I can do to hurry the sun. However, I'm letting optimism rule the day, and last weekend's braised beef with caramelized onions was, I declare, the final deep stew of the season. Grilling, salads, and lighter meals, your day is coming.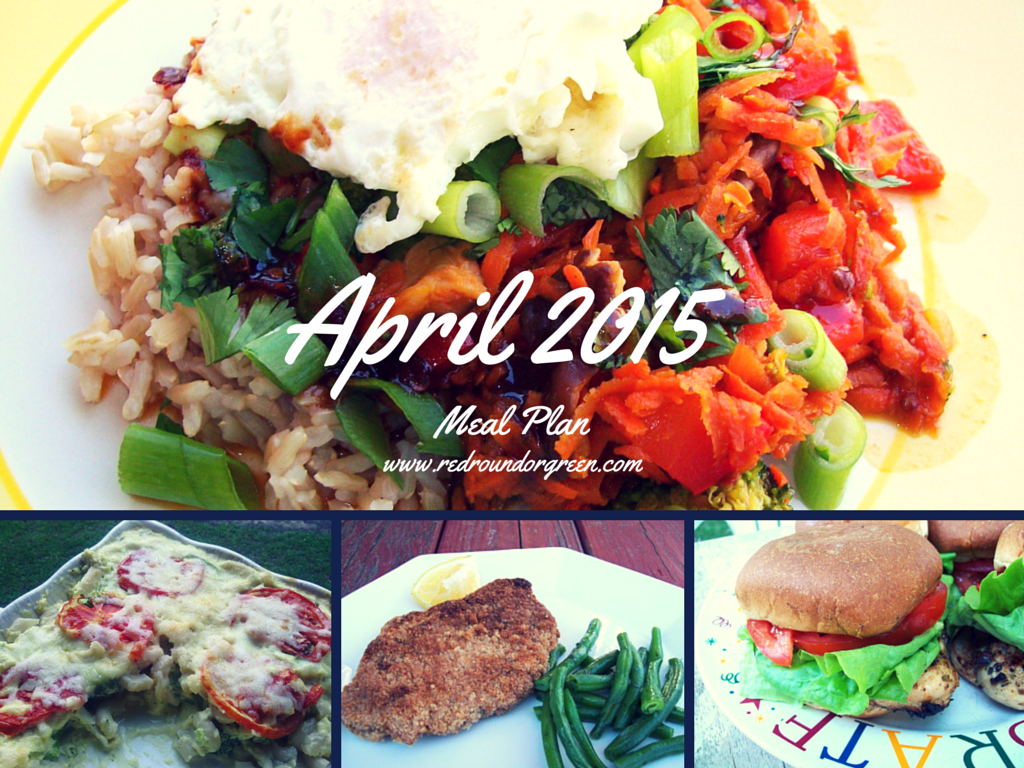 WEEK ONE
Wednesday, 4/1: Chicken taco salad
Thursday, 4/2: Shrimp stir-fry and brown rice
Friday, 4/3: Fend night/Kids cook
Saturday, 4/4: Pasta with creamy wild mushroom sauce, salad
Make it GF: Use your favorite gluten-free pasta or substitute zucchini or sweet potato "noodles"
Sunday, 4/5: Our "Easter Feaster," as L. has christened it! "Illegal" Lamb, potatoes Anna, artichokes with Hollandaise, asparagus and either carrot cupcakes or lemon tarts (we haven't decided yet).
Monday, 4/6: Cobb casserole
Tuesday, 4/7: Buffalo-inspired lettuce wraps, fruit
WEEK TWO
Wednesday, 4/8: Pasta with peas and pancetta, salad
Make it GF: Use your favorite gluten-free pasta or substitute potatoes to make a hash
Thursday, 4/9: Herbed turkey breast, crushed potatoes and vegetables
Friday, 4/10: Fend night/Kids cook
Saturday, 4/11: Roast chicken dinner
Sunday, 4/12: Schnitzel, egg noodles with dill and pickled red cabbage
Make it GF: Use almond meal for the schnitzel breading and replace the egg noodles with potatoes
Monday, 4/13: Easy grilled chicken sandwiches, vegetables with dip
Make it GF: Serve the chicken on beds of lettuce and tomato with no buns
Tuesday, 4/14: DIY Salad night
WEEK THREE
Wednesday, 4/15: Pizza burgers (no buns) and roasted potatoes
Thursday, 4/16: Ham and eggs with sauteed vegetables
Friday, 4/17: Fend night/kids cook
Saturday, 4/18: Balsamic brown butter chicken with broccoli rabe
Sunday, 4/19: Spaghetti and meatballs, salad
Make it GF: Use your favorite gluten-free pasta, zucchini noodles, spaghetti squash, or serve the meatballs as they are
Monday, 4/20: Quesadilla bar, fruit
Make it GF: Use corn tortillas
Tuesday, 4/21: Birthday dinner with my dad!
WEEK FOUR
Wednesday, 4/22-Thursday 4/23: Joining family for dinner – no set plans yet
Friday, 4/24: Fend night/kids cook
Saturday, 4/25: Scallion chicken and rice noodles
Sunday, 4/26: Steak pizzaiola and crispy potatoes
Monday, 4/27: Grilled sausages and vegetables
Tuesday, 4/28: Mac and cheese casserole with broccoli and tomatoes
Make it GF: Use your favorite gluten-free pasta or substitute cauliflower
WEEK FIVE
Wednesday, 4/29: Chicken piccata, cous cous and salad
Make it GF: Substitute quinoa for cous cous
Thursday, 4/30: Vegetarian Bibimbap