This school year is a real game-changer in our house.
I've always subscribed to the theory that while it's good for kids to have interests, overscheduling is not the best thing for them. I believe in free time, letting  them get bored, allowing them room for self-discovery, blah blah blah. 🙂 Life, and my kids, appear  to have other plans.
L. (age 9, a new 3rd grader) is a musician — like, a serious musician. He's been taking piano since he was 6 and violin since he was 7. He plays with our local Philharmonic's Youth Orchestra program and spent his summer in an alt-rock string ensemble. He composes, he's taught himself to play the ukelele we bought for his birthday just a few weeks ago, and he intends to grow up to be a conductor. I cannot stop the boy, nor separate him from his musical pursuits (not that I'd want to). But you can see where this is going, right?
He ALSO takes dance classes, which are partly passion and partly practicality. We were advised when he left full-time PT and OT as a younger child to keep him in structured physical activities like martial arts, swimming, etc. He chose dance, partly on the argument that it dovetails nicely with classical music. This year, he's been moved up to the "training" program at his dance school. Requirement: 3 classes. Per week.
Again…you can see where this is going, right?
P.'s now a first-grader. He also takes piano lessons, alongside his brother. And he's majorly energetic and athletic, with a passion for soccer. J.'s coaching his team. He just moved up to the U8 division. No more little clinic on Saturday mornings — now it's weeknight practices and full-on competitive schedules.
I did not intend to have busy kids. But I've got incredibly busy kids. I can try to persuade them to be un-scheduled until I'm blue in the face, but they are begging for busy, because they have found things they genuinely love to do. So I've had to adjust my freewheeling expectations and recognize that while it would not be okay for me to be pushing them into extracurriculars to keep them busy, when THEY are the ones pushing and loving every minute of it, there's a certain amount of going with their flow that needs to happen.
Losing our family dinner to activities is, quite simply, not an option. I'll do what I have to do to get creative, but we are NOT going to just start eating in the car on the fly or resorting to take-out or anything like that. However, even I — the queen of mealtime organization — have to admit that with activities for one or both boys on Mondays, Wednesdays, Thursdays, Fridays, and Saturdays, and my weekly choral rehearsals on Tuesdays, the gauntlet appears to have officially been thrown. CHALLENGE.
In anticipation of the craziness, I've put together the following mental structure:
MONDAYS: Kids — and me — home just about when dinner should be hitting the table. Need a make-ahead, ready-to-go meal.
TUESDAYS: My busy day. Need to use the slow cooker so I can focus on other tasks.
WEDNESDAYS: One kid needs to eat early. Need a meal that can be served in shifts.
THURSDAYS: Can actually cook fairly normally. Wa-hoo!!!
FRIDAYS: Activities galore, Mom taxi, one kid home on the later end of the dinner hour. Need a make-ahead, ready-to-go meal.
It's a lot. But I know we can do it. And I've already been working on stocking up my freezer with those ready-to-go meals that J. can pop in the oven while I'm out and about making sure everyone gets to and from their events safely. We've got 10 nights' worth of dinners so far, and I realized that in order to not burn out totally, I needed to re-structure our meal planning to allow for batch cooking EVEN IN THE MIDDLE OF ALL THE CRAZINESS. I've got to make extras of everything and constantly be adding to the freezer, or we'll never survive.
So that's what this month's plan is all about. It's about adjusting to a new normal and always, always staying a few steps ahead of the calendar.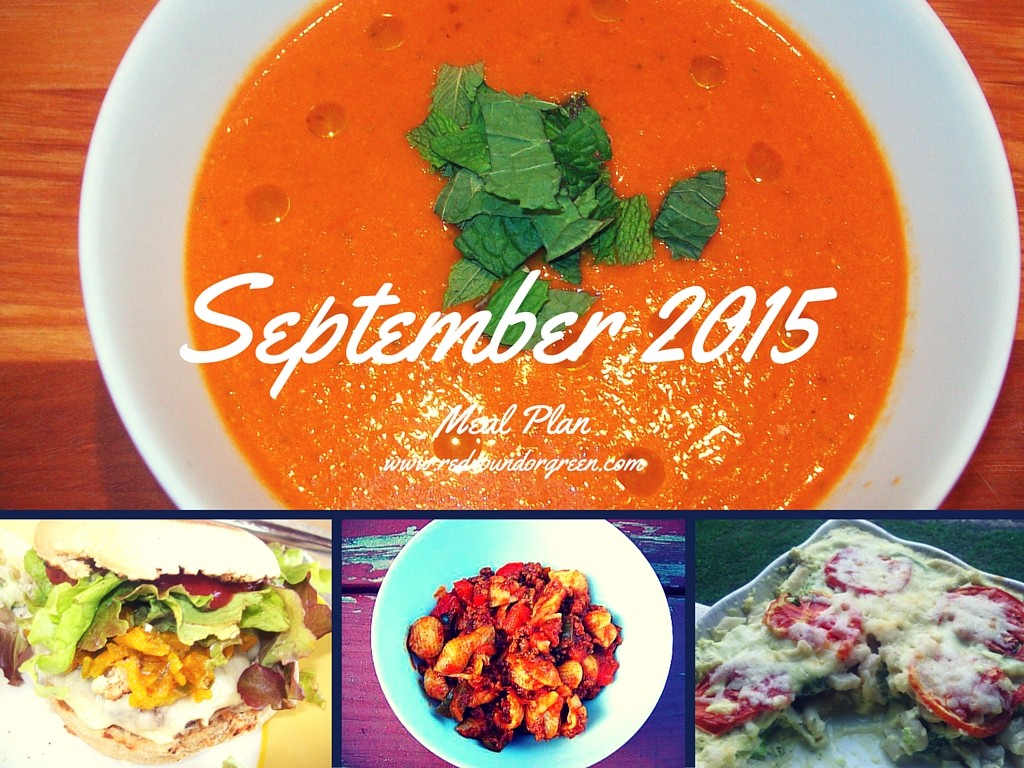 Tuesday, 9/1: Shrimp and chicken stir-fry
Wednesday, 9/2: Chicken parmigiana and salad
Thursday, 9/3: BLT Panzanella
Friday, 9/4-Monday, 9/7: Labor Day weekend, to be spent with family and friends — also otherwise known as THE LAST HURRAH BEFORE ACTIVITYPALOOZA HITS.
Tuesday, 9/8: Slow cooker Night — Spaghetti with Mom's meat sauce, salad
***I will double the recipe for the sauce and freeze for later use***
Wednesday, 9/9: Eat-in-shifts Night — Breakfast for dinner
***I can make eggs and toast per person without working up too much of a sweat***
Thursday, 9/10: Grilled pork chops with homemade teriyaki sauce, rice, broccoli
Friday, 9/11: Make-ahead Night — Turkey in gravy from the freezer, salad and corn on the cob
Saturday, 9/12: Macaroni and cheese casserole with broccoli and tomatoes
***I'll make two casseroles and put one in the freezer***
Sunday, 9/13: Sunday Roast Chicken dinner
Monday, 9/14: Make-ahead Night — DIY Salads (I can get everything ready ahead of time and then just set it out when we get home)
Tuesday, 9/15: Slow cooker Night — Turkey chili
***Double and freeze the extras***
Wednesday, 9/16: Eat-in-shifts Night — Burgers and fruit
Thursday, 9/17: Chicken piccata and cous cous
Friday, 9/18: Make-ahead Night — Lasagna with meat sauce, salad
***Make two lasagnas and freeze one***
Saturday, 9/19: Local seafood
Sunday, 9/20: Steak, mashed potatoes and vegetables
Monday, 9/21: Make-ahead Night — Cobb Casserole and wild rice
Tuesday, 9/22: Slow cooker Night — Minestrone soup and bread
***Double the soup and freeze***
Wednesday, 9/23: Eat-in-shifts Night — Chicken noodle lettuce wraps and fruit
Thursday, 9/24: Homemade pizzas, salad
Friday, 9/25: Make-ahead Night — Mom's old-school goulash and salad
***Double and freeze***
Saturday, 9/26: Local seafood
Sunday, 9/27: Roast leg of lamb and vegetables
Monday, 9/28: Make-ahead Night — DIY lamb gyro wraps with leftover lamb from Sunday
Tuesday, 9/29: Slow cooker Night — Chicken cacciatore and pasta
Wednesday, 9/30: Eat-in-shifts Night — Roasted Red Pepper and Tomato Soup, bread
***Double and freeze***