So it's October, and it's our 11th anniversary today, and J. and I are not doing anything to celebrate. Don't feel sad for us or anything — we've exchanged lovey pleasantries and we've also had a marvelous email thread in which we congratulated ourselves for being SO in tune with each other and so comfortable with our marriage that we're cool enough not to feel pressured to celebrate. Yeah. Because 11 years and two kids later, we're sort of in the zone. And we both recognize that getting out of the zone to try to figure out some sort of big romantic gesture in between the pouring rain, piano lessons, dance lessons, late work hours, and dealing with the new puppy is just hard.
Oh, yeah, and we got a new puppy. Because we needed more crazy in our lives. So as I'm typing this, Sherman the dog is lying on the floor at my feet on top of the blanket I really want to wrap around me due to the insanely cold weather, but he's sleeping and OMG SLEEPING PUPPY. Plus I'm pretty sure he now thinks that blanket is his. Everything else in the house is. That's the world according to Sherman, and it's now my reality.
Did I mention that we don't so much need more crazy in our lives?
The good news is, it's all insane blessings if you look at it from the right angle. I'm sitting here being cold in my drafty old house because 1) It's Fall — yay!; 2) We have a great old quirky house that we love, and it's only really cold because I have the luxury of being stubborn about turning on the heat; 3) I have the luxury of working from home and being self-employed, which is amazing and after just over a year still feels surreal in the best sense. And we're crazed by caring for kids and dog, which means that 1) We have two healthy, active, awesome kids; 2) We have a really cute dog, not that I'm biased; 3) We have the resources to take care of all these dependent creatures.
So I'm not complaining. 🙂
The other good news is, my master plan of cooking doubles of various dinners and stashing extras in the freezer has totally worked and paid off. We didn't fall off the meal plan wagon at all in September, even though it would have been easy to do given our hectic schedules. And now the chest freezer is pretty full, so it's time to get on a cycle of eating what's there and replacing with new batch cooking. That actually made the meal planning pretty easy this month, since I got to do a certain amount of just choosing from what's already made. Pretty great, huh?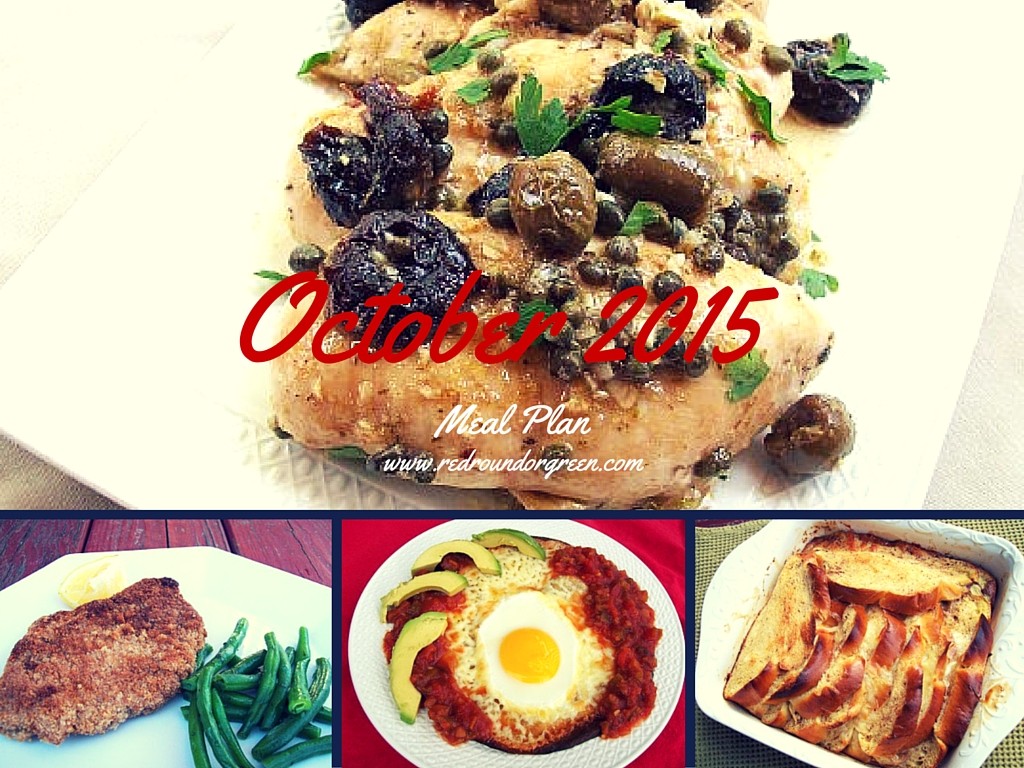 WEEK ONE:
Thursday, 10/1: We actually went out to dinner. Gasp. J. offered, and I accepted, and that's that!
Friday, 10/2: I shuffled our Roasted Tomato and Red Pepper Soup to tonight because of the weather forecast, and we'll have BLTs to go with it.
Saturday, 10/3: We've been invited to dinner at our friends' house, so no cooking for me!
Sunday, 10/4: Spaghetti and meatballs (I'll double the meatballs and sauce for the freezer), salad
Monday, 10/5: FREEZER MEAL — Tacos
Tuesday, 10/6: Slow cooker — Boneless turkey breasts with pan gravy and sides (I'll double and freeze some turkey in gravy for another meal)
Wednesday, 10/7: Monte Cristo sandwiches and fruit
WEEK TWO:
Thursday, 10/8: Chicken Marbella, couscous and vegetables
Friday, 10/9-Sunday, 10/11: The boys and I are off to New York City to visit my sister for the weekend and hit up some museums!
Monday, 10/12: FREEZER MEAL — Simplest Stuffed Peppers, bread
Tuesday, 10/13: Butternut squash and pear soup, apple soda bread (I'll double the soup for the freezer)
Wednesday, 10/14: Turkey club sandwiches and veggies with dip
WEEK THREE:
Thursday, 10/15: Pasta with creamy mushroom sauce, salad
Friday, 10/16: Buffalo Style lettuce wraps, fruit
Saturday, 10/17: Chicken tikka masala and samosas (I'll double the chicken tikka for the freezer)
Sunday, 10/18: Classic bolognese and salad (I'll double the bolognese for the freezer)
Monday, 10/19: FREEZER MEAL — Scalloped potatoes with ham, salad or sauteed broccoli
Tuesday, 10/20: Slow cooker — chicken stroganoff with egg noodles, vegetables
Wednesday, 10/21: Patty melts and oven fries
WEEK FOUR:
Thursday, 10/22: Breakfast tostadas and fruit
Friday, 10/23: Schnitzel with red cabbage
Saturday, 10/24: Clam chowder and biscuits (I'll double the chowder for the freezer)
Sunday, 10/25: Sunday roast chicken dinner
Monday, 10/26: FREEZER MEAL — Eggplant and zucchini parmigiana, salad
Tuesday, 10/27: Slow cooker — chicken noodle soup
Wednesday, 10/28: Turkey sloppy joes and fruit
WEEK FIVE:
Thursday, 10/29: Breakfast for dinner
Friday, 10/30: Homemade pizzas
Saturday, 10/31: Trick or treat dinner! The boys usually get to pick — most years it's pumpkin soup and "mummy" hot dogs wrapped in pizza dough.