I've been planning our family dinners a month at a time for so long now that I honestly can't even tell you exactly how long it's been. It might be a decade, give or take. That's a long, long time.
Some months are easy to plan; I sit down to write and it all seems fresh and fun. I have a dozen ideas right off the bat that make it to the page, and the rest falls in line, with an orderly and pleasant feeling to it all. Other months are hard. They're a slog. I can't make myself fill in the blanks. It's all uninspired and effortful and just WORK, you know?
This month was like that. I sat down to plan for March and I knew already that I was in for it, because I didn't even make the attempt until just a few days ago; usually, by mid-month I'm feeling energized and ready to go for the next round. Not this time. I procrastinated. I glowered at my notebook. I just couldn't pull myself together to get it done, and when I did make myself sit down to do it, I just dragged my pen across the page.
Here's the thing: It's hard, sometimes. And I think what makes it doubly hard, if I stand back to look at the tough months, is being busy; or at least, anticipating being busy. I'm staring at Spring right now and all I can see is dates and times, dates and times. Rehearsals, concerts, this year's Listen to Your Mother show, kid commitments, family commitments, birthdays, parties, vacations, meetings, conferences. LIFE.
It's life rushing in and I so want to say "Well, we're busy, we're really busy." But I don't want to wear busy like a badge. I'm resisting glorifying busy for busy's sake. So I will say instead that we have a lot of life to live in the next month, and the month after, and the one after that. We have so much to look forward to and so much to invest ourselves in, and that's not about being busy. It's about being lucky. And about being present in the moment.
When you've got all that life to live and present-ness that you owe to yourself and your family, well, meal planning is both a greater necessity and a greater bother. You've got to get it done, or at least I do, because having that daily dinnertime thing all figured out well ahead of time just makes for an enormous relief every afternoon when you pause and take a breath to think about feeding everyone. But you — or I — resent having to think about it. It's an annoyance to deal in the have-tos because there's so much more to grab hold of than the mundane tasks.
That's what makes it hard, some months, or at least that's what made it hard this month.
But we're not busy. We're full. We're lucky. And as always, painful though the process may have been, we'll get fed.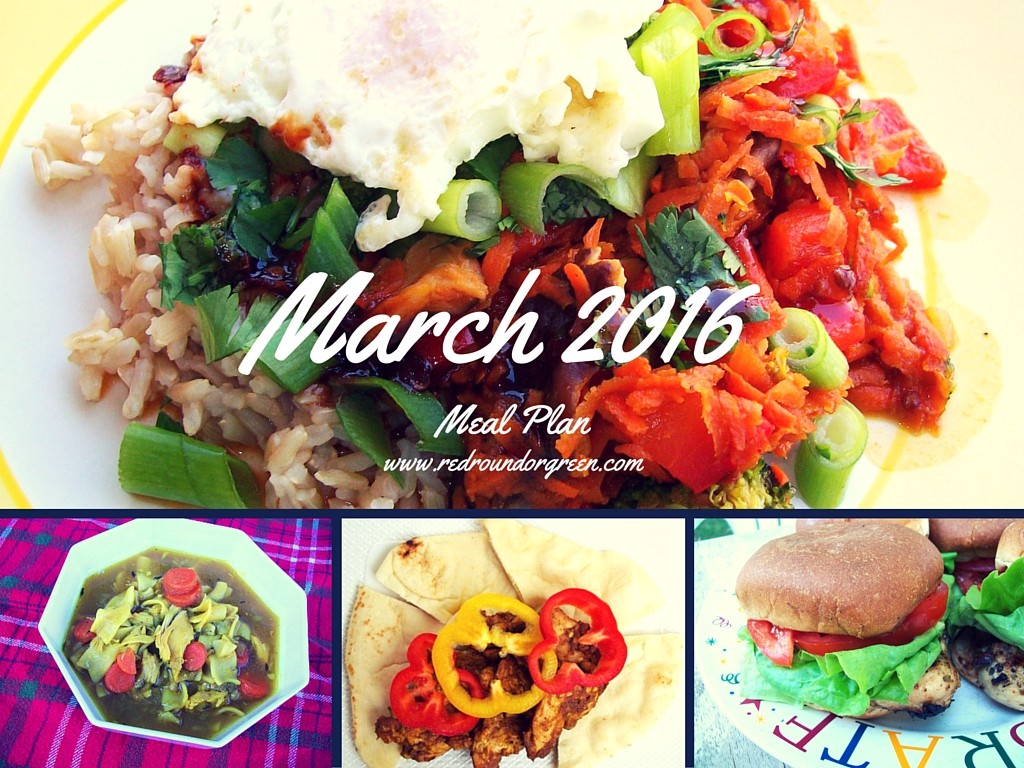 WEEK ONE:
Tuesday, 3/1: Grilled Chicken Sandwiches
Wednesday, 3/2: Pepperoni and Spinach Calzones
Thursday, 3/3: Spaghetti with Mom's Meat Sauce, salad
Friday, 3/4: Chicken Noodle Soup
Saturday, 3/5: Steak fajitas
Sunday, 3/6: Hot turkey sandwiches (Freezer meal)
Monday, 3/7: Chicken and broccoli alfredo
WEEK TWO:
Tuesday, 3/8: Tomato soup and grilled cheese sandwiches
Wednesday, 3/9: Meatball subs (Freezer meal)
Thursday, 3/10: Rosemary chicken and roasted potatoes
Friday, 3/11: Quiche and salad
Saturday, 3/12: P.'s birthday celebration — so probably pizza and salad with his buddies, plus the elaborate birthday cake he's planning!
Sunday, 3/13: Dinner with family
Monday, 3/14: Vegetarian bibimbap
WEEK THREE:
Tuesday, 3/15: Tacos
Wednesday, 3/16: Zesty Italian Chicken pasta
Thursday, 3/17: Breakfast for dinner
Friday, 3/18: Chicken noodle lettuce wraps
Saturday, 3/19: Meatloaf and mashed potatoes
Sunday, 3/20: Belated Saint Patrick's Day dinner with family: Home-brined corned beef, scalloped potatoes, brussels sprouts and soda bread
Monday, 3/21: Birthdays! (Me and P.) We'll be going out. 🙂
WEEK FOUR:
Tuesday, 3/22: No fuss chicken, yellow rice and vegetables
Wednesday, 3/23: Corned beef hash and eggs
Thursday, 3/24: Pasta primavera
Friday, 3/25: Sunday roast chicken and vegetables
Saturday, 3/26: Cobb salads
Sunday, 3/27: Easter! Not sure of our plans yet.
Monday, 3/28: Turkey burgers and fries
WEEK FIVE:
Tuesday, 3/29: Antipasto Pasta
Wednesday, 3/30: Tandoori chicken, naan and salad
Thursday, 3/31: Teriyaki pork chops, rice and broccoli