What happened???
Lots of RRG readers have contacted me over the past several months, wanting to know where I've been. What's going on. If I'm all right, if the family's all right.
We are. And thank you. And it's complicated. I'm back for the moment, at least, and trying again to find my feet here on this little patch of internet that I call my own.
I don't even know if I can, or should, try to sum up all the factors that led to my long silence. If I tried, it would overwhelm this space. But I think there are plenty of you out there who will understand if I say something like:
2016 kicked my ass.
Personally, socially, globally. 2016 hurt. I'm far luckier than many people, and here we are on Day 3 of 2017 with me still standing and most of what I hold dear relatively intact, so I'm calling it a win. But I think you'll get it if I say that I couldn't hold all the pieces together for the better part of last year, and something had to give.
There were some concrete problems that kept me from posting, like site issues that actually locked me out of the blog for over a month and then made it impossible for me to utilize most of the controls to post anything coherent. There were personal and family challenges encompassing everything from serious financial challenges to physical health crises (extended family — J., the boys and I are okay) to mental health struggles and more. I've been fighting to keep our heads above water in almost every possible way, and I finally had to admit to myself that it was exhausting. Something had to give. MANY things had to give.
So…the silence. I wasn't gone. But I was hiding for a while. Overwhelmed.
Good things happened while I was away, too. From a lot of the hideousness came reconciliation, clarity, resolve. Good comes from bad, often, if you know how to seize it. And while I was hunkered down and focusing inward, on my little family and my little corner of the world, we healed and repaired and made plans. We couldn't do a lot of what we'd wanted to do, but we could pull together a little money to fix that crumbly patch of the roof. We could repaint an old, ugly bathroom. We could clean out old clutter and make space for renewal, both literally and metaphorically.
That's where I've been, friends. In a recovery of sorts, which I think is still ongoing. Placing my energies and my efforts where they urgently needed to be, so I could find my feet again.
2017 is here, and I don't know what it's going to bring. I still feel tenderness and uncertainty in the old bruised spots. I see the new challenges rising on the road ahead. But today I'm here. And I'm making plans.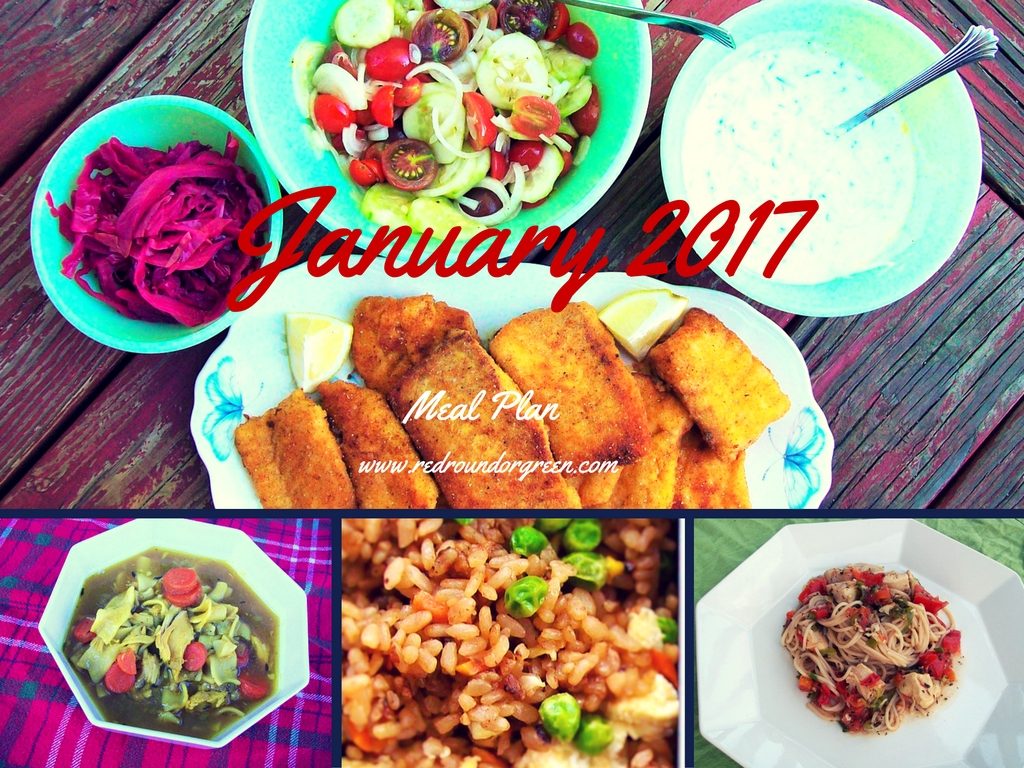 WEEK ONE:
Sunday, 1/1: New Year's Day with friends for our annual pizza-and-wine celebration
Monday, 1/2: Cornflake-crusted chicken, potatoes and roasted squash
Tuesday, 1/3: Pasta poulet
Wednesday, 1/4: Freezer soup night! We've got split pea with ham and chicken/turkey noodle on hand.Thursday, 1/5: Chicken teriyaki, rice and stir-fried vegetables
Friday, 1/6: Slow cooker mulled wine short ribs and mashed potatoes
Saturday, 1/7: Whole wheat pasta with sweet potatoes and peppers
WEEK TWO:
Sunday, 1/8: Sunday Roast Chicken dinner
Monday, 1/9: BLTs, oven fries and baked apples
Tuesday, 1/10: Lamb meatballs, couscous and roasted vegetables with tzatziki
Wednesday, 1/11: DIY Salad Night
Thursday, 1/12: Chicken and broccoli alfredo
Friday, 1/13: Homemade Pizzas
Saturday, 1/14: Hibachi Fried Rice and dumplings
WEEK THREE:
Sunday, 1/15: I'll be in the recording studio with my choral group; J. and the boys are in charge of food!
Monday, 1/16: Noodles with Brussels Sprouts and Bacon
Tuesday, 1/17: Turkey taco burgers, quinoa salad
Wednesday, 1/18: Roasted Salade Nicoise
Thursday, 1/19: Katsudon
Friday, 1/20: French Onion Soup and salad
Saturday, 1/21: Chicken parmigiana and garlic bread
WEEK FOUR:
Sunday, 1/22: Beef Bourgignon, salad
Monday, 1/23: Penne with creamy mushroom sauce, broccoli
Tuesday, 1/24: DIY Panini night, fruit cobbler
Wednesday, 1/25: Quiche and salad
Thursday, 1/26: Slow cooker California Chuck Roast dinner
Friday, 1/27: Fish fingers, pickled cabbage and potatoes
Saturday, 1/28: Slow cooker Chicken Soft Tacos
WEEK FIVE:
Sunday, 1/29: Porchetta, risotto Milanese and roasted vegetables
Monday, 1/30: Slow cooker broccoli cheese soup, sourdough bread
Tuesday, 1/31: Chicken cacciatore and pasta