I know I'm not the only person out there who feels these days as if it's hard to know how to keep going. There's a general aura of fatigue and anxiety in the air everywhere I go. Friends and family and people on the street all seem to be struggling with something, whether their own private challenges or issues of a more public variety. The here and now feels heavy.
But as my grandfather used to say: "You gotta keep on keepin' on." Which is right. So I've taken stock of what I need to do to keep on keepin' on in my own little ways. I'll tend my hearth and home and my own little life so I can do well for others. If you let things fall to pieces at home and don't take care of the things that root you to this earth, there's nothing to help you branch out and grow stronger.
At least, that's what I think. Or it's what I'm telling myself. But home, and family…they do matter. Perhaps more now than we knew before.
February is shaping up to be a month of distractions and obligations, when I'll be rushing hither and yon for various obligations of mainly the work-based variety, and the kids will still have their activities and needs, so on. So it was a bit of careful thought and prep that went into the meal plan this month, because I've lapsed in my intentions to keep the freezer well-stocked with meals — which could have really helped me out in a month like this. Curse me! I had to really think about how much time I'd have each day and how realistic my plans might prove to be in the face of even a tiny setback…and in most cases, I scratched out my original ideas and replaced them with things more boring and achievable. Such is life!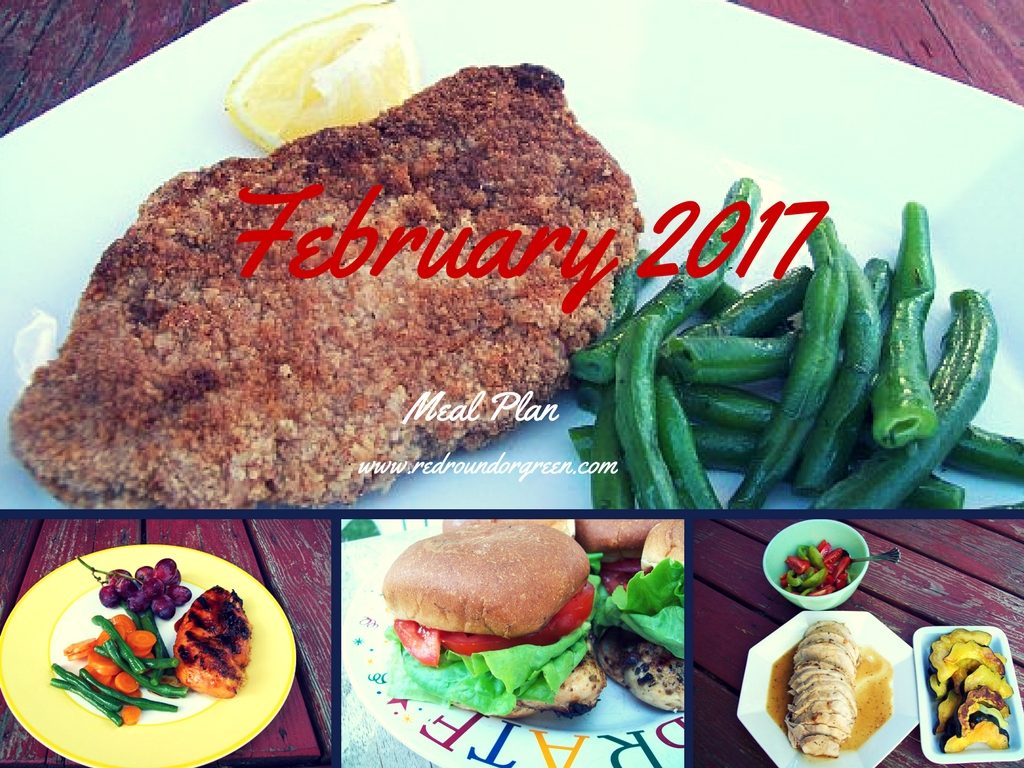 WEEK ONE:
Wednesday, 2/1: Burgers on pretzel buns, oven fries
Thursday, 2/2: Teriyaki chicken, rice and broccoli
Friday, 2/3: Breakfast for dinner*
*I'll make extras and keep in the fridge for lunchboxes early in the week
Saturday, 2/4: Open-faced slow cooker turkey and gravy sandwiches, vegetables*
*I'll cook two turkey breasts, one for dinner and one for the freezer
Sunday, 2/5: I've got to head out of town for a business trip. Fortunately it's Super Bowl Sunday, so J. and the boys were already hoping for takeout!
Monday, 2/6: I won't be back until bedtime, so I'm leaving a casserole dish of Turkey "Helper" for the guys to heat up.
Tuesday, 2/7: Tacos
WEEK TWO:
Wednesday, 2/8: I'm on the road again for work this evening, leaving Gramma's Honey-Mustard Chicken and sub rolls for the guys to make sandwiches.
Thursday, 2/9: Aaaand again…on the road, at least for the day, coming back not wanting to cook much, I'm sure. Spaghetti marinara and a quick salad.*
*I'll be saving the extra marinara for tomorrow's dinner.
Friday, 2/10: Pizza burger patties, roasted potatoes and broccoli
Saturday, 2/11: Fettucine bolognese*
*Doubling the sauce to freeze for another time
Sunday, 2/12: Winter souvlaki
Monday, 2/13: Chicken and lentil soup, corn muffins*
*Doubling both things for the freezer…because why not?
Tuesday, 2/14: Valentine's Day! I'll be on the road for part of the day, but back in time to make crepes for dinner with both sweet and savory fillings.
WEEK THREE:
Wednesday, 2/15: Zesty Chicken and Pasta Toss*
*I'll marinate extra chicken, freeze some, and hold some back for Friday's dinner
Thursday, 2/16: Buffalo-Style Lettuce Wraps, fruit
Friday, 2/17: L. and I have a mother-son date to the symphony, so it's Easy Grilled Chicken Sandwiches with our leftover marinated chicken before the two of us are out the door.
Saturday, 2/18: Baked ham, scalloped potatoes and vegetables
*I'll make double the ham we need and freeze half for lunches or dinners later
Sunday, 2/19: Sunday Roast Chicken dinner
Monday, 2/20: Fajita salad platter using leftovers of the roast chicken
Tuesday, 2/21: Steak and potatoes, roasted vegetables
WEEK FOUR:
Wednesday, 2/22: Dan Dan noodles and sesame broccoli
Thursday, 2/23: I'll be gone at a meeting part of today, so I'll make tonight easier by having a Cobb Casserole pre-assembled and ready to bake.
Friday, 2/24: Pork schnitzel, pickled red cabbage, egg noodles
Saturday, 2/25: Salisbury Lamb Patties, potatoes and vegetables
Sunday, 2/26: Chicken tikka masala, samosas and red lentil curry*
*I'll double the chicken and samosas for the freezer
Monday, 2/27: Baked Pasta Florentine
Tuesday, 2/28: Candied Rosemary Chicken and Vegetables*
*I'll make an extra pan of chicken and vegetables and freeze, uncooked, for another night