At the start of a new school year, everything is different, but very much the same.
We're facing another September full of possibilities. What will the year bring? What opportunities will fall into place, what activities will the boys explore, what will their classes be like, what friends will be made? What will we have to overcome? What will fall away and lead to something new? There are so many questions, in September.
It's L.'s final year of elementary school. I'm reflecting a lot on that. He may stay where he is next year — it's a K-8 school — in which case the shift would be subtle. Or he may try something new — we're exploring options — and that would lead to a very different kind of life and routine than what we've grown accustomed to for the past four school years, when both of our boys have attended the same school and we've only had to walk down the street to manage their commute. Either way, this is the end of an era, fifth grade. He's a different boy than he was many years ago when I started this blog. And P., a fast-growing, fast-moving, fast-thinking third grader, is different too.
But despite their growing (why do they insist on this?) and the thoughts and feelings that arise as we look at this year before transition, there is a quiet, almost relieving familiarity to September. I know how to do this back-to-school thing. So it was calm, more than anything, that surrounded me as I sat to put pen to paper and create this month's meal plan. The calendar will fill up again, I know. We'll be busy again, I know. But we're trying to make it purposeful busy-ness, full of things that we love and that make us happier, better people. And in the midst of it all, home is the hub, and dinner is where we reset ourselves. Every day.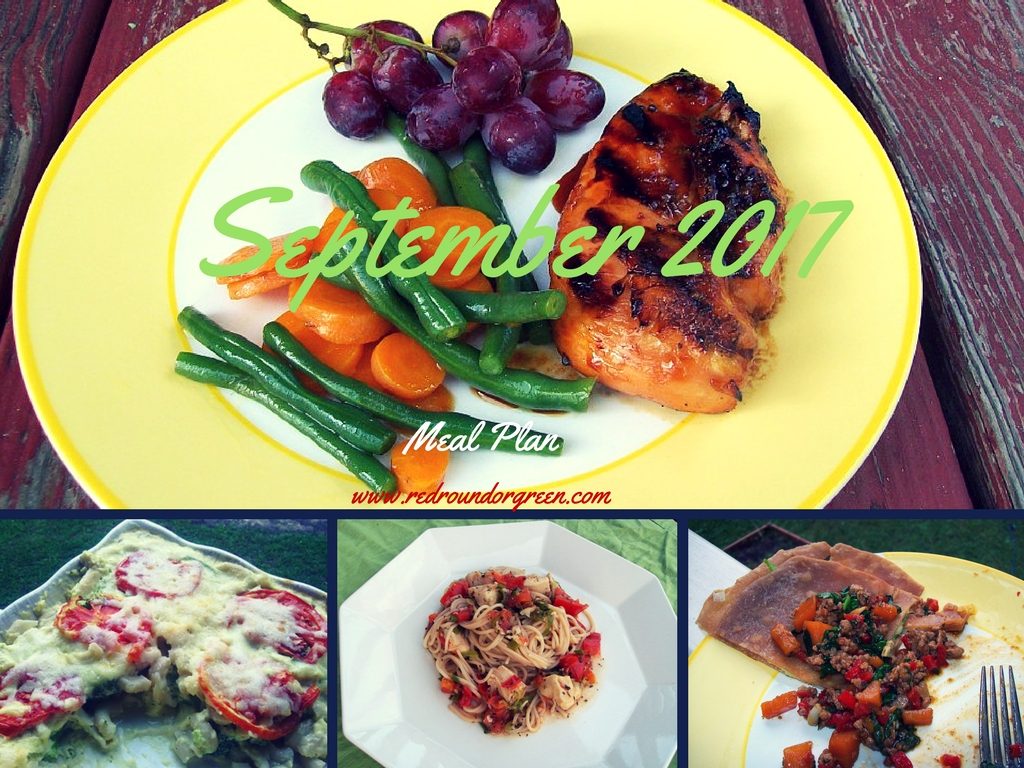 * = Double or triple for the freezer, because I work smarter, not harder
WEEK ONE:
Friday, 9/1: Salisbury lamb patties with balsamic gravy, mashed potatoes, vegetables
Saturday, 9/2: Fresh seafood from our farmer's market
Sunday, 9/3: Pork schnitzel, pickled red cabbage, egg noodles and carrots
Monday, 9/4: Falafel in homemade pita
Tuesday, 9/5: Cobb casserole* and rice
Wednesday, 9/6: Half-lentil Sloppy Joes* and fruit
Thursday, 9/7: Chicken teriyaki, broccoli and rice
WEEK TWO:
Friday, 9/8: Turkey tacos
Saturday, 9/9: Fresh seafood
Sunday, 9/10: Clam chowder, bread and salad
Monday, 9/11: Homemade pizzas
Tuesday, 9/12: Pasta Poulet and salad
Wednesday, 9/13: Chicken and broccoli stuffed potatoes, apple crisp
Thursday, 9/14: DIY "sushi" bowls
WEEK THREE:
Friday, 9/15: Breakfast for dinner
Saturday, 9/16: Fresh seafood
Sunday, 9/17: Spaghetti and meatballs*
Monday, 9/18: Sweet potato enchiladas, bacony black beans and rice
Tuesday, 9/19: Tropical chicken lettuce wraps and couscous
Wednesday, 9/20: Meatball subs and crudites
Thursday, 9/21: Autumn stir-fry with cheater scallion pancakes
WEEK FOUR:
Friday, 9/22: Loaded Sheet Pan Smashed Potatoes
Saturday, 9/23: Fresh Seafood
Sunday, 9/24: Sunday Roast Chicken dinner
Monday, 9/25: Mac and cheese casserole with broccoli
Tuesday, 9/26: Sheet Pan Pork and Sweet Potato Satay with coconut rice
Wednesday, 9/27: Chicken Pot Pie with puff pastry crust*
Thursday, 9/28: Vegetable fajitas, rice and refried beans
WEEK FIVE:
Friday, 9/29: Frog Slime Meatballs*, mashed potatoes and vegetables
Saturday, 9/30: Fresh Seafood