This month, even more than in past years, I've got to stay one step ahead of myself. Or more. Because the next few weeks are…well, yikes.
I've got a big concert to sing with my choral group, an unexpected business trip to New York, my folks are coming in from out of town to help while I'm on said trip, and I'm coming back just in time to dive into a couple of other really busy and important work items that will have me on the go. Once that's all done, fortunately, we'll get to relax and…OH WAIT THANKSGIVING.
Fortunately, I've got a freezer full of meals I've stashed away; parents who are willing and able to help fill in gaps; and a solid meal plan to keep me going for all the rest. As for Thanksgiving, I'm feeling fairly cool and relaxed at the moment, as I'm working on finalizing a menu that will allow me to do the majority of the work in advance so we can greet the day as it should be greeted: With calm, peace and happiness as we fill our home with family.
Bring it, November. I'm way ahead of you.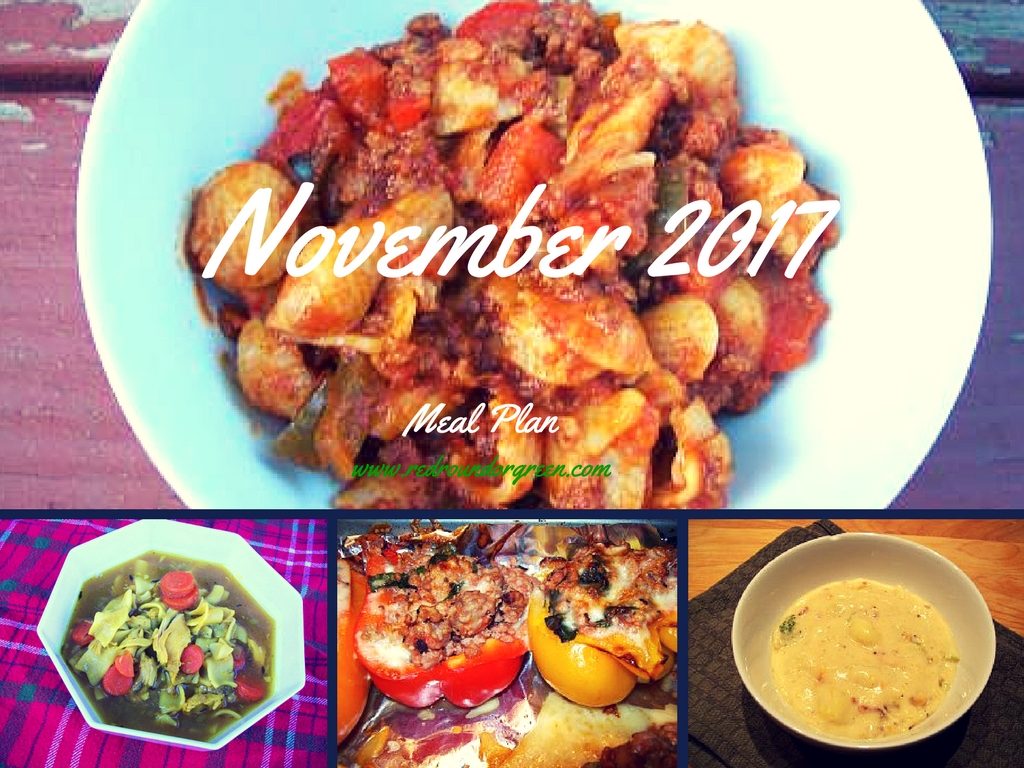 WEEK ONE
Wednesday, 11/1: Penne vodka and salad
Thursday, 11/2: Cornflake crusted chicken, egg noodles and broccoli
Friday, 11/3: Turkey pizza meatloaf sheet pan supper
Saturday, 11/4: Ham and beans with dinner rolls
Sunday, 11/5: 40 Clove Garlic Chicken, mashed potatoes and salad
Monday, 11/6: Tamale pot pie
Tuesday, 11/7: Chicken noodle soup
WEEK TWO
Wednesday, 11/8: Scalloped potatoes with ham, asparagus
Thursday, 11/9: Homemade chicken nuggets, brussels sprouts and carrots
Friday, 11/10: I've got a dress rehearsal, so we'll grab a meal from the freezer — Chicken tikka masala, turkey with herb gravy, chicken and zucchini parmigiana, beef and bean taco filling, stuffed peppers or half-lentil Sloppy Joes
Saturday, 11/11: I'll make a big pot of authentic bolognese to top some pappardelle before my concert tonight (and hopefully have enough to put a meal back into the freezer)
Sunday, 11/12: Another freezer meal, since I'll be out singing at a concert all afternoon and not back until dinnertime.
Monday, 11/13: I'm headed to New York, leaving J., the boys and my folks here, along with a big slow cooker of beef stew for their dinner
Tuesday, 11/14: It'll be up to J. and my folks!
WEEK THREE
Wednesday, 11/15: Another night up to the rest of the adults — I'll pull back into the train station just in time to join them for dinner
Thursday, 11/16: Spaghetti with pancetta  and peas
Friday, 11/17: Chicken quesadillas
Saturday, 11/18: Mom's old school goulash and salad
Sunday, 11/19: Braised chicken with white beans and focaccia
Monday, 11/20: Loaded potato soup
Tuesday, 11/21: Chicken caesar salads
WEEK FOUR
Wednesday, 11/22: Breakfast for dinner as we finish preparing for tomorrow's feast!
Thursday, 11/23: Thanksgiving Day!
Friday, 11/24: I'm giving myself a day off. I think by now I will not be able to care even a little bit about dinner.
Saturday, 11/25: Our annual "Picture Pizzas" to kick off the Christmas season!
Sunday, 11/26: Turkey pot pies
Monday, 11/27: Caponata pasta bake
Tuesday, 11/28: French Onion soup and salad
WEEK FIVE
Wednesday, 11/29: Burgers and sweet potato fries
Thursday, 11/30: Chicken piccata, couscous and broccoli