Ordinarily I try to get my year-in-review lunch post done a bit closer to New Year's Day, but hey…I'm giving myself some grace this year. Plus, I don't know whose idea it was to start this cute thing where instead of a Top 10 Lunches post I do whatever number corresponds to the year (SURELY IT COULD NOT HAVE BEEN MY IDEA) but 17 lunches is a lot of lunches to track down and re-post. So while I'm a bit behind the times in posting this, I trust you'll all forgive me.
As always, I chose the lunches for this post very scientifically and seriously, by looking at how many "likes" you threw them on Facebook. See? Very scientific. Hopefully a look back at these popular lunches will help give us all a second wind on the lunch-packing, because let's be honest: Most of us are already kind of over it for the year. Strength, fellow lunch-packers, and draw inspiration from below!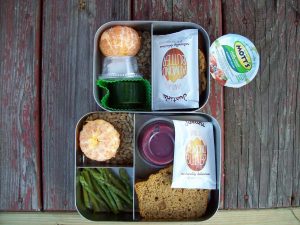 The Pumpkin Bread Lunch
RRG readers are suckers for a sweet quickbread in a lunchbox. This adaptation of pbj — made with homemade whole-wheat pumpkin bread and a packet of almond butter so the kids could make their own sandwiches at lunchtime — was one of your favorites of 2017.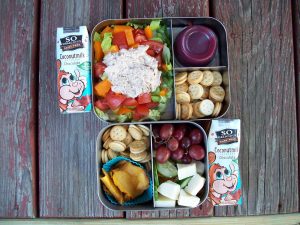 The Salad Lunch
What's better than a salad bar at lunch? This "at home salad bar" idea allowed each kid to have his own favorite veggies and toppings, but didn't make a lot of extra work for me. L.'s colorful salad was topped with tuna, P.'s with cheese cubes. Peanut butter mini cracker sandwiches gave a little extra staying power.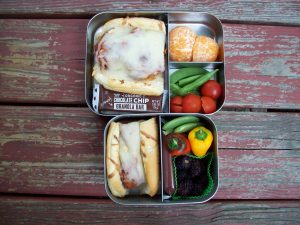 The Meatball Sub Lunch
Sure, we all like a fancy, unique lunch idea — but when it comes right down to it, the ones that are the most familiar, fun and kid-friendly get the most likes time after time. Lunch-sized meatball subs with fruit, veggies and a sweet treat made the grade this year.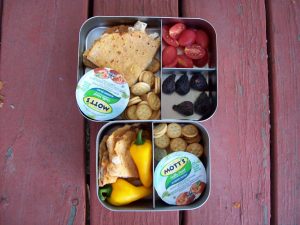 The Fancy Quesadilla Lunch
Quesadillas are usually a popular choice; chicken and cheese quesadillas made on sweet potato tortillas blew your minds.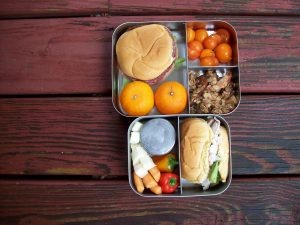 The Favorite Sandwich Lunch
I would say I don't know why this one was so popular, but I suspect that again, it's because even if it's basic, it's got universal appeal. Packing the kids' favorite sandwiches on soft rolls — soppresata for L., turkey for P. — and adding some simple sides made for a lunch you "liked" a lot.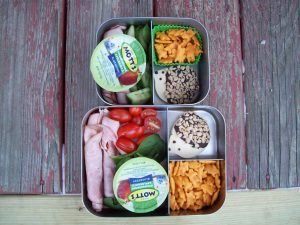 The Hedgehog Cookie Lunch
Pretty boring lunch. Let's get real: You were just here for the cookies.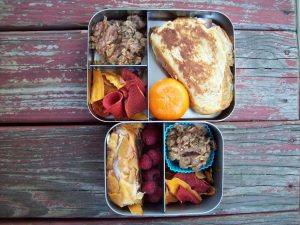 The Monte Cristo Lunch
Sandwiches are one thing. Monte Cristos are a whole other sandwich level. With colorful pumpkin chips and apple crisp, this was probably the most popular thing I packed all Fall.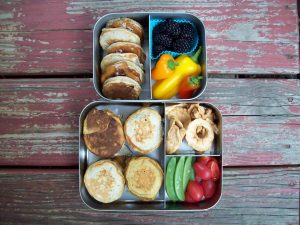 The Mini Pancake Lunch
RRG readers have never met a breakfast-for-lunch they didn't like. This mini pancake lunch, featuring both plain whole wheat and pumpkin pancakes made into sandwiches for the kids, earned top honors.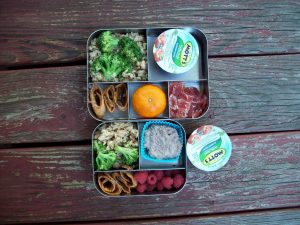 The Rice Bowl Lunch
Whether it was the brown rice bowl with teriyaki, the chocolate coconut chia pudding, or the sweet potato tortilla bites filled with almond butter, something about this meal made people take a second look.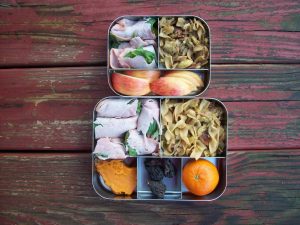 The Brussels Sprout Noodle Lunch
"You had me at brussels sprouts and bacon," one person commented. Yes, I did.
The Sushi Bowl Lunch
Can't blame you, not even a little bit. DIY sushi lunches are FUN.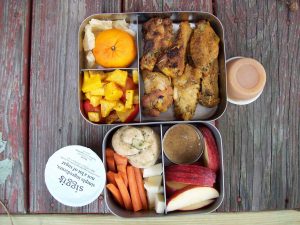 The Takeout Leftovers Lunch
The "likes," I think, were for the honesty: I took the kids out to a favorite pizza place on a rough day, and the next day's lunches made good use of the leftovers. Garlic knots and brick oven chicken wings reminded us all that sometimes you just need to take the help where you can get it.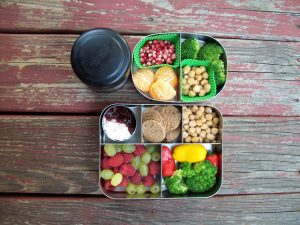 The Colorful Lunch
It's just so PRETTY.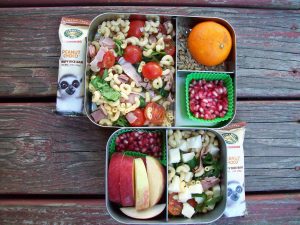 The Macaroni Salad Lunch
This one says, "When in doubt…throw every random thing you've got into some pasta and go." A respectable lunch strategy if ever there was one.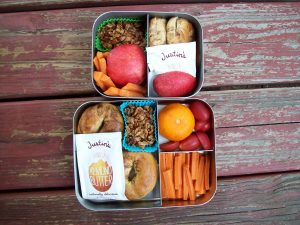 The "Bagel Fun Lunch"
My friend Justin said this reminded him of something his daughter's public school calls "Bagel Fun Lunch," which is essentially a bagel and cream cheese. Except this bagel fun lunch is, you know, more…fun.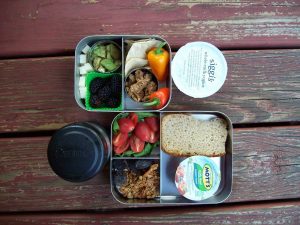 The Nacho Lunch
Although technically this photo is of two different lunches, I'm pretty sure people were showing up for the DIY nacho kit on top.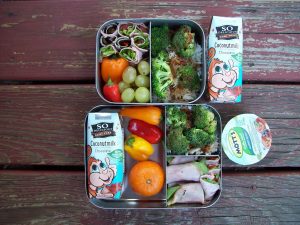 The Rollups Lunch
This is just another case of simple, bright, and colorful being appealing to your sensibilities. Oh yeah, and the chocolate coconut milk definitely didn't hurt, either.
Stay tuned for more great lunches — and dinners — in 2018!