As I write this, the Christmas tree is still twinkling, the candles are lit, and we still have a kitchen full of leftover cookies, blocks of cheese and boxes of crackers to remind us that the holidays are freshly passed. I find it almost impossible to believe that it's all over already; after over a month of preparations, Christmas went by in a flash and left me…well, full. Physically and spiritually full, which I so needed after a year of despair.
Last Christmas was quiet and strained. This year our celebrations were lively, with a houseful of family and groaning tables of food. By the way, a not-insignificant realization I have had in the past and was happy to rediscover this Christmas is: If you have a small, worn or tired house, don't avoid hosting. Nothing transforms a house into a home and makes it more beautiful than filling it with people you love.
Someone observed recently that after the Christmas lights start coming down in the next week or so, the world will feel — as it always does — less warm and friendly than it has these past days. But I've decided that while that's a fundamental truth, it's also our job to look for the warmth and friendliness where we can find it, and to generate it when we can't. My friend Sally from Real Mom Nutrition chooses an inspirational word for the year in lieu of resolutions, and although I think I should pick something lofty or ambitious like "focus," I think the word I really want to pursue over the next 12 months is…
Joy.
There is much to make me sad. There is much to worry about. But in 2019, I'd like to choose joy instead, as often as I can. So I'm going to try to make the year a joymaking endeavor. I want to go places, see things, take more time for myself, spend more time with my boys, and keep filling this rickety old house of ours with beautiful friends and family.
So come along, dark days of January, when it's cold and black and the Christmas lights are down but the promise of spring hasn't yet shown up. I greet you with wide open arms, comfort food on the meal plan, extra seats at the table for friends who want them and a promise of joy.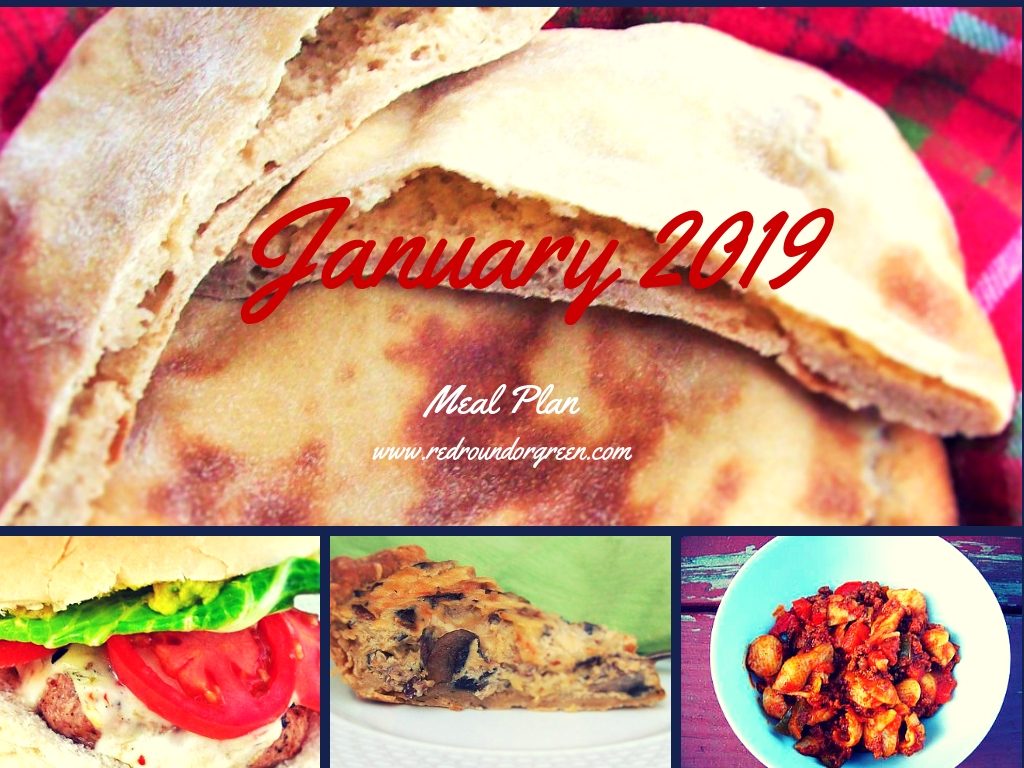 WEEK ONE
Tuesday, 1/1: The boys have asked to start 2019 auspiciously, with pizza. Who am I to argue?
Wednesday, 1/2: Chicken and ginger lo mein
Thursday, 1/3: Buffalo-inspired lettuce wraps, sweet potato fries
Friday, 1/4: BLTs and apple crisp
Saturday, 1/5: Cottage pie and salad
Sunday, 1/6: Sunday roast chicken dinner
Monday, 1/7: Quiche and salad
WEEK TWO
Tuesday, 1/8: Turkey taco burgers and skillet corn
Wednesday, 1/9: Lamb meatballs, homemade pita and roasted vegetables
Thursday, 1/10: DIY Chicken wraps
Friday, 1/11: Tomato-basil risotto and salad
Saturday, 1/12: Clam chowder and sourdough bread
Sunday, 1/13: Spaghetti and meatballs, salad
Monday, 1/14: Baked toast with eggs and cream, salad and fruit
WEEK THREE
Tuesday, 1/15: Chicken quesadillas, rice and beans
Wednesday, 1/16: Lentil and sausage stew, sourdough bread and salad
Thursday, 1/17: Meatball subs and raw vegetables
Friday, 1/18: DIY Sushi bowls
Saturday, 1/19: 40 clove garlic chicken, mashed potatoes and greens
Sunday, 1/20: Slow cooker California chuck roast and potato rolls
Monday, 1/21: Pasta e ceci, salad and rolls
WEEK FOUR
Tuesday, 1/22: Taco Salad
Wednesday, 1/23: Burger night
Thursday, 1/24: Chicken minestrone soup and bread
Friday, 1/25: Creamy mushroom pasta and salad
Saturday, 1/26: Pulled pork burrito bowls
Sunday, 1/27: Chicken and dumplings
Monday, 1/28: Homemade pizzas, salad
WEEK FIVE
Tuesday, 1/29: Pulled pork sheet pan nachos
Wednesday, 1/30: Breakfast for dinner
Thursday, 1/31: Mom's Old School Goulash, salad and rye bread