The Christmas season has a tendency to stay the same year to year, and yet change radically.
Things that stay the same: There will never be enough time to do all the things we want to do. Gift giving will always be a thing, in one form or another. Our tree will go up in the space between the fireplace and the bookcase. Somewhere in the house, carefully placed lights will go out and we'll have to decide between fixing them and ignoring them because the whole scheme is going to get torn down again in a few weeks. I will bake too many cookies. We will never feel we have sung enough carols.
Things that change: We used to have Christmas at my parents' house, with both of them and my sister. Then one year we had it at our house and nobody came and we ended up at my brother-in-law's for dinner. Then last year my mother died 24 days before Christmas, and my father and sister came to our place for the holiday, and I barely remember any of it because we were really just going through the motions (plus I was sick with a raging sinus infection that would take weeks to clear up, falalalala). This year we're hosting and I still don't know who's coming for sure, either Christmas Eve or Christmas Day, but it could be a lot of people. We still won't have my mother with us, ever again. Or my sister-in-law, who passed in May. We'll probably change some traditions and bake some new treats. We'll try to make something familiar but different enough that it doesn't seem like we're just compensating for loss.
Other things that change: As kids get older, they believe in Santa, or they don't, or sometimes one of them hasn't believed for a while but the younger is still clinging for probably one more year, and you feel like you have to make the most of it. Things that used to be non-negotiable, like the Christmas parade at the zoo, become "embarrassing, Mom." Self-imposed busyness around the holiday season (must do all the festive things with the little people!) becomes real busyness around the holiday season (HOW many holiday concerts are you playing your viola in, exactly, and how many evenings and weekends do we need to drive you somewhere?). You get better and better at figuring out how to fit in the baking and decorating and shopping each year, but worse and worse at actually accomplishing it because the calendar is so unpredictable. You do it anyway, or you throw up your hands and let some stuff go and realize that sitting on the couch with the lights off and the tree on and watching the Great British Baking Show with the kids is just as festive as anything else and might be better for your soul.
December 2017 was a smoking crater. December 2018 is hard and complicated and weird but joyful in its own way. And it felt almost impossible to plan meals for this month because I feel like I have basically no idea what's happening, when, or who's going to be at our house for dinner, but I planned anyway. That's what I do. It's just that all of this is 100% subject to change.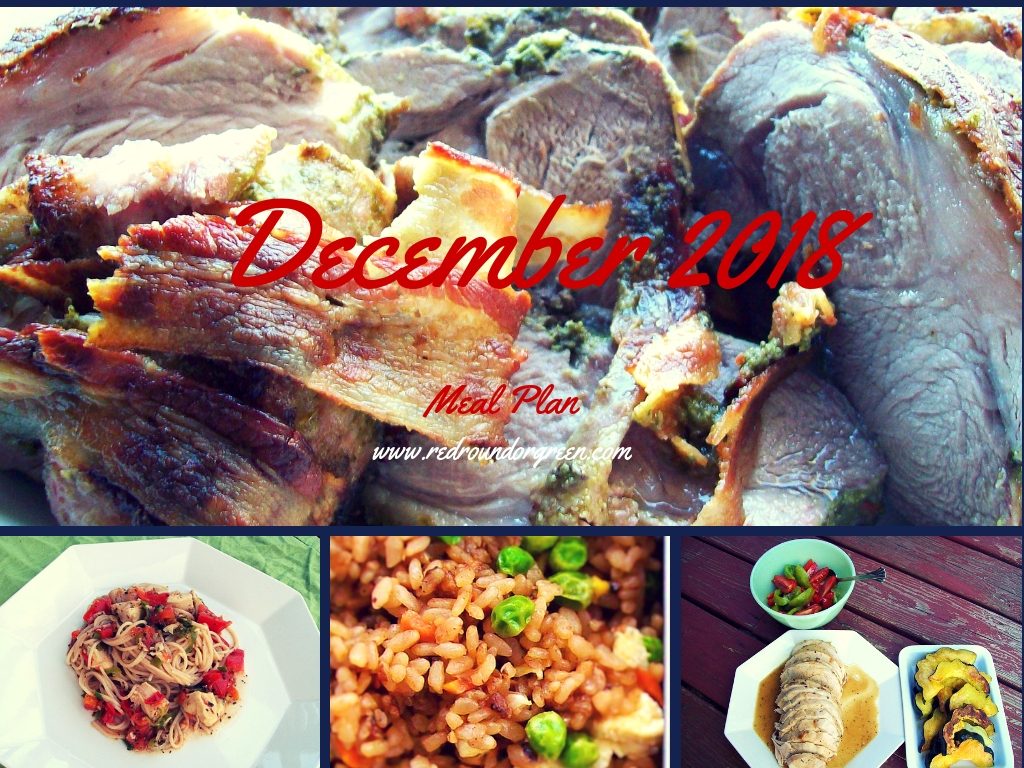 WEEK ONE:
Saturday, 12/1: Dad's visiting. I'm making porchetta, garlic mashed potatoes and roasted brussels sprouts.
Sunday, 12/2: Sunday roast chickens, buttered egg noodles, salad, and cauliflower with cheese sauce
Monday, 12/3: Monte Cristos and roasted sweet potato wedges
Tuesday, 12/4: Chicken pot pie and salad
Wednesday, 12/5: Chicken fajitas, rice and beans
Thursday, 12/6: Pasta all'amatriciana and salad
Friday, 12/7: P.'s new favorite thing — "Snack plate." Basically whatever version of a charcuterie platter I can pull together easily and not too expensively, and we usually help ourselves while we watch a movie or something.
WEEK TWO:
Saturday, 12/8: Totally insane day so we'll probably grab dinner out someplace.
Sunday, 12/9: Chicken saltimbocca, cacio e pepe and veggies
Monday, 12/10: Homemade pizzas
Tuesday, 12/11: Cobb casserole and bread
Wednesday, 12/12: Penne with eggplant caponata and fresh mozzarella
Thursday, 12/13: Turkey chili and cornbread
Friday, 12/14: Freezer meal while I'm at dress rehearsal
WEEK THREE:
Saturday, 12/15: I've got another dress rehearsal and a choral performance and will be out from noon until at least 10 p.m. Not my job to deal with dinner tonight 🙂
Sunday, 12/16: Lasagna with meat sauce and bechemel, salad and bread
Monday, 12/17: Vegetable fried rice
Tuesday, 12/18: Breakfast burritos and fruit
Wednesday, 12/19: Chicken cutlets, roasted potatoes and salad
Thursday, 12/20: Creamy tomato soup and grilled cheese
Friday, 12/21: Tacos
WEEK FOUR:
Saturday, 12/22: Slow cooker herbed turkey and gravy on toast, cranberry sauce and vegetables
Sunday, 12/23: I *think* some family might be coming into town tonight. Pasta poulet and salad for an easy meal for hungry travelers.
Monday, 12/24: Christmas Eve! The way things are shaping up, it sounds like we'll have an early dinner of prime rib with Yorkshire pudding and fixings with some family before church services — then home for eggnog and cookies after.
Tuesday, 12/25: Christmas Day! We're probably hosting over a dozen family members, so I've moved our traditional Swedish Julbord to today. The Julbord has five different courses ranging from smoked fish to cheeses, salads and cold cuts and homemade pickled vegetables, ham and meatballs and scalloped potatoes and other hot dishes, and finally cookies and cakes and candies.
Wednesday, 12/26: After all that cooking and hosting, I'm on strike.
Thursday, 12/27: Probably croque madame with the leftover Christmas ham, and a salad
Friday, 12/28: If family's still in town, penne vodka, salad and garlic bread.
WEEK FIVE:
Saturday, 12/29: Sheet pan pork and sweet potato satay with basmati rice and broccoli
Sunday, 12/30: Lemon chicken cutlets, couscous and vegetables
Monday, 12/31: New Year's Eve! Haven't decided what we're cooking yet, but it's always an event at our house.