Thanksgiving 2017 was the last time I ever spoke to my mother. She unexpectedly went into the hospital a few days before the holiday, and she never came home.
Sorry to start a meal plan with such a downer, but I don't know another way to start this one. Last year at this time, my sister-in-law and my mother were both in hospital beds and I was planning the logistics of holidays that would accommodate their medical needs. As 2018 draws to a close, they are both gone.
I sit here with my meal plan, sketched out hastily a few nights at a time in between kid activities while I sat in waiting rooms, living the life of a busy working mother who's still determined to at least pretend to be organized. But I can't really remember writing it, and I have had to make changes to it — not typical for me, making changes after it's set. I clearly didn't look at my calendar before I wrote it, which is usually the very first step in writing a meal plan. I also clearly didn't pay attention to days of the week or whether I had repeated certain items throughout the month; if I had done those things, I wouldn't have written a meal plan that assumed I would have time to make a big roast chicken dinner on a Friday night, or have put chicken alfredo on the menu four separate times. Yup. Clearly, judging by the state of this notebook of mine, I'm distracted.
Still, whether I'm distracted or not, it's a game plan, which I know I'm going to need as the month wears on. The emotional complication of the approaching anniversary is going to have to coexist with an incredibly full calendar, a major holiday and planning for Christmas, too. I can't tell yet if it's going to be a year where I need to throw myself into everything and make it all SO AMAZINGLY GREAT or whether I'll just want to avoid everything and go super minimal. Only time will tell. All I know is that at the moment, nothing — not even my meal planning — is the way it was a year ago. But it all goes on anyway.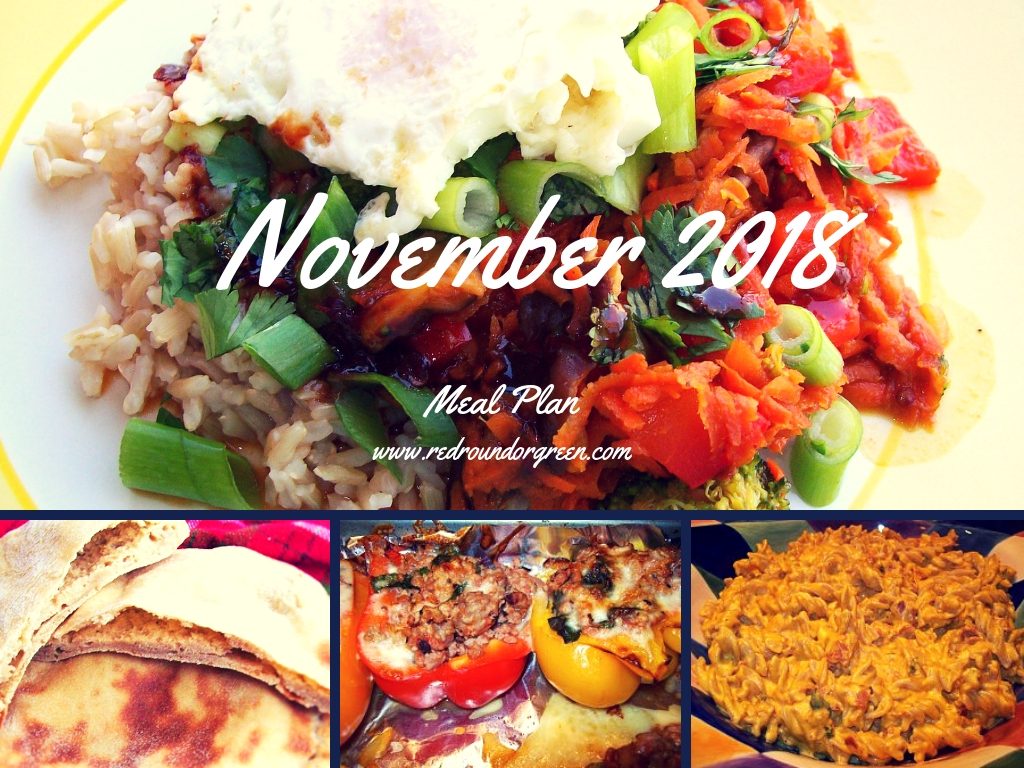 WEEK ONE
Thursday, 11/1: Ciabatta bread pizzas with leftover meat sauce, salad
Friday, 11/2: Chicken and broccoli alfredo
Saturday, 11/3: Roasted shrimp with fennel and tomatoes, couscous
Sunday, 11/4: Out to dinner after several family events
Monday, 11/5: Crispy chicken cutlets and assorted vegetables
Tuesday, 11/6: P.'s favorite chicken quesadillas on sourdough tortillas
Wednesday, 11/7: Bibimbap
WEEK TWO
Thursday, 11/8: Ham and beans (using a ham hock from the freezer), sourdough bread
Friday, 11/9: Spaghetti and meatballs (using a stash of meatballs from the freezer)
Saturday, 11/10: Falafel, sourdough pitas and salads
Sunday, 11/11: Sunday roast chicken dinner
Monday, 11/12: Chicken and lentil soup, corn muffins
Tuesday, 11/13: Breakfast tacos and fruit crisp
Wednesday, 11/14: DIY Sushi bowls
WEEK THREE
Thursday, 11/15: Stuffed peppers and garlic bread
Friday, 11/16: I'll be singing a concert this evening, so something from the freezer for the guys
Saturday, 11/17: Teriyaki salmon, broccoli and potatoes
Sunday, 11/18: Chicken parmigiana and pasta, salad
Monday, 11/19: Vegetable pad thai
Tuesday, 11/20: Fish tacos
Wednesday, 11/21: Out to dinner with family
WEEK FOUR
Thursday, 11/22: THANKSGIVING — bringing homemade rolls, pies and cranberry sauce to my sister's.
Friday, 11/23: Spaghetti and salad
Saturday, 11/24: Busy day, so we'll pull something from the freezer
Sunday, 11/25: I'm performing in a local production today. Going to request that we just get some takeout and relax this evening!
Monday, 11/26: Pumpkin carbonara and salad
Tuesday, 11/27: Spicy shrimp and vegetable quesadillas
Wednesday, 11/28: French onion soup and salad
WEEK FIVE
Thursday, 11/29: Cornflake crusted chicken and vegetables
Friday, 11/30: Kale salad with roast chicken, homemade bread