I've been thinking about some changes we've made lately to the way we plan, shop and eat, and I think the whole thing can best be summed up as discipline.
I mentioned not long ago that I was making a truly concerted effort to reduce the amount of meat in our dinners, for many reasons — most of them budget-related (hello, pre-teen boys). Since then, I've been working hard to build our flexitarian ways, which hasn't always been met with total enthusiasm from the children. Notably, there was a recent night when 12-year-old L. wandered into the kitchen and asked what I was making; when I said it was pasta Norma, he groaned "We haven't had meat in AGES" and I couldn't resist pointing out to him that he'd eaten chicken, corned beef and Chinese take-out the three previous evenings so I was pretty sure he wasn't wasting away from a lack of animal protein. Still, the kids are now of an age where any serious grumbling can be met with a calm "We've already talked about why Dad and I agreed to make this change," and as a bonus, they're hungry enough most of the time that as long as whatever's on the table is edible, they'll inhale it. Both of these factors make shifting our habits a little easier now than it would have been even just a couple of years ago.
In addition to the changes in meal planning, I've also changed my long-held shopping habits. Many readers know that I have been an avowed Whole Foods shopper for many years — always price comparing, always trying to work the discounts as much as possible, but a Whole Foods shopper nonetheless. In the past year, however, it's become harder and harder for me to justify that habit. While quality and prices at Whole Foods have started to waver in ways that aren't exactly favorable, other grocery stores in my area have started to step up their games. So I decided to try flipping my habits upside-down: Instead of shopping mostly at Whole Foods and supplementing at places like Trader Joe's, I'd see what happened if I shopped mostly at Trader Joe's and supplemented at Whole Foods.
Spoiler alert: The kids' college funds are about to get a boost.
I'm not saving a mortgage, or anything, but the combined impact of eating a lot less meat and reversing my shopping habits has made pretty drastic impact on our budget. Also, as I've been working on these areas, I've paid a lot more attention to re-purposing ingredients and trying to use up as much of what's hanging around as possible so I can keep enjoying the nice low grocery bills. It's been a challenging experiment, but honestly the biggest thing that's required of me here is discipline. I have to have the discipline to stick to planning lower-meat menus, to keep fitting the less convenient trips to Trader Joe's into my schedule rather than going with the familiar easy route, to keep challenging myself to creatively plan to use what's on hand, and to keep reinforcing for the family that what we're doing is really better for all of us in the long run, in a lot of ways.
It's a shift in my mindset, to be sure, and while a lot of our meals have been simpler, they've required more effort and concentration from me to keep things on track. But I've also enjoyed it; I like a lot of what we've eaten, and I feel we're eating and spending well and wisely.
So in April, the quest continues: Reduce our meat consumption to about 50% of dinners, shop more frugally, cook more creatively, waste as little as possible. I think we can make it work.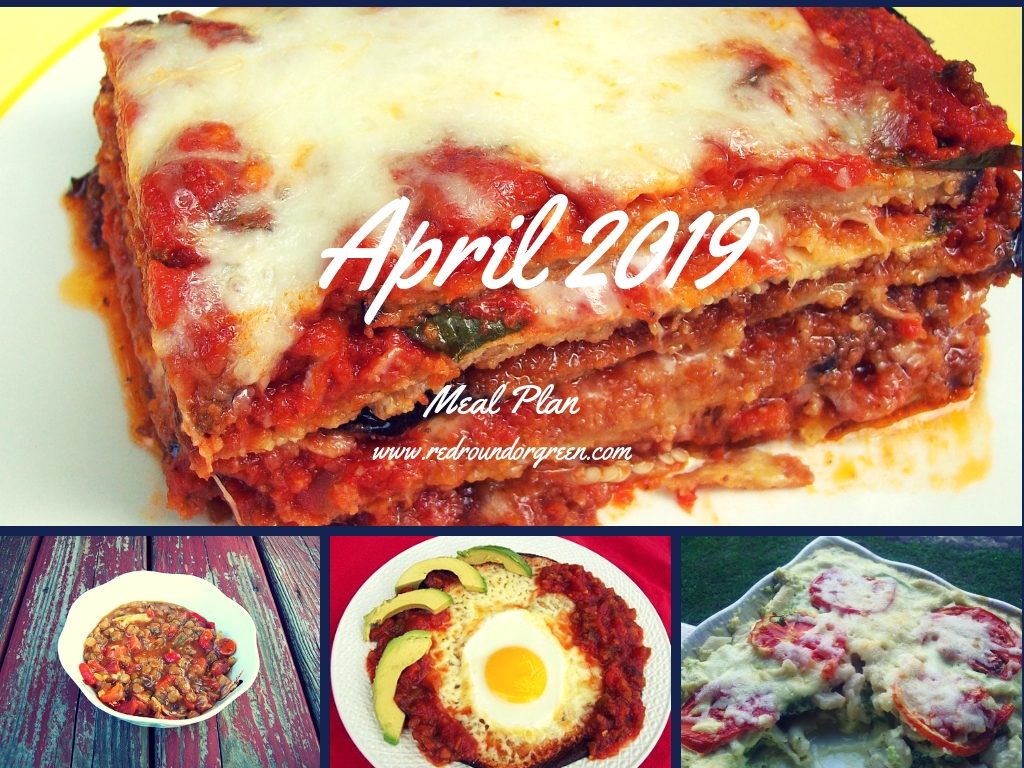 WEEK ONE
Monday, 4/1: Baked toast with eggs and cream, salad, fruit
Tuesday, 4/2: Vegetable and rice burritos in homemade sourdough tortillas
Wednesday, 4/3: Chicken and broccoli alfredo
Thursday, 4/4: Chicken meatball and mozzarella skillet, bread and salad
Friday, 4/5: Mozzarella in carrozza, tomato and cucumber salad, fruit
Saturday, 4/6: "Frog slime" meatballs, buttered noodles, roasted vegetables
Sunday, 4/7: Braised chicken thighs with white beans and vegetables
WEEK TWO
Monday, 4/8: Falafel and homemade pitas
Tuesday, 4/9: Breakfast tostadas, beans, salad
Wednesday, 4/10: Sheet pan pork and sweet potato satay, rice and broccoli
Thursday, 4/11: DIY wraps and salads
Friday, 4/12: Pasta Primavera
Saturday, 4/13: Sunday Roast chicken dinner
Sunday, 4/14: Eggplant parmigiana, pasta and salad
WEEK THREE
Monday, 4/15: Lentil stew with poached eggs and feta cheese, bread
Tuesday, 4/16: Chicken quesadillas, rice and beans
Wednesday, 4/17: Turkey club patties on a bed of greens
Thursday, 4/18: Avgolemono and Greek salad
Friday, 4/19: Homemade pizzas
Saturday, 4/20: Chicken cutlets over chopped salad, bread
Sunday, 4/21: This is both Easter and my Dad's birthday. We'll celebrate with family, but no solid plan yet.
WEEK FOUR
Monday, 4/22: Miso soup and tempura vegetables
Tuesday, 4/23: Fish tacos, rice and beans
Wednesday, 4/24: Sheet pan candied rosemary chicken
Thursday, 4/25: Baked macaroni and cheese with broccoli
Friday, 4/26: Burger night
Saturday, 4/27: Ma po tofu
Sunday, 4/28: Chicken cacciatore and pasta
WEEK FIVE
Monday, 4/29: Quiche and salad
Tuesday, 4/30: Turkey tacos