Okay, now that we're in the homestretch of the $5-per-person dinner menu week, it's occurred to me that this is both art and artifice.  Cooking and eating is always (or should always be) an artistic endeavor, even if it's just grilled cheese sandwiches for dinner; there's the creativity of it, the act of MAKING something from raw ingredients, the act of experiencing something with all of your senses.  These are the fundamentals of art, which is why a frustrated creative type like me can be so wooed by the kitchen.
But then, there's artifice too, and that comes in the inflation I've been doing to REACH the $5-a-head mark each evening.  Certainly there are some dinners each month that probably stretch to this level of expense, but I tell you quite sincerely that it's just not natural for a home cook like me to spend that much.  If we ate more meat, and more expensive cuts of meat, then perhaps we'd find ourselves spending this much money all the time; but in the practical sense, a $5 per person outlay for every single dinner would mean $140 of our grocery budget GONE before we'd even addressed lunches, snacks, and breakfasts.  It's just an outrageous number, if you do the math.  (Which, I should say, is sort of the point so many of us real-food advocates are trying to make — sure, the $5 value meal SEEMS like a value, but only because you're not actually adding up the total expenditure over a period of time, and only because you're not actually subtracting and dividing properly when you price real ingredients.  That $3.50 jar of spices and the $10 bottle of olive oil will LAST you.)
Anyway, tonight's dinner needed some inflation to make the $5 mark, which I guess is good news — if you chose to omit a few things, which you could easily do, it would come in probably more around the $3 range.  Totally affordable.  Plus, tasty, healthy, and reasonably easy, especially if you do a little advance prep work and roast the veggies ahead of time.  Also, we had two dishes together on our plates, but each could stand alone as its own light meal, making this even more budget-friendly and weeknight-friendly.
Tonight's Dinner: Beet and Corn Panzanella, Apple Salad with Crispy Prosciutto and Greens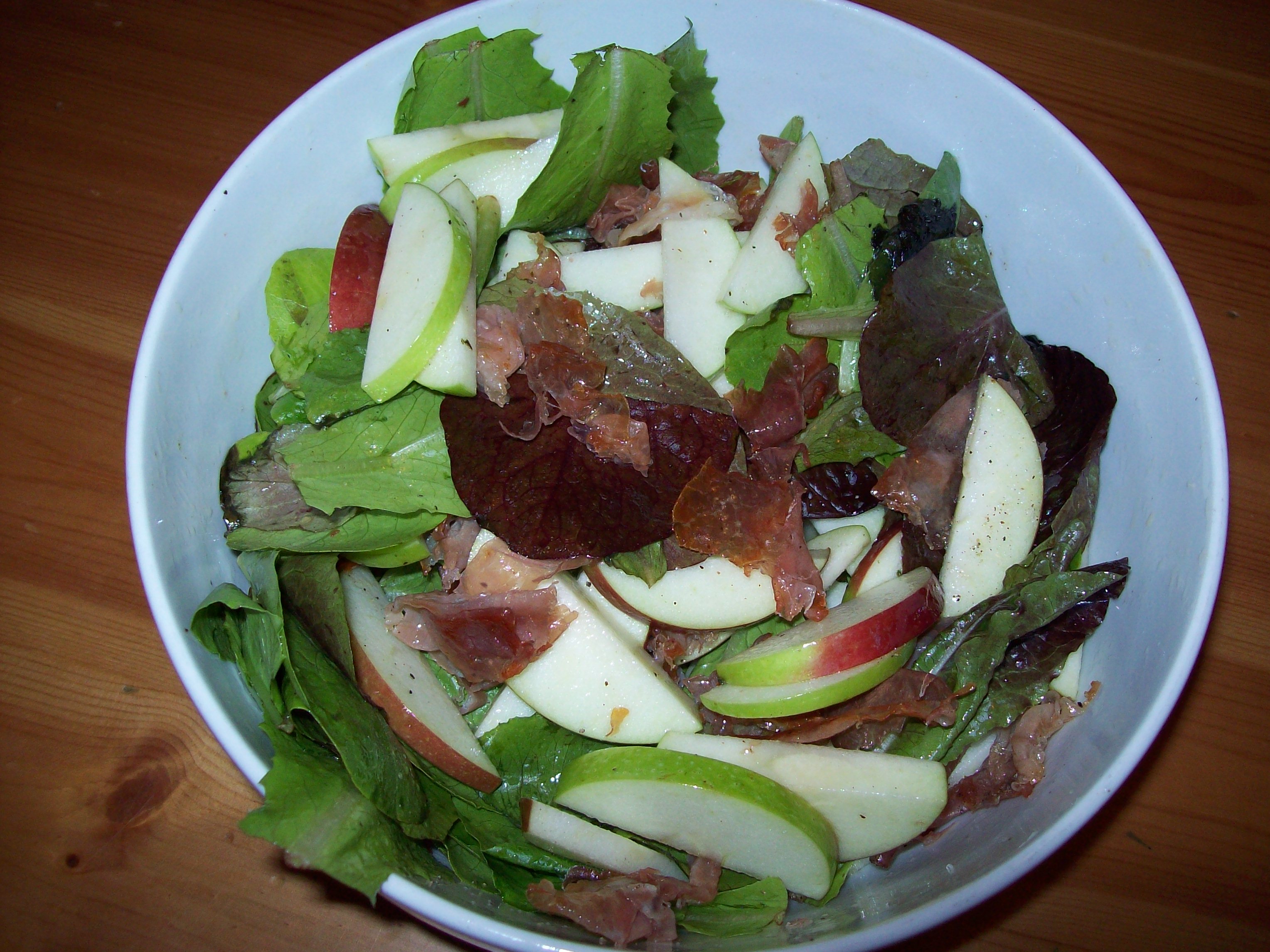 Local Beets: $4
Local Corn: $2.40
Organic Goat Cheese: $2.30
Organic bakery bread: $3
Local basil: $0.50
Organic greens: $0.75
Local apples: $0.85
Prosciutto: $3.10
Dressing components (olive oil, lemon juice, vinegar, honey, maple syrup): $2.50 (estimated value)
TOTAL: $19.40 (with tons of panzanella left over)