It's that time again – time to be accountable and show you all what things are like around here if I don't meal plan or grocery shop for a week.  When I did this no-shopping challenge back in December, it went very smoothly, if I do say so myself, but then you all had to go and challenge me AGAIN.  If I remember correctly, it was my dear friend C. who tactfully suggested that I may have had a bit too much help from the summer produce stored in my freezer last time.  She wanted to see how things would go in February, when I would presumably have used up more of my stash.  So here I am, a sucker for a challenge, doing the no-shop thing for a second time.
The good news is, it's a non-event.  Again.  I may not have the kind of summer stock that I had last time to pull me through, but darn it, I've still got plenty of food in this house to work with.  We had to forestall the challenge a bit because we'd been trying for AGES to get together with friends, who happened to be free for dinner on the Saturday night that was supposed to kick things off – but aside from that, we've been pantry people.
Breakfasts are their usual unexciting selves, which works fine in this house, so I don't worry about it.  There's been cold cereal around for L., yogurt and fruit for P.  J. and I eat what strikes our fancy, which is usually yogurt or an apple with nut butter.  Things are stretching a bit thin now, so I'm baking up a batch of granola to get us through.  Nothing exciting to see here.
As to lunches, J. and I have done our usual mishmash of leftovers – a little bit of this, a little bit of that.  It's how we usually eat, so it hasn't bothered us in the least.  Some of the combinations have been a bit interesting (J. had a small plate of pasta and a small mug of stew today), but it's all good, healthy food, so we're not letting it bother us.  If we're hungry later, there are always apples, bananas, and peanut butter to get us through.  The boys have eaten great, though:
Dinners haven't been fancy, but I actually like that these pantry weeks make us work with what we've got and make meals that are a little more humble or simple than what we might usually choose.  I like the reminder that just because we CAN be adventurous or fussy, family dinner doesn't have to be about that at all – as long as there's good wholesome food on the table, that's dinner, and that's absolutely good enough.
Sunday night we made a lasagna using the leftovers of a meat sauce my mom and I made while my folks were visiting last week.  Yes, I just happened to have ricotta and mozzarella in the fridge, and lasagna noodles in the pantry – a happy coincidence for which I'm very grateful.  With a salad alongside, it was a painless way to ease into the week.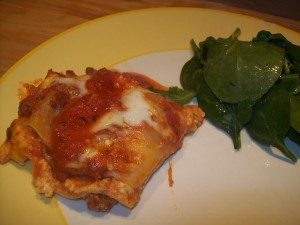 Monday night's dinner used up a big portion of leftover roast turkey breast that had been hanging around in the refrigerator for almost too long.  I refreshed it with freshly made stock that came from the carcasses of our Saturday dinner party chickens, added onions, parsnips, and carrots, threw in some fresh thyme, and made a rich – but quick – turkey stew.  There was focaccia bread from our dinner party still on the counter as well, so we warmed that up and ate it alongside.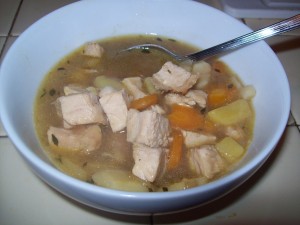 Tuesday night, we made use of the last of our chicken by mixing it with some broccoli that needed attention.  White wine, garlic butter, pasta, and crumbled goat cheese pulled it all together into a very passable dinner, but we didn't have enough greens on hand to make the salad I'd intended.  Instead, we had a stub of cucumber, some carrots, and an odd amount of arugula – all of which, tossed together with champagne vinegar and olive oil, made something resembling a salad, but with a lot less "leaves," as the boys were quick to point out.  Still, nothing went to waste, so I was happy.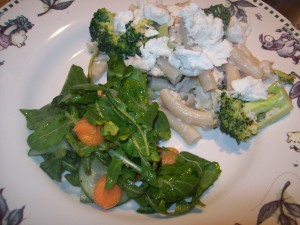 Tonight's dinner needed to be quick and unfussy, since I wasn't getting home with L. and P. until 6 p.m.  I had J. start some sweet potato fries from the freezer, and when I walked in the door, I threw a pastured kielbasa from our farmer's market (which had also been frozen, and thawed in the fridge all day) on the grill.  While the meat and fries were working, I sliced apples and oranges, cooked some frozen peas and tossed them with butter and seasonings, and poured some organic sauerkraut into a bowl.  It was a slightly weird dinner, but there wasn't any complaining, other than the usual grumbling that always comes from my three guys about the appearance of peas.  (They ate them anyway.)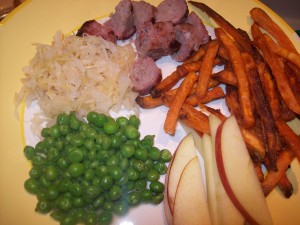 So, four days down, and two to go – and we're still in good shape.  I have a few ideas as to what we'll end up eating the next two days, and none of them involve starvation rations, so I'm happy enough with that.  As expected, the fresh produce is almost nonexistent at this point, so I'm sure lunchboxes in particular will get pretty…interesting…before the week is through.  But we're by no means out of food.  More importantly, we've wasted far less this week already than we might have otherwise, just because the challenge has motivated me to make sure that I use every scrap of whatever is left.  If you haven't yet scheduled your own no-shop challenge week, I highly recommend it as a great way to get back in touch with the real meaning of the word "need" and to challenge your own preconceived notions about what constitutes "enough" in your household.  Now that we've done this twice, I'm considering really making it a regular thing – there's a lot to be gained, in a personal sense, by making yourself a little less comfortable than usual.