One of the things I think many people tend to struggle with, as they try to eat well, cook real food, and maintain a balance between their food values and their social lives, is how to deal with hosting a dinner party that will appeal to guests of all ages.  If your family is anything like ours, trying to get together with grown-up friends is challenging at best, and it's much easier to accomplish if you host whole-family parties where the kids can run off and play together while the grown-ups have their own playtime (i.e., standing around the kitchen munching on olives and drinking maybe a little more wine than they may have intended before dinner).
The issue with family dinner parties, however, can be that it's hard to please adult palates and kid palates without making yourself crazy, cooking two separate meals, or resorting to something that's maybe less wholesome and less satisfying, overall, than you may have wanted to serve.  That's where this post comes in: An entire party menu, start to finish, for a very nice but not very fussy meal that can be tailored to please everyone at the table.
Oh, but before we talk about the food, here are a few quick Dinner Party Commandments for a successful mixed-age evening:
1) Check in before committing.  I don't necessarily advocate getting a detailed list from Little Sally's mom of the twelve foods she will routinely eat, and planning a whole menu around those items.  But it's not a bad idea to ask ALL guests, regardless of age, a few key questions: "Any food allergies or intolerances?"  "Any absolute no-go foods?"  "Any definite favorites?"  A good guest will keep the answers as brief as possible, and a good host will be accommodating as far as is reasonable.
2) This is your dance space, this is theirs.  Or eating space.  Or whatever.  Make sure there are zones for the kids and for the adults – this is truly possible no matter what your square footage is like.  In our house, kids get the run of the backyard (in warm weather) and second floor during dinner parties, since we lack a playroom; we just try to make sure there are a few really interesting items to play with up in the boys' bedrooms prior to the arrival of friends.  The kitchen and dining area are the realm of the adults.  Living room space is negotiable. 🙂 When it comes time to eat, we create a special kid zone so the adults can have the dining table.  For extra fun, when we hosted friends this weekend, we brought a linen chest from upstairs into the living room, draped it with a picnic blanket, and let the kids eat sitting on pillows at their own "bistro" table.
3) Simplify.  When you're trying to host people and eat (relatively) clean, it can be nerve-wracking; you want your guests to be comfortable, after all, and what if they're expecting sodas or chips?  Sometimes that kind of anxiety can lead to overbuying and offering too many choices in an effort to please everyone.  Over time I've learned to scale back.  We offer ice water, seltzer, milk, and sometimes iced tea or organic lemonade to drink.  (That obviously doesn't include wine or beer, which we do have – but it's a great thing to assign to a guest who wants to contribute.)  For appetizers, we try to hold ourselves to just three or four easy nibbles.  So far, no one's ever complained.
4) Make it customizable.  There's no need to try to please everyone with every item, but things will probably go more smoothly if you make a meal that can be tailored to different tastes without much effort.  One way to do that is by making something like a taco bar or make-your-own pizza night; but if you want something a bit less casual, consider putting together a menu like this one, where foods can be served plain and separated for less adventurous guests, then combined and flavored for everyone else.
Appetizers/Snacks:
Mixed olives
Cheddar fricos
Homemade focaccia bread — Really, this is just half a recipe of pizza crust, topped with salt and chopped herbs, then baked in an 8×8 pan with lots of olive oil at 400 degrees for about 35-40 minutes.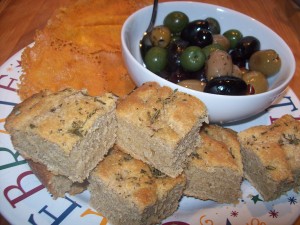 Some kids like olives; some don't.  Cheese fricos are a general crowd-pleaser for all ages that take practically no time to make, and taste great with a glass of wine.  And focaccia bread can be made with or without herbs on top, and served alongside ramekins of olive oil and flavored vinegars for dipping if guests want to get creative.
Main Course:
Simple Brined Chicken with Herb butter
Chicken is easy, relatively inexpensive, and tends to go over well with most guests – adults and kids alike.  A flavorful roasted chicken like this one doesn't have to come with any fancy sauces or stuffings, so it's not intimidating for your youngest guests.  I just gussy up my usual Sunday Roast Chicken recipe with an easy overnight brine to impart extra flavor and moisture, which transforms it into dinner-party fare with almost no additional effort.
Sides: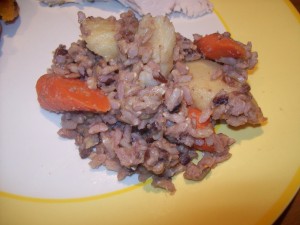 Warm Wild Rice Salad with Roasted Root Vegetables
Roasted beets with goat cheese and toasted pecans
Sounds fancy, right?  Of course, if you separate the rice and keep half of it plain, you'll be able to serve that to the least adventurous diners.  Same goes for the carrots and parsnips in the dish – just hold some back and maybe melt a pat of butter over the top for the selective eaters.  For everyone else, mix the warm rice and vegetables with a sophisticated sherry vinaigrette to give it some pop.
As to the beets, well…the children at your party will already have plates full of chicken, rice, and carrots, and as far as I'm concerned, that's fine.  Some kids (like my L.) may want the beets, but may prefer them without the cheese and nuts.  Other kids (like P.) may want the cheese and nuts, but no beets.  Either way, there's no harm in letting them look, decide, and choose what they want.
Dessert:
Warm chocolate cookie "pie" with whipped cream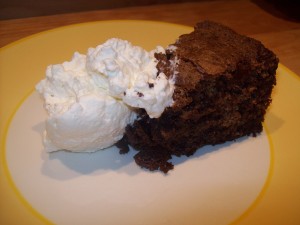 This cookie "pie" is one of the easiest desserts I've ever made.  It can be made with white flour or whole-wheat, depending on your preference and what you have in the pantry; you can add different kinds of chocolate, candy, or nuts to it if you'd like; and you can serve it with whipped cream or ice cream as you please.  Make it in advance and then gently warm it in the oven before serving for a low-stress dessert.
Dinner parties don't have to be extra-fancy, elaborate, or fussy and expensive to pull together.  If you plan properly, you can easily enjoy a meal with friends without breaking a sweat, or breaking the bank.  Better yet, you can please most of the people most of the time with a few good recipes and a foolproof strategy — which leaves you free to enjoy the evening.  What could be better than that?