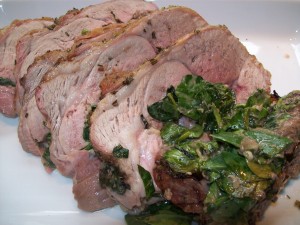 On Easter Sunday, I made a boneless leg of lamb for our family dinner.  I hadn't planned on it; actually, I was going to do something nice with a pork loin, maybe, until two weeks prior to Easter when Whole Foods ran a special on lamb.  Realizing I could get a nice piece of meat for the family at almost 50 percent off, I seized the opportunity to change plans, and nestled the lamb into the freezer until it was time to press it into service for our special meal.
There was only one problem: I've cooked lamb before, plenty of times, but none of the things I had ever done with it seemed…Easter-y enough.  Plainly put, nothing was exciting me, and I wanted to be excited about our dinner.  A quick consultation with my sister, D., yielded her recommendation of a recipe that called for stuffing the lamb with arugula.  I figured I'd go with it.  Except, well, I didn't have arugula, and I was decidedly NOT going to the store; spinach would have to do.  Also, it didn't seem like it called for enough garlic.  I didn't have the right herbs.  And…
Oh, heck with the recipe.  I was going off on my own lamb tangent, and I was pretty sure it was going to be good.
As it turned out, it was better than good.  J. took two bites and then said "This lamb should be ILLEGAL."  The boys devoured seconds, then thirds.  And I've got a confession to make: I've kind of been jonesing for it ever since.  In fact, the mere act of writing this post has made me uncontrollably ravenous, even though I just finished dinner a couple of hours ago.
This isn't all-occasion lamb.  It's not the simplest recipe on this site.  It's not a throw-together meal.  But it is amazing, I promise you.  The next time you need a show-stopper for a dinner party, I highly recommend that you consider making some Illegal Lamb.  But make sure to make extras, because you will be very, very sad if there aren't any leftovers the next day.