I'm just LONGING for summer produce.  Aren't you?
Maybe I've spent more time and energy this year paying attention to the seasons and making sure that we don't eat too many way out of whack fruits and vegetables — in fact, I know I have.  As the kids get older and less selective about their eating habits, I feel less and less obliged to do lots of crazy out-of-season shopping that's intended solely to appease their preferences.  Also, as I become ever more aware of the state of our food system and become more committed each day to the ways in which I can vote with my dollars and shop my values, I'm less and less inclined to spend my hard-earned money on pale imitations of really good foods — you know, like Evil Tomatoes.
Consequently, I'm feeling the lack of variety and the lack of AMAZING vegetables even more acutely this spring than I ever have before.  I keep dreaming of my summer Farmer's Market (no offense, friends at the Winter Market!), and longing for the feel of those heavy reusable sacks, laden with fresh greens and sun-warmed tomatoes and zucchini and herbs and…
And.  Sigh.  Swoon.
So it's with a sense of plodding that I get through this particular meal plan.  But it's a meal plan, nonetheless, and it'll get us through the next 30-odd days…until June, and sun, and summer, and my beloved farmers, bring my longed-for produce back again.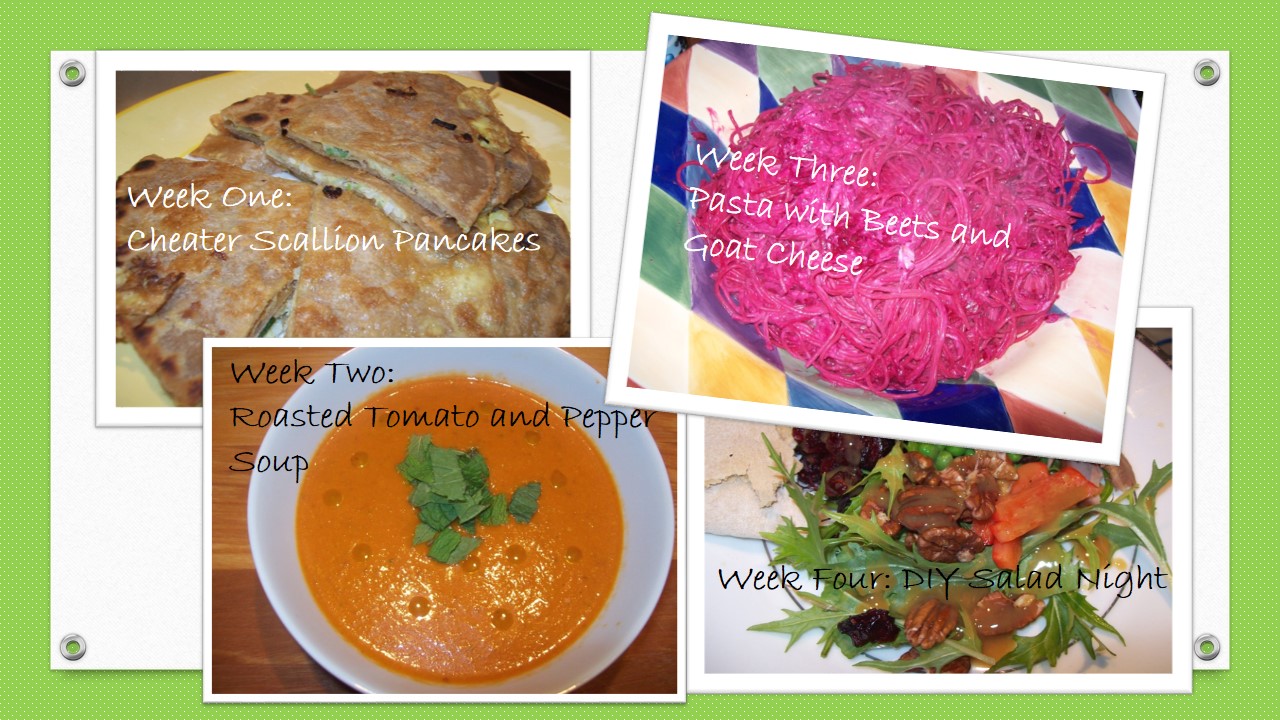 WEEK ONE:
Wednesday, 5/1: Grilled chicken thighs with spinach pesto, roasted potatoes, salad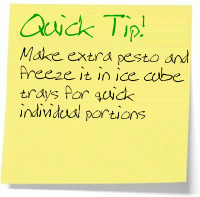 Thursday, 5/2: Breakfast for dinner
Friday, 5/3: Fend night
Saturday, 5/4: It's Listen to Your Mother time!  My in-laws are taking me out to dinner after the show.  Because they're great that way.
Sunday, 5/5: Sunday Roast Chicken dinner (yeah, I know it's Cinco de Mayo, but my kids will be way happier with chicken; and I'll be happy to de-stress with our go-to meal)
Monday, 5/6: Slow cooker — Asian pork lettuce wraps and cheater scallion pancakes
Make it GF: You can use any gluten-free tortilla you like, or forego the scallion pancakes and make spring rolls with rice paper wrappers.
Tuesday, 5/7: I have a potluck to attend tonight.  I'm truthfully not sure what I'm bringing, but I'll probably make double of whatever it is to leave some for the guys!
WEEK TWO:
Wednesday, 5/8: Weekend warm-up: Mediterranean chicken and quinoa salad
Thursday, 5/9: Spaghetti marinara and salad
Make it GF: Use a wheat-free pasta like Jovial or Tinkyada brands
Friday, 5/10: Fend night
Saturday, 5/11: Ham and cheese stuffed shells, green salad
Make it GF: Substitute baked potatoes for the pasta shells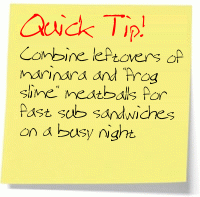 Sunday, 5/12: Mother's Day; not sure what we're doing, entirely, but if we're around for dinner I'll throw some steaks on the grill and make some veggie kebabs
Monday, 5/13: "Frog Slime" Meatballs and roasted vegetables
Tuesday, 5/14: Roasted tomato and pepper soup, grilled cheese sandwiches
Make it GF: Omit the sandwiches and serve cheese fricos instead

WEEK THREE:
Wednesday, 5/15: Weekend Warmup: Quick skillet steak pizzaiola with roasted potatoes
Thursday, 5/16: Pasta with beets and goat cheese
Make it GF: use a wheat-free pasta like Jovial or Tinkyada brands
Friday, 5/17: Fend night
Saturday, 5/18: Eggplant burgers and sweet potato fries
Make it GF: Serve the burgers off the buns, and use gluten-free oats to bind them rather than breadcrumbs
Sunday, 5/19: Basic meatballs and grilled vegetables
Monday, 5/20: Turkey tacos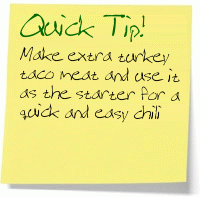 Tuesday, 5/21: DIY Asian noodle bowls, fruit
WEEK FOUR:
Wednesday, 5/22: Weekend warmup: Meatball subs, veggie platter
Make it GF: If you don't want to use GF buns (don't blame you!), try making meatball sub lettuce wraps.
Thursday, 5/23: DIY Salad night
Friday, 5/24: Fend night
Saturday, 5/25-Monday, 5/27: Memorial Day weekend; we're firming up plans with family, so I'm not working on dinner plans just yet
Tuesday, 5/28: Chicken with goat cheese and marinara, sauteed greens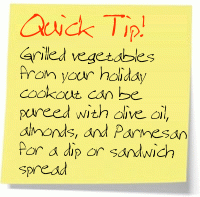 WEEK FIVE:
Wednesday, 5/29: Loaded patty melts
Thursday, 5/30: Antipasto pasta salad
Make it GF: Use a wheat-free pasta like Jovial or Tinkyada brands, and make sure that any cured meats or sausages you choose for the mix-ins are gluten-free
Friday, 5/31: Fend night