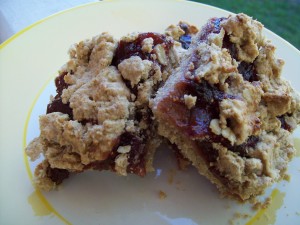 With the kids heading back to school next week (I know, I know — we're later than most of you on this), I've been trying to come up with a few new items that are high in kid appeal, low in effort, freezeable, portable, and will make for great snacks or lunchbox additions in the first few weeks.  And it just so happened that last weekend, fresh organic figs were on sale, and I went ahead and picked some up without a real sense of what I might want to do with them.
After pondering a bit, and finding some adorably tiny ripe plums at our Farmer's Market, I decided there was no reason I couldn't cook everything up into a jammy, crumbly, kid-friendly bar that would fit the bill for high lunchbox excitement, but also pass the Mom Test for Nutritional Standards.  So these bars are made with lots of fruit, no refined sugar, and all whole grains.  They're adaptable, too — if you don't have plums, you can use berries, or possibly even apples or pears.  If your family is gluten-free, you can sub out the spelt flour for a GF alternative.  And if you're casein-free, the butter is totally negotiable.
My Fig and Plum Crumble Bars aren't overly sweet, but they definitely passed the kid (and adult) test around here.  Even L., my fruit-averse child, liked the way the figs and plums and raisins in the filling cooked down into a thick, smooth jam with a pleasing purplish hue.  I confess I've had one or two of them for breakfast this week; they're delightful with a cup of coffee, and the oats and fruit in these bars provide just enough fiber to fill me up on a low appetite morning.  J.'s been snacking on them in the afternoon to tide him over until dinner, too.  They're good for just about any time of the day, it turns out, and good for every member of the family.  When L. heads off to first grade in six days, there's a good chance one of these bars will be going with him.