In just a few days, L. starts 1st grade.  Amazing.
Also in a few days, I go back to rehearsals for my choral group — for what will be, unbelievably, my tenth season.  After that, P. starts soccer for the first time ever.  And L.'s school year schedule of horseback riding, piano, and violin will solidify.  And J.'s fantasy football leagues are kicking off.  And. And. And….!
Anybody else feeling like when September comes, the whole world just comes at you in a rush?  Don't bother raising your hands.  I can feel the collective groundswell of anxiety.  We are all swimming in the soup together, so to speak!  But still, dinner must be made, lunches must be packed, and everyone — one way or another — has to get fed.
We're managing the craziness in a few ways: 1) The slow cooker is coming back out for weekly use on my rehearsal evenings; 2) I'm going back to something I dabbled in last spring, the concept of a "weekend warmup" meal that could be basically made ahead of time and then heated up by either J. or myself on kid-activity evenings; and 3) While this may sound like it'll add MORE chaos, we're letting the boys cook dinner a few times this month.  Yes, it will be an adventure.  Yes, it will be messy.  But ultimately, I think it will also force us to all slow down and connect on those evenings, no matter how fast we've been moving for the rest of the week — and what could be more important?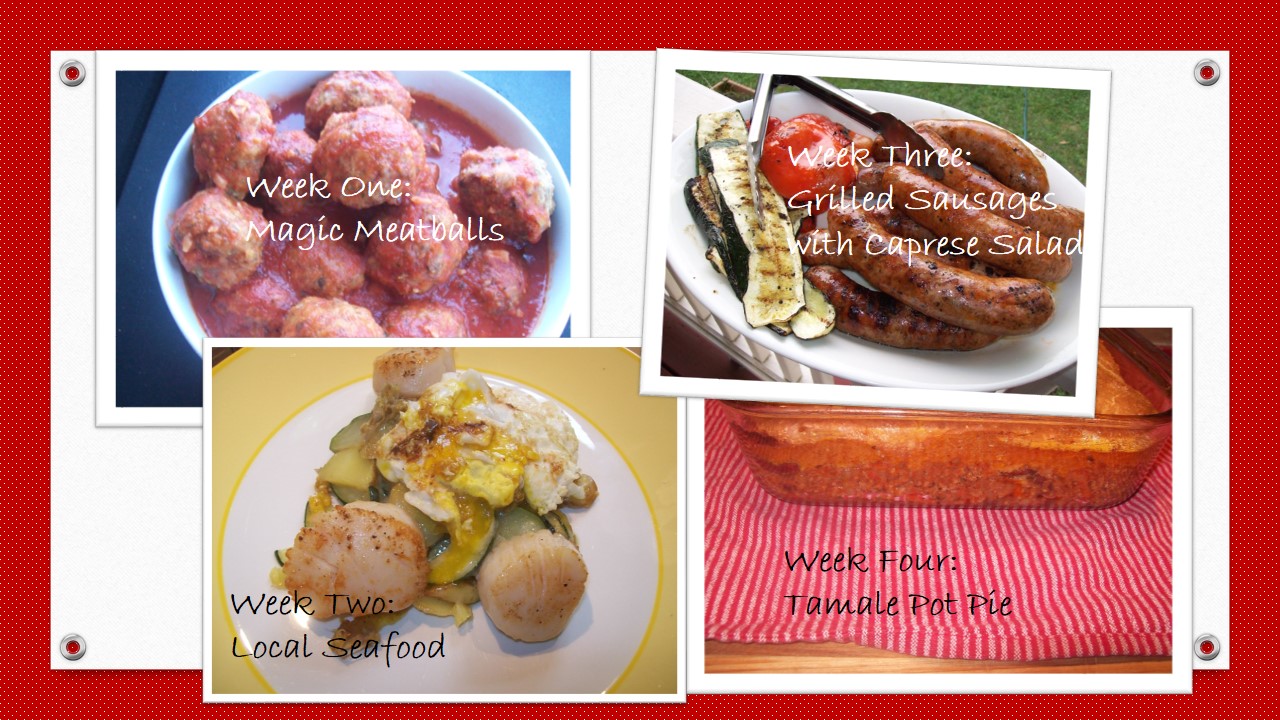 WEEK ONE:
Sunday, 9/1: Meatballs in vodka sauce, vegetables
Monday, 9/2: Grilled chicken and sausages for Labor Day
Tuesday, 9/3: First day of school! Homemade chicken nuggets for the welcome-home dinner.
Make it GF: Use a mix of 50% puffed brown rice and 50% popcorn, ground together, in place of the breadcrumbs!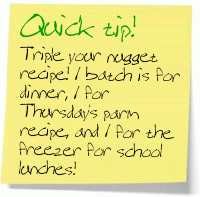 Wednesday, 9/4: DIY Salad Night
Thursday, 9/5: Weekend warmup — chicken nugget parmigiana, salad
Friday, 9/6: Fend night
Saturday, 9/7: Grilled chicken with blueberry-ginger chutney, yellow rice, vegetables
WEEK TWO:
Sunday, 9/8: Rosemary-peach turkey meatloaf, cheddar corn casserole
Monday, 9/9: Spinach and cheese crustless quiche, tomato salad
Tuesday, 9/10: Slow cooker — Mom's meat sauce with spaghetti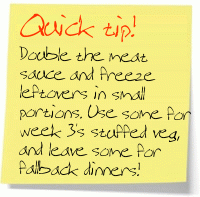 Wednesday, 9/11: Weekend warmup — Cobb casserole and breadsticks
Make it GF: Omit the breadsticks.  You can also substitute GF corn muffins or GF crackers if you'd prefer.
Thursday, 9/12: Stir-fry and rice
Friday, 9/13: Kids cook!
Saturday, 9/14: Seafood
WEEK THREE:
Sunday, 9/15: Sunday roast chicken dinner
Monday, 9/16: Macaroni and cheese with broccoli and tomatoes
Make it GF: Use a good gluten-free pasta like Jovial or Tinkyada brown rice pastas.


Tuesday, 9/17: Slow cooker — Chicken and lentil soup, corn muffins
Make it GF: Use masa harina in place of any flour in your corn muffin recipe
Wednesday, 9/18: Weekend warmup: Risotto-stuffed vegetables with meat sauce
Thursday, 9/19: Grilled sausages and caprese salad
Friday, 9/20: Fend night
Saturday, 9/21: Pasta with chicken and broccoli
Make it GF: Use a good GF pasta, or serve over quinoa instead
WEEK FOUR:
Sunday, 9/22: Porchetta, wild rice salad
Monday, 9/23: Tomato-poached eggs, garlicky greens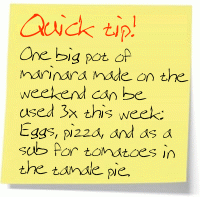 Tuesday, 9/24: Slow cooker — Coconut milk chicken, quinoa
Wednesday, 9/25: Weekend warmup —  Tamale pot pie, avocado salad
Make it GF: Use masa harina in place of the flour in the tamale pie topping
Thursday, 9/26: Homemade pizzas
Make it GF: If you don't want to use a GF pizza dough, you can crisp up nitrate-free pepperoni in the oven and top that with sauce and cheese, or top baked potatoes with your pizza fixings.
Friday, 9/27: Kids cook!
Saturday, 9/28: Seafood
WEEK FIVE:
Sunday, 9/29: Steak and vegetables
Monday, 9/30: Eggplant burgers and sweet potato fries
Make it GF: Serve off the buns, and use ground pure rolled oats in place of breadcrumbs in the burgers.