In the past couple of days, I've gotten quite a number of requests for two recipes: my homemade chicken nuggets, and my spelt zucchini muffins.  Both of these items have shown up in L.'s first-week-of-first-grade lunches, which have been posted on the RRG Facebook page — which accounts, I suppose, for the questions.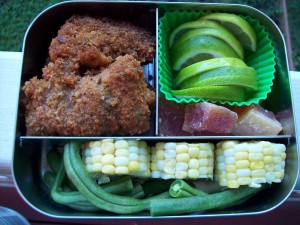 In all honesty, I'd never thought of posting the chicken nugget recipe.  I think I'd assumed that most people had a recipe they liked already!  Ours certainly aren't anything fancy, but they're a nice homemade version of a less-healthy choice — and they can be made gluten-free if you'd rather.  I try to make the breading nice and flavorful so that the end result is pleasing to both kids and adults; as a bonus, you can use the same breading recipe to make things like eggplant parmigiana, so it does double-duty.  The nuggets also freeze really well, so it's worth the effort to make a double or triple batch and keep some on hand.
As far as the zucchini muffins go, I have to confess that I usually bake muffins and quickbreads entirely off the top of my head, without a recipe — and I probably don't make things exactly the same way twice.  What I've posted is my best amalgamation of what I've done the past few times I have baked zucchini bread or muffins.  If you'd rather make a loaf than muffins, that should work fine; you'd just have to pour the batter into a greased loaf pan and double the baking time.  Again, this recipe is totally freezable.  In fact, the muffin I packed in L.'s lunch this week was from a batch I baked at least a month ago.  I had to scare it up from the depths of the freezer because even though we're only a few days into the new school year, all the snacks and lunchbox foods I'd prepared are already gone.  I swear these children have hollow legs.
At any rate, I realize this isn't really a post, but it's my way of saying: I'm listening, and I'm glad you're here.  I hope these recipes work out for you and that your kids (or you!) love them the way mine do.