Late in his life, my grandfather was diagnosed with celiac disease.  He took the news, and the subsequent dietary adjustment, quite well for someone who'd been eating wheat for sixty-odd years.  I rarely, if ever, heard him complain about it.  But at Christmastime, he'd almost always cheat just a little bit.  He didn't want to go without a single Christmas cookie.
If only I'd known then what I know now — namely, how to bake up a few great gluten-free treats.  Back then, I wasn't the cook I am now, and gluten-free was an almost unheard of dietary regimen.  Now, of course, store shelves are groaning under the weight of GF products (most of them overpriced and underwhelming), and there are a wealth of resources to help people who want or need to make the switch.  But still, each holiday season, I pause and think about a Christmas without cookies.  It may not be the world's worst thing, but it's also pretty clear to me why my grandfather "cheated" at the holidays.
Happily, there are solutions that don't require doing what he did — which, by the way, I am in NO WAY recommending.  One way to go, whether you're gluten-free or entirely grain-free, is to fill your cookie platter with meringues.  It's almost magical to me that so few ingredients can produce something so satisfying.  And from egg whites, no less!  Meringues are a wonder.  Luckily, they're also versatile as long as you keep a careful hand with any flavors or mix-ins, and they're really not hard at all to make.
These Grain-Free Lemon Meringue Cookies look like sunshiney sweetness on a table, and taste like an old-fashioned slice of pie.  They've got the light crispiness of a good meringue, with a feathery middle that melts away to nothing on your tongue.  The tart creaminess of the lemon curd in the centers makes them just a little bit decadent.  You know they're good, by the way, because my seven-year-old has refused to eat any other sweet item as long as these are in the house.  When a lemon cookie can beat out chocolate, you know it's a keeper.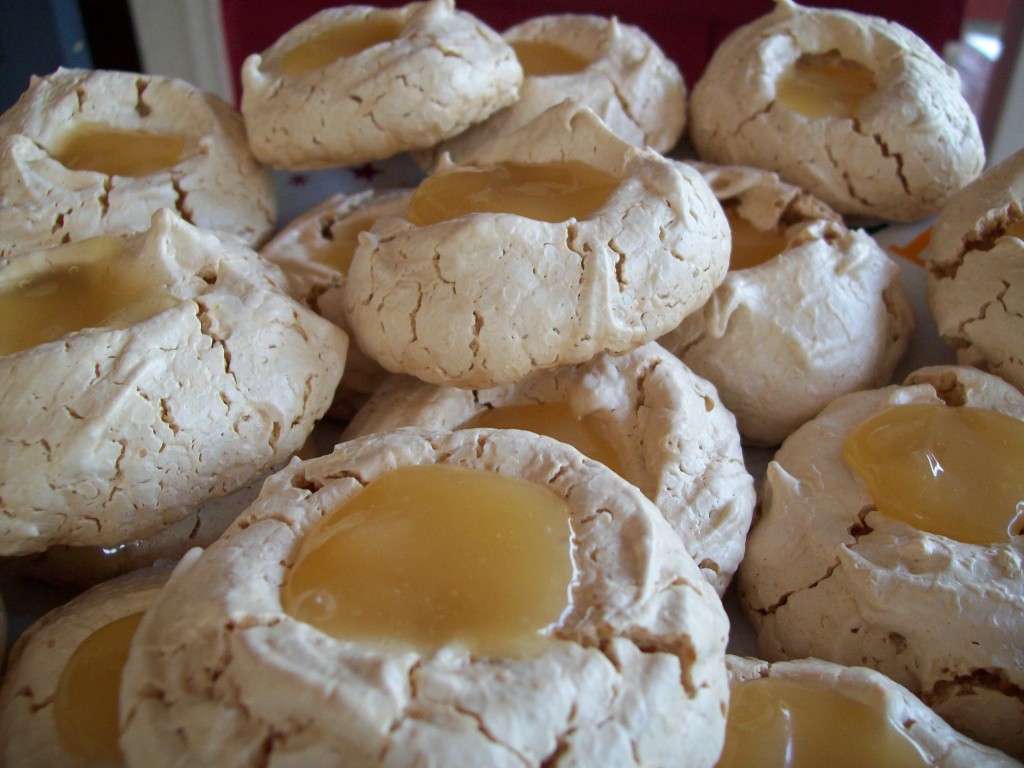 If you're just catching up, this post is part of the "Twelve Weeks of Christmas Treats" Blog Hop, hosted by Brenda Thompson of Meal Planning Magic.  In Week One, I posted the recipe for Double-Chocolate Gingerbread Whoopie Pies.  In Week Two, I posted Chai-Spiced Oatmeal Cookies.