You.  Guys.
You don't want to miss out on this stuff.  If there's one holiday treat recipe that I'd say is darned near perfect for just about every occasion, this has to be it.  Fun nibble for a casual get-together?  Sure.  Fantastic teacher/hostess/neighbor/mail carrier gift?  Absolutely.  Excellent contribution to a cookie swap?  You betcha.  Thing you really don't want hanging out in the fridge because you WILL eat it all?  Ohhhhhh, yeah.
This is a simple recipe to make.  It's really no more than a very basic candy recipe that's sort of embellished upon to make it ridiculously addictive.  If you can melt chocolate, you can make this, I promise you — and as a bonus, if you have any friends or family members who are gluten-free, they will absolutely ADORE you when you make this for them.  You can use any puffed rice krispie-style cereal you prefer; because we're Nosy Crunchy Hippie Intellectuals in this house, I used organic brown rice krispies (big shock, right?), but you'll do what works for you.
Now go and make the Salted Caramel Krispie Bark.  Put it in a pretty tin and admire it.  And then don't blame me when you eat it all embarrassingly quickly.  I did try to warn you.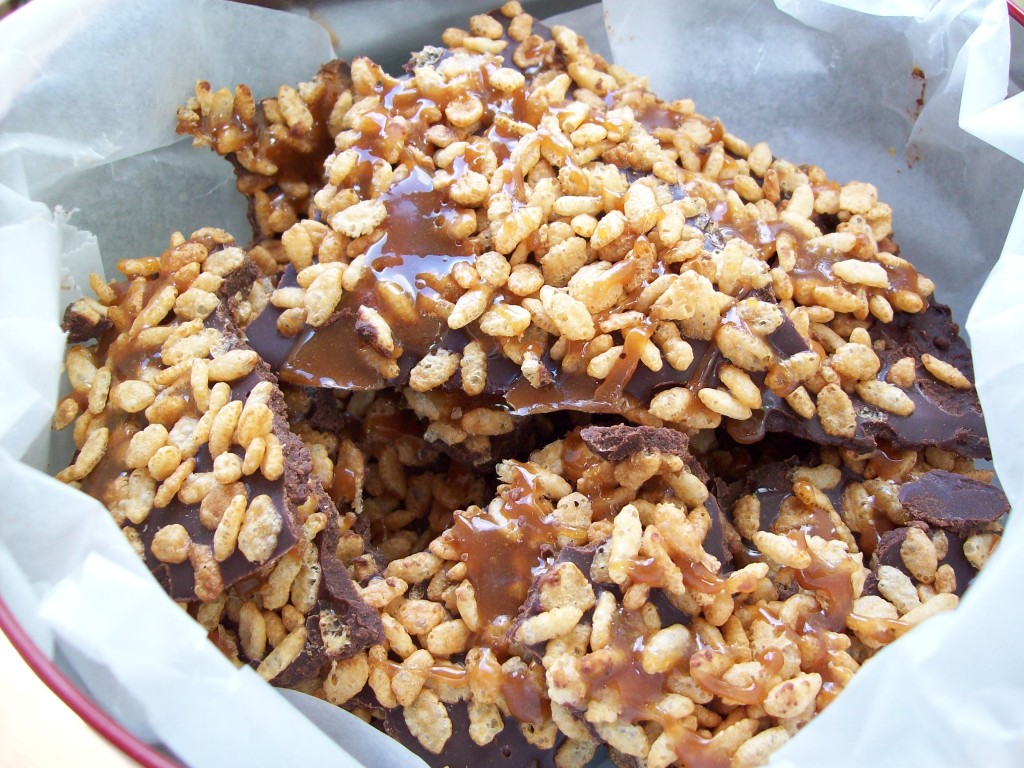 If you're just catching up, this post is part of the "Twelve Weeks of Christmas Treats" Blog Hop, hosted by Brenda Thompson of Meal Planning Magic.  In Week One, I posted the recipe for Double-Chocolate Gingerbread Whoopie Pies.  In Week Two, I posted Chai-Spiced Oatmeal Cookies.  Week Three's contribution was Grain-Free Lemon Meringue Cookies.