Seriously. You guys. It's September. (Well, ALMOST.) And I never even posted the meal plan for August!
I had one. You know I had one. I can't function without a meal plan. But, well, AUGUST. It was a month of constant revisions. Plans cropping up at the last minute. Things changing from day to day. Getting one camp schedule nailed and conquered by Wednesday, only to have it change with a new camp and a new routine the next Monday. Comings and goings and bonfires and beach trips and fairs and picnics and parties and….!
But now it's September (almost), and the boys are back in school — have been for three days now. Aside from the unusual exhaustion that comes with those first few days back, when their little bodies and brains are adjusting to long days filled with rules and expectations and academics again, they're thriving in Kindergarten and 2nd grade. I'm getting used to the school-year schedule again, and thriving on that, too — the predictability of knowing that this is how things will be for quite some time now, and being able to plot things out on the calendar weeks or months ahead with relative certainty. Phew. Routine.
Which, of course, brings us to the meal plan! It's done. It's firm, as much as any meal plan ever can be. And it's just what I needed after a whirlwind of a summer!
WEEK ONE:
9/1: Labor Day! Oven-fried chicken, tahini coleslaw, and whatever delights come in our CSA basket.
Make it GF: Crust chicken with almond, cashew, or pistachio meal, or use crushed organic cornflakes!
9/2: First night back to choral rehearsals for the upcoming season. Slow cooker — Mom's Meat Sauce over pasta, salad
Make it GF: Use your favorite gluten-free pasta brand (we like Jovial and Tinkyada)
9/3: Dinner crepes with a variety of fillings
Make it GF: Use my gluten-free crepe recipe!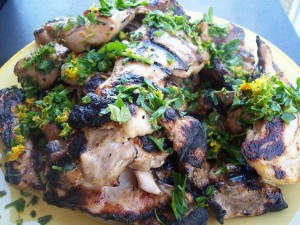 9/4: Grilled citrus chicken, vegetables
9/5: Fend night/Kids cook
9/6: Fresh seafood from the farmer's market
9/7: Sunday roast chicken dinner
WEEK TWO:
9/8: Roasted tomato and pepper soup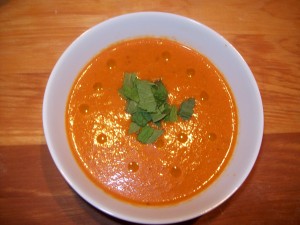 9/9: Buffalo-style lettuce wraps
9/10: Open House night at the kids' school! I'll have chicken spring rolls made ahead of time so we can stay on schedule.
Make it GF: If you can't get your hands on gluten-free wrappers, use rice paper wraps instead and make summer rolls
9/11: Having dinner with family!
9/12: Fend night/Kids cook
9/13: Dinner out!
9/14: Italian Wedding Soup
WEEK THREE:
9/15: Spaghetti with pesto, salad
Make it GF: Use your favorite gluten-free pasta brand
9/16: Slow cooker — Sticky chicken, rice and vegetables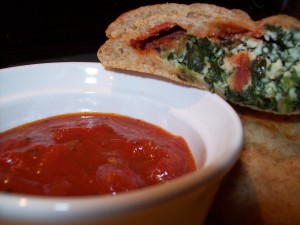 9/17: Pepperoni and spinach calzones
Make it GF: If you don't have a favorite gluten-free pizza dough substitute, use the filling to stuff portobello mushroom caps or zucchini, cover with sauce, and bake
9/18: Cobb Casserole
9/19: Fend night/Kids cook
9/20: No-Fuss Chicken, vegetables
9/21: Lasagna
Make it GF: Use gluten-free lasagna noodles, or substitute slices of eggplant or zucchini
WEEK FOUR:
9/22: Vegetable fried rice and miso soup
9/23: Monte Cristo sandwiches, fruit
Make it GF: Use the same ingredients, but make them into an omelet or egg scramble instead!
9/24: Skillet honey-mustard chicken, vegetables
9/25: School fundraiser night, catered by a local restaurant
9/26: Fend night/Kids cook
9/27: Local seafood from the farmer's market
9/28: Baked spaghetti with chicken and peppers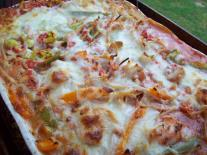 Make it GF: You could either use GF pasta, or omit the pasta and bake the chicken with peppers, capers, and marinara sauce
WEEK FIVE:
9/29: Baked eggs with tomato and cheese, zucchini-rye biscuits
Make it GF: Use almond flour and cornmeal in a 50-50 blend in place of rye flour
9/30: Slow cooker — Sloppy joes, sweet potato fries, fruit
Make it GF: Ladle the sloppy joe filling over the sweet potato fries for a fun twist on chili fries (cheese optional!)