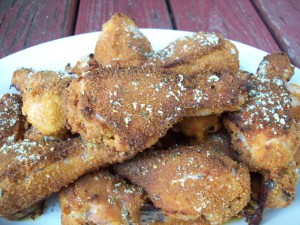 Fried chicken is a quintessential picnic food, isn't it?
And yet….picnics make me think of summer (though a nice autumn picnic is nothing to sneeze at). Summer makes me think of heat, at least on a day like today, when the mercury was well into the upper 80s here in Rhode Island and the humidity was about as oppressive as having a huge wet sheepdog lying across your back. And the last thing I want to be doing, when it's hot outside, is standing over a vat of oil frying ANYTHING.
Of course, it's not just the frying and the heat that are issues when it comes to fried chicken; it's the fussiness of it all. Most recipes call for dipping in egg washes, rolling in flours, sometimes doing two or three different coatings…by the end of it I usually feel like there isn't a piece of chicken in the world that's worth the aggravation. Yes, fried chicken is good, but somehow it's never quite good enough, if you know what I mean. I hate to be left with piles of dishes and an oil-splattered kitchen for something that doesn't completely knock my socks off. So if I could come up with a way to re-make fried chicken that would be less of a hassle, more appealing to make on a hot day, and still deliver some crunchy tastiness to the table, I was determined to find it.
This method isn't technically "frying," but J. and the boys agreed that if I hadn't told them I was baking the chicken, they wouldn't have known the difference. Using a well-oiled baking sheet in a hot oven still gives you that nice crunchy crust to sink your teeth into, without the fuss of standing over a hot stove and dealing with spatters of oil careening all over the place. It's also a much easier way to deal with the question of breading, since the marinade that tenderizes the chicken doubles as the "glue" to hold the coating onto the drumsticks. I added the tiny special touch of rosemary lemon salt at the end just to give the chicken a little more personality; for me, fried chicken always needs a little something to boost the flavor. You could leave it off, but it's an easy flourish that makes a big difference.
The end result is chicken that's easy enough to make even on a weeknight, but still delivers the same tender, crispy experience you expect out of fried chicken. I'm sure for some people, nothing but the "real" thing will do, but for us, this is a fake-out that works just as well as the original concept. Try it and see what you think; if you've never oven-fried chicken before, I think you'll be pleasantly surprised.
Get the Recipe: Oven-Fried Chicken with Rosemary Lemon Salt