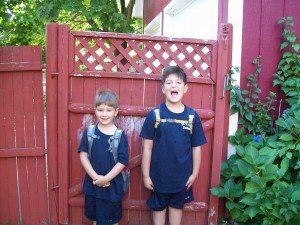 Today I had ample opportunity to think about the things that matter.
Yesterday felt like The Day of Crap News About Feeding Families. There was the ongoing internet dust-up over whether home cooking and family dinner really are soul-sucking drudgery that serve little purpose other than to oppress women. There was the news that Annie's Organics has sold out to General Mills. Food people everywhere were grouchy. I was grouchy along with them.
This morning I woke up and I thought, well, today we'll continue discussing how feminism and cooking don't have to be mutually exclusive, and how sometimes things are hard but you do them anyway. Then we'll move on to gnaw the bones of the old "Big Food Organics" carcass and lament how snacktime salvation in the guise of bunny-shaped everything will no longer be an option for many families who prefer to vote with their food dollars. Some opposing viewpoints will be raised. We'll debate and discuss. The sun will shine. It will all feel very weighty and important and it will matter.
I carried that impression of how today would go, while I was pouring waffle batter into the hot iron, rousing sleepy kids, pre-heating thermos containers, packing lunches. I slipped soup and muffins and classroom snacks into soft-sided lunchboxes emblazoned with the Teenage Mutant Ninja Turtles and the Rabbids from "Rabbids Invasion." I filled the new water bottles I had to hastily pick up at CVS last night, after the boys had lost their old stainless ones, and I inwardly gnashed my teeth over the fact that CVS only had plastic ones and was BPA-free really reassurance enough for me? I slipped backpack straps over little shoulders clad in matching navy-blue cotton gym T-shirts. I walked my boys to school.
We met a neighbor at the crosswalk down the street, walking her kindergartener, too. She waited for us before she pressed the button for the light. While our three little boys ran ahead, she asked if I'd seen the email. I'm not tech-functional before 8 a.m., so no, I hadn't. When she passed me her phone I saw the word "police."
They were at the school. Our school. Someone had threatened something terrible, and our kids would be kept safe today by a police presence. At our school. Somebody had made a list of all the people he wanted to shoot and kill. At our school.
"It's probably just a disgruntled teenager playing a prank," I said, or something like it. My neighbor nodded. We made reassuring noises to each other as we called ahead to the sprinting five-year-olds whose big, big backpacks rattled against their little pumping legs. Slow down, we said. Wait for us, we said. Watch for cars, we said. Safety first.
The eight-year-old bounced along beside us, too cool to run with the little boys, not too cool to occasionally and quietly reach for my hand. We talked about his teacher and how much he likes second grade. Walking our boys to school.
When we dropped them off in the schoolyard we couldn't see the cops at the front of the building. The kids had no idea that anything was different. They didn't understand why we hugged them a little more tightly than usual, why we called them back for one more, why we showered their faces with kisses and kept them next to us for just a few extra seconds while they squirmed, eager to get back in line with their friends. I watched them walk away from me, shouldering their backpacks, and I had a moment where I thought about the things inside those bags and what if today was the last day that I would sign their homework folders, slip their water bottles into the side carry pouches, and pack those carefully chosen lunches? If today's lunches were the last ones I'd ever pack, were they good enough?
It's a stupid thought. I packed the lunches; that's good enough. Of course. But something about thinking that this might be the last one, and you went about your business blissfully unaware, something about that thought makes the lunch far more important. I think it's because the lunch is the thing that you can control.
When L. was in Pre-K, he did a Valentine's Day project that required him to talk about the ways he knew that various people in his life loved him. He said, "My Mommy really loves me because she always packs me a healthy lunch." It's not that in our house Food Is Love, per se, as in "I love you so much, here's another cookie." But is food – lunch, dinner, whatever – a tool in my love kit? Sure it is. I put a lot of thought and sometimes a decent amount of effort into feeding my family, not because I want to be THAT MOM or because I feel morally superior to anybody else or because, as someone once intimated, I enjoy putting photos on the internet so that I can feel good about myself. No, I think about these things because I love my family and feeding them well so they can stay healthy is one of the ways that I show that love.
In those backpacks there were thermoses of homemade soup, muffins in the shape of Mickey Mouse, crackers with sunbutter and jam. There were homework assignments I'd supervised and water bottles I'd worried over. There was love, tangible and intangible, stuffed into folders and containers and strapped to the backs of my two hearts walking around outside of my body.
Going to school.
I am not cranky about Annie's Organics or about home cooking and feminism anymore.
These things matter, yes. They matter because our love for our families is shown through the care that we take, and sometimes our best efforts to buy the "right" cheese crackers or pack the "best" lunch are the only way that we have to send our loved ones out into the world with a mark of our feelings for them, as if bento containers of Mickey Mouse muffins are like ashes on the forehead or lipstick kisses on the cheek – a mark of something sacred and protective to watch over them when we can't be there. Sometimes welcoming them home with a warm dinner on the old chipped plates they'll remember when they're grown is the only way to tell them that we are here for them when their ears aren't ready to receive the affectionate words of tiresome grown-ups. So, because sometimes food is part of the vocabulary of our love languages, we assign it import and we let it matter. And it does.
But it matters only, and properly, in context.
Tomorrow I will wake up and have the privilege of packing another day's worth of lunches, and deciding what items I will pack and which companies I will support with my dollars. I will end the day with a meal around the table with my children, who may very well complain that they don't like what I've served, and I may be tired and annoyed by the whole process of cooking and serving and child-wrangling and cleaning up. I will have those experiences. I will be honored with another day, more meals to prepare, to do with as I choose.
Which matters. And it's really the only thing.