No, really, the heat is on. Or it could have been, but I restrained myself from touching the dial. It is COLD today in Rhode Island.
Funny how this happens almost every year, and yet I'm never really quite prepared for it — we'll have some crazy couple of days where the temperature spikes up into the 80's, a last gasp of summer, and then all of a sudden the whole thing comes plummeting down into a wet, chilly, windy, shivery mess. Fall has arrived in New England with a vengeance. There are still those last tomatoes on the farmstands, sharing space with the pumpkins. Apples and peaches and raspberries enjoy a brief few weeks of cohabitation before it's all cider and MacIntoshes and farmers talking about "wintering over." Soon every vegetable on our table will be white, dark orange, or dark and leafy green. The next time I write a meal plan, we'll all be thinking about our Thanksgiving tables. Too fast. It's all too fast.
So as I sit here with my cold hands, fuzzy slippers on, resisting the urge to touch the thermostat, the meal plan is taking its own decidedly fall-ish turn. I would love to still be thinking of salads and cold suppers and things we can eat with our hands while we're still wrapped in towels from the beach, but This Is Not That Meal Plan. It's the one where I admit it's time for soup and comfort food, and I get on with it already.
WEEK ONE:
10/1: Lemon-butter chicken cutlets, mashed potatoes, carrots
10/2: Spaghetti with peas and pancetta
Make it GF :Use your favorite gluten-free pasta
10/3: Fend night/Kids Cook
10/4: Apple cider braised chicken with greens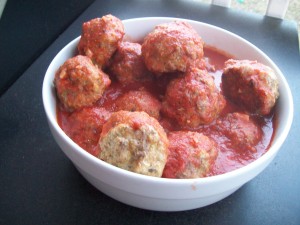 10/5: Spaghetti and meatballs
Make it GF :Use your favorite gluten-free pasta or serve the meatballs in sauce alongside roasted vegetables
10/6: Slow cooker: Chicken and lentil soup, apple soda bread
Make it GF: Omit the bread and serve with sliced apples and cheese instead
10/7: Fajitas
Make it GF: Use corn tortillas or make fajita salads
WEEK TWO:
10/8: Sesame chicken skillet with root vegetables, rice
10/9: Breakfast for dinner
10/10: Fend night/Kids cook
10/11: Chicken nuggets and vegetables
10/12: Roast lamb, pita and vegetables
Make it GF: Omit the pita and serve with crisp potatoes instead
10/13: Butternut squash soup and grilled cheese sandwiches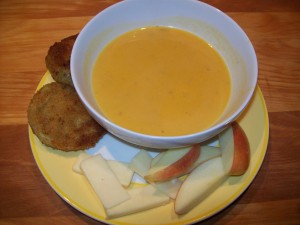 Make it GF: Serve cheese quesadillas on corn tortillas, or serve salads or deli meat roll-ups
10/14: Autumn stir-fry with "cheater" scallion pancakes
Make it GF: Toss the stir-fry with rice or rice noodles instead of using the scallion pancakes
WEEK THREE:
10/15: Chicken nugget parmigiana and pasta
Make it GF: Use your favorite gluten-free pasta or omit the pasta and serve with roasted broccoli
10/16: Baked rice with sausage and eggplant, salad
10/17: We'll be enjoying a dinner with friends!
10/18: Steak and potatoes, salad
10/19: Sunday roast chicken dinner
10/20: Meatball subs
Make it GF: Serve the meatballs over spaghetti squash, or make stuffed baked potatoes
10/21: Spaghetti with beets and goat cheese
Make it GF: Use your favorite gluten-free pasta
WEEK FOUR:
10/22: Chicken pot pie with pumpkin biscuits
Make it GF: Omit the biscuits and serve the pot pie filling over rice
10/23: Slow cooker – Maple turkey breast
10/24: Fend night/kids cook
10/25: Chicken enchiladas
10/26: Pappardelle with classic bolognese ragu
Make it GF: Use your favorite gluten-free pasta
10/27: Tortellini and vegetable soup and garlic bread
Make it GF: Omit the tortellini from the soup and add lentils or beans instead; serve cheese fricos instead of garlic bread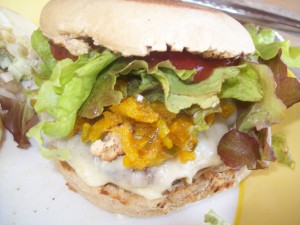 10/28: Cheeseburgers, sweet potato fries, and fruit
Make it GF: Serve the burgers without buns
WEEK FIVE:
10/29: Balsamic chicken and rice
10/30: Slow cooker — ribs and cornbread
Make it GF: Use masa harina in place of any flour in the cornbread recipe
10/31: Halloween! The boys have requested their usual pre-trick-or-treat dinner: "Mummy dogs" and pumpkin soup.