I've never been much in the habit of doing a year-end post here on the blog – I don't know if it's pure laziness or the fact that I tend to be more "unplugged" during the final few weeks of the year than at any other time. It may be that I don't think of a food blog as being a place to put any wise or pithy observations about the passing of time, or it may be that I'm not a person who believes in making grand resolutions on January 1, so the New Year for me is no more and no less than what it says it is. It's a new year, a new number on the calendar, and sure there's opportunity in that – but isn't there opportunity in any fresh day?
This year, though, it occurred to me that I could do a quick retrospective of sorts. Pretty frequently, I put pictures of the kids' school lunches on the RRG Facebook page, more because it's helpful to people (and helps me keep track of good lunchbox ideas I've had) than for any more specific, strategic reason. I almost never, however, put photos of the lunches here on the actual site, which may be an oversight. So why not use this opportunity to look back at the lunches I packed in 2014 and select a few that seemed worthy of extra recognition?
Say…maybe 14 of them?
I've chosen these 14 lunches based on a totally unscientific combination of factors: Facebook likes and comments, kid reactions to the lunches, and my own feelings about their relative nutrition/creativity/excitement level. Without further ado, I present to you….
Red, Round, or Green's 14 Best Lunches of 2014!
#14. The Halloween lunches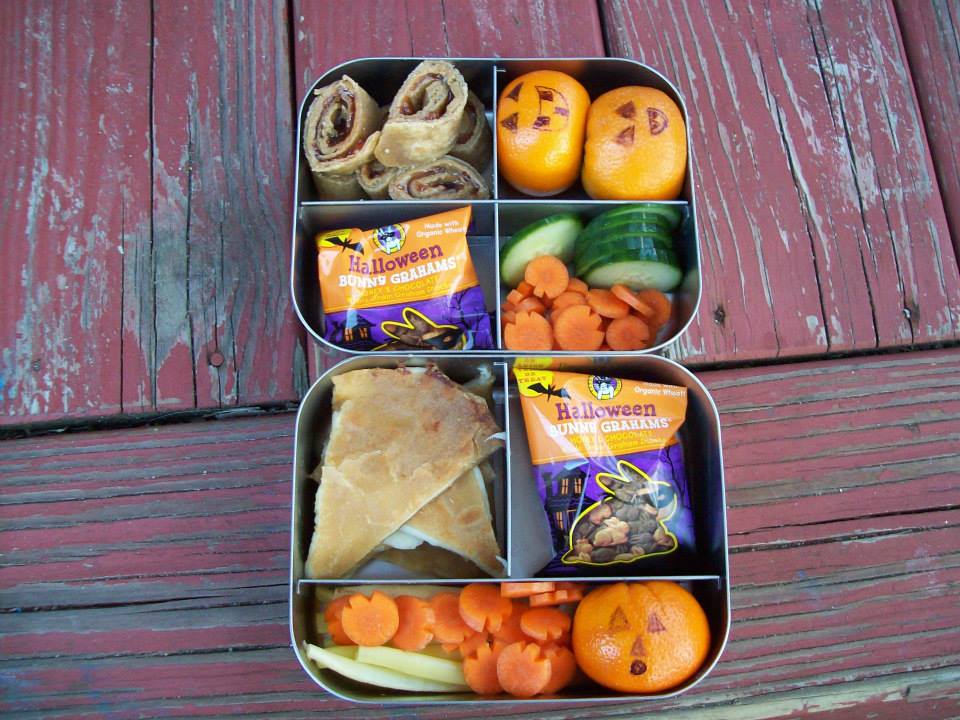 I wouldn't have necessarily chosen these lunches for the countdown, but they were very popular with RRG readers – and with the boys! My theory is that it has to do with the "cute" factor, which isn't important to me and is not something I strive for on the average day, but I get that it makes things visually appealing.
Contents:
Spelt tortillas (rolled up with pb&j for one kid, made into a cheese quesadilla for the other)
Carrot "pumpkins"
Wax beans or cucumbers
Bunny grahams
Clementine "jack o lanterns"
#13. The Pumpkin Waffle Sandwich Lunch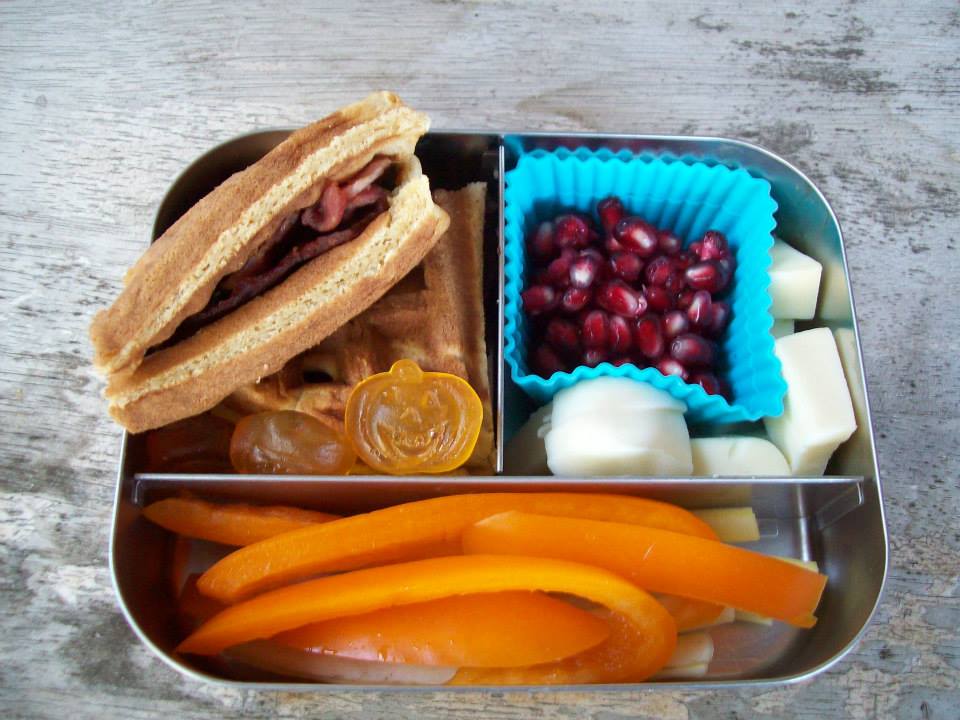 Again, this one's on the list because it received lots of attention both on Facebook and Twitter. It's a simple concept – using waffles as a stand-in for sandwich bread – but one that always seems to be popular with kids and readers alike.
Contents:
Sandwich of homemade pumpkin waffles and bacon
Wax beans and peppers
Pomegranate seeds
Cheese cubes
Dye-free Halloween gummies
#12. The Alphabet Soup Lunch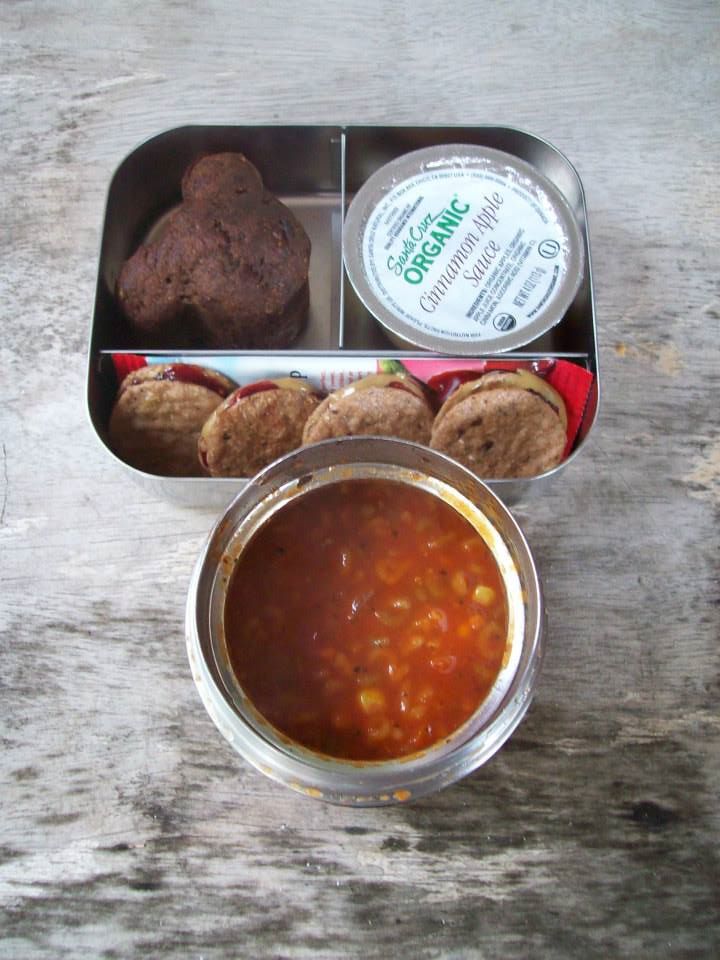 It's not the prettiest picture, but something about this lunch resonated with people. I think it's the variety factor, as well as the fact that objectively speaking, this array of food will almost certainly keep a kid full throughout the long school day.
Contents:
Homemade alphabet soup
Chocolate-banana spelt muffin
Fruit leather
Applesauce
Pecan crackers with sunbutter and jam
#11. The Waffle Iron Panini Lunch
I know exactly why people (and my kids) loved this lunch – it's hard to resist a panini that's made in a waffle iron! They're cute, they're crispy, and they're fun to eat.
Contents:
Salami and cheese waffle iron panini on homemade sourdough
Kale chips
Peppers
Pomegranate seeds
#10. The Turkey and Corn Wheel Lunch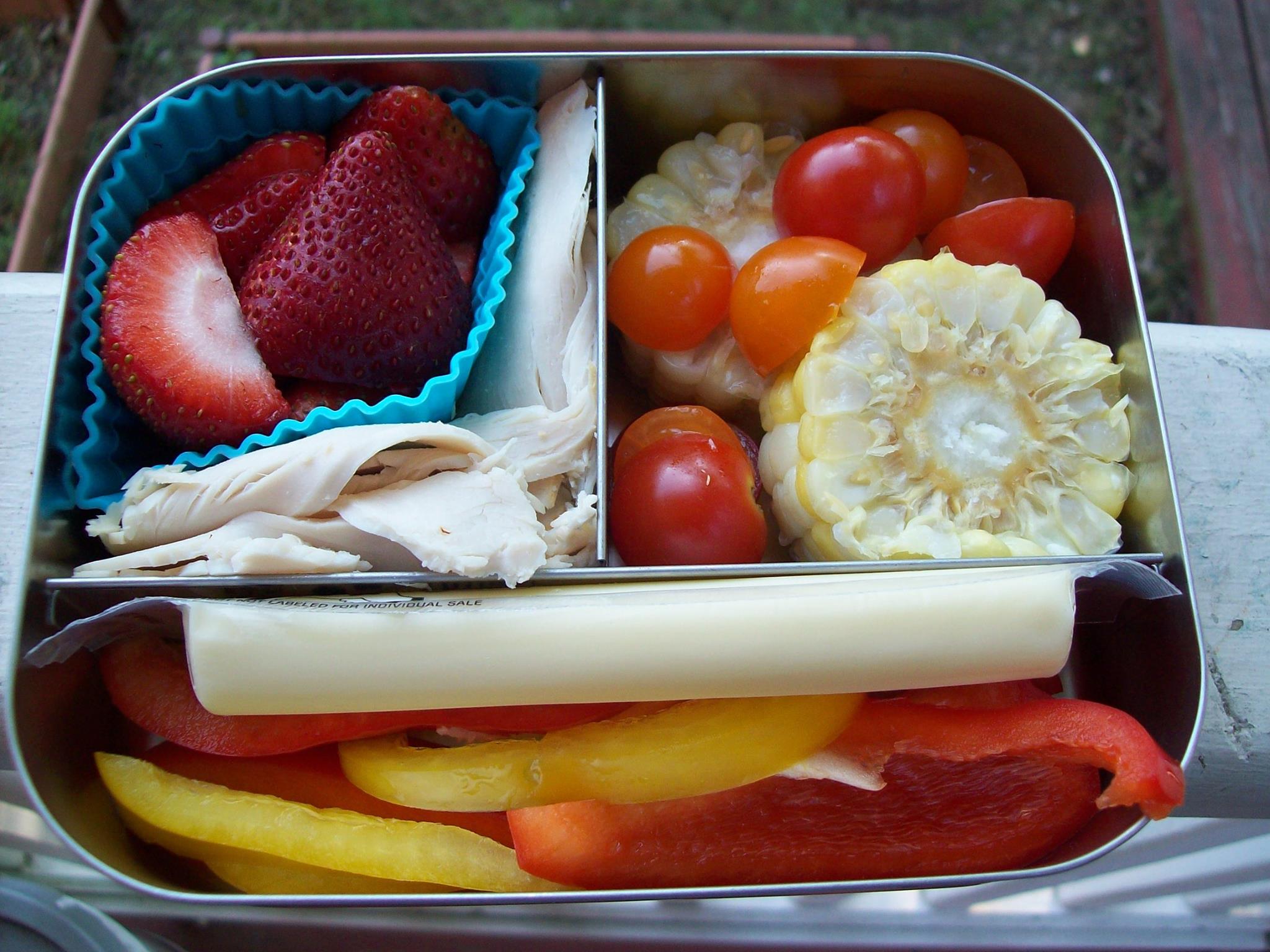 It's so pretty….
Packed at the height of the summer, this lunch is a good representation of what nice fresh produce can do for the look (and nutrition) of a lunchbox. I'm not surprised that it was a popular photo among readers on both Facebook and Twitter!
Contents:
Turkey
Fresh corn wheels
Strawberries
Grape tomatoes
Peppers
Cheese stick
#9. The Cucumber Sandwich Lunch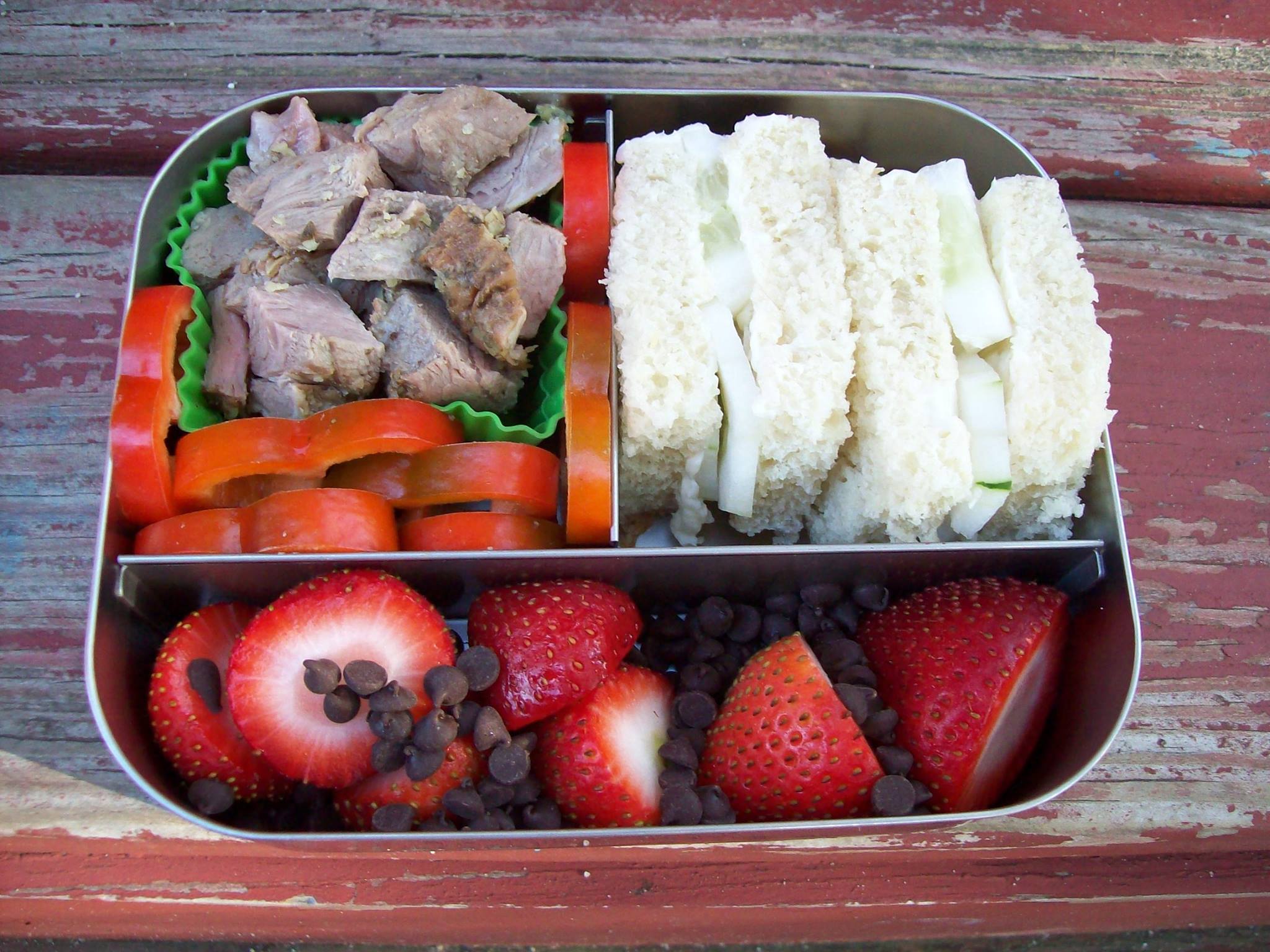 This might be one of my very favorite lunch photos, ever. The whole thing came together looking so fresh and vibrant – and I'm sure that's why readers went nuts for it! It was a summer camp lunch intended to keep my five-year-old going during a long, active day at a historic farm camp – gardening, tending animals, swimming, hiking, and generally getting himself tired and dirty. As I recall, both the lunch and the camp served their intended purposes!
Contents:
Leftover roast lamb, cubed for easy eating
Cucumber sandwiches with butter on homemade sourdough
Pepper rings
Strawberries and dark chocolate chips
#8. The Ham Crepe Lunch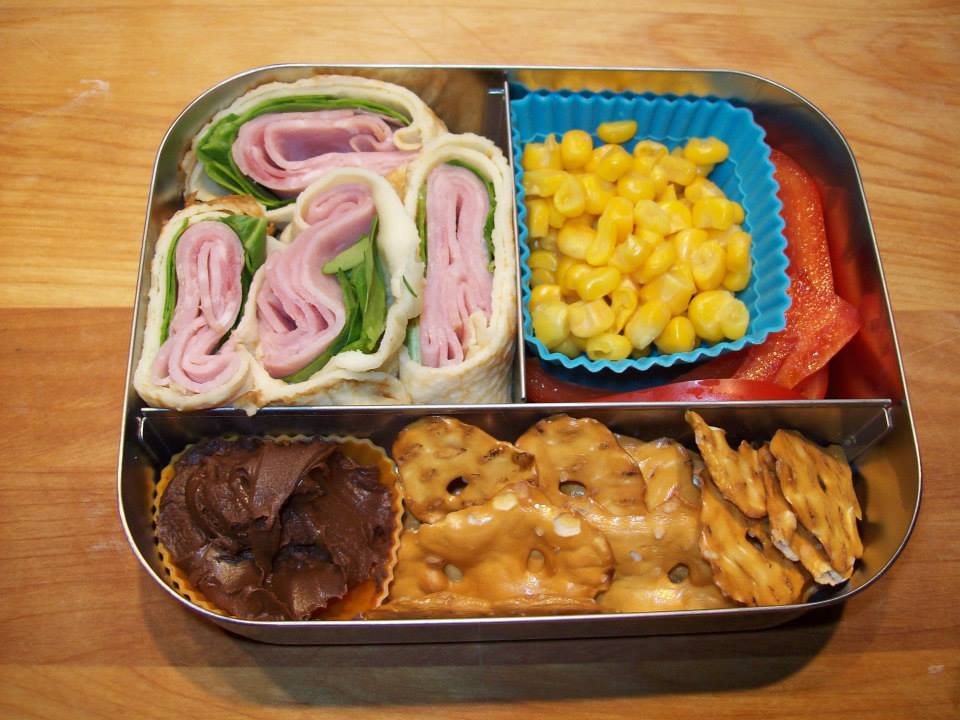 I couldn't let a lunch roundup post go by without a photo of a crepe lunch. We occasionally pack crepes, and every time we do, they're a hit with readers (and the lunchboxes come home empty, too!). If you've made crepes ahead of time – say, for Sunday brunch or for a breakfast-for-dinner evening – then this type of lunch is a snap to pull together and makes a nice change from the usual sandwiches and wraps.
Contents:
Ham and spinach crepe
Heirloom corn (blanched and frozen during the summer)
Peppers
Pretzel thins with chocolate almond butter for dipping
#7. The Zucchini Bread Sandwich Lunches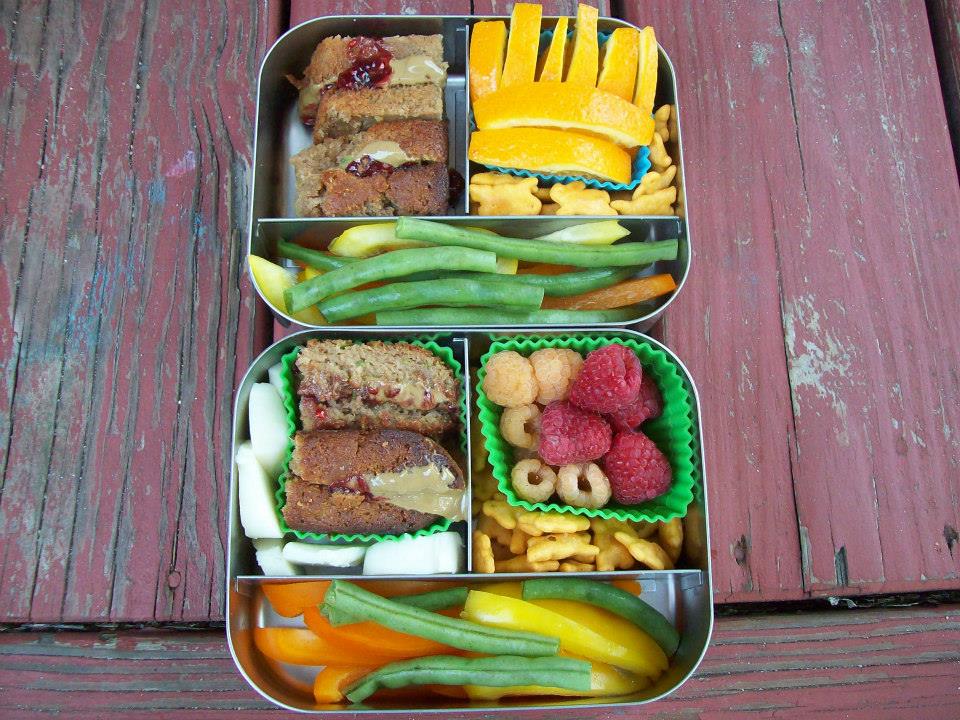 This lunch photo has to be one of my most popular Facebook photos ever. The idea of using zucchini bread (or banana bread, or pumpkin bread….) for sandwiches not only makes for really happy kids at lunchtime, but seems to bring out the happy kid in the adults as well!
Contents:
Sunbutter and jam sandwiches on zucchini bread
Peppers and green beans
Bunny crackers
Oranges or berries
Cheese cubes (for one kid only)
#6. The Pizza Burger Kebab Lunch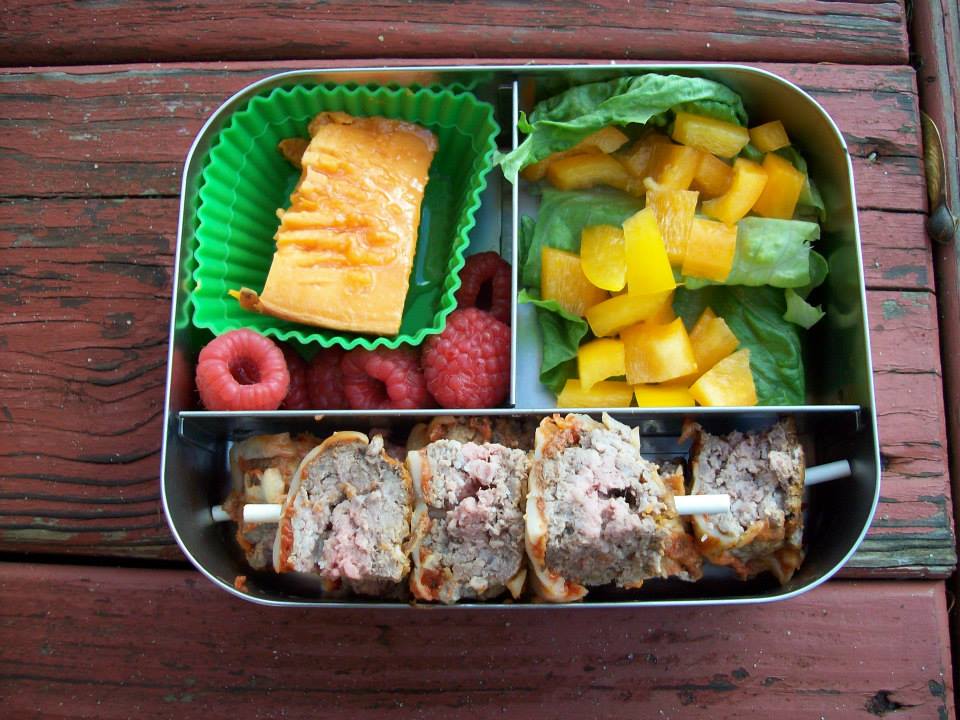 Yes, it's pretty, and yes, it was popular – but I include this lunch in the roundup mainly because it's amazing for its nutritional density. Every bite in this lunchbox is a bite that counts for something and will fill up a kid's belly for a hard afternoon of learning and play.
Contents:
"Pizza burgers" chopped and skewered on lollipop sticks
Baked sweet potato drizzled with honey
Salad of greens and peppers
Raspberries
#5. The Hubby Lunch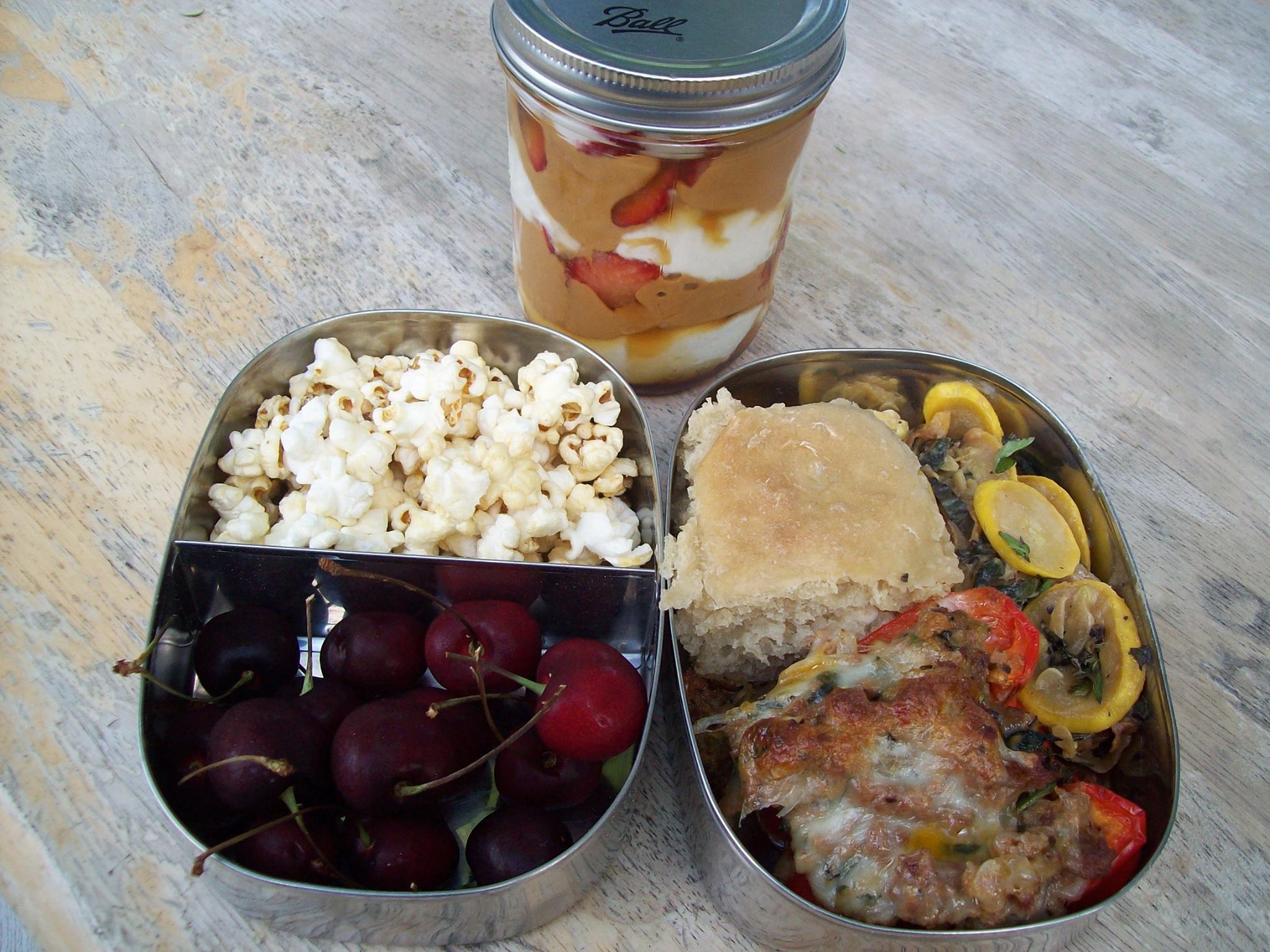 It's not a school lunch, but I had to list this one in my best lunches roundup. After all, some of my readers are trying to pack not for young kids, but for themselves, their spouses, or their ever-ravenous teens – and this lunch will do the trick. I packed this for J. shortly after he started a new job this summer, and the photo got a tremendous positive response on Facebook. I still look at it and think it's one of the best meals I've packed for anyone, ever.
Contents:
Stuffed pepper (stuffed with grass fed beef, kale, marinara, and cheese)
Sauteed squash and zucchini with onions, basil, and cheddar
Homemade sourdough dinner roll
Popcorn
Cherries
Parfait of yogurt, maple syrup, peanut butter, and strawberries
#4. The DIY Nacho Lunches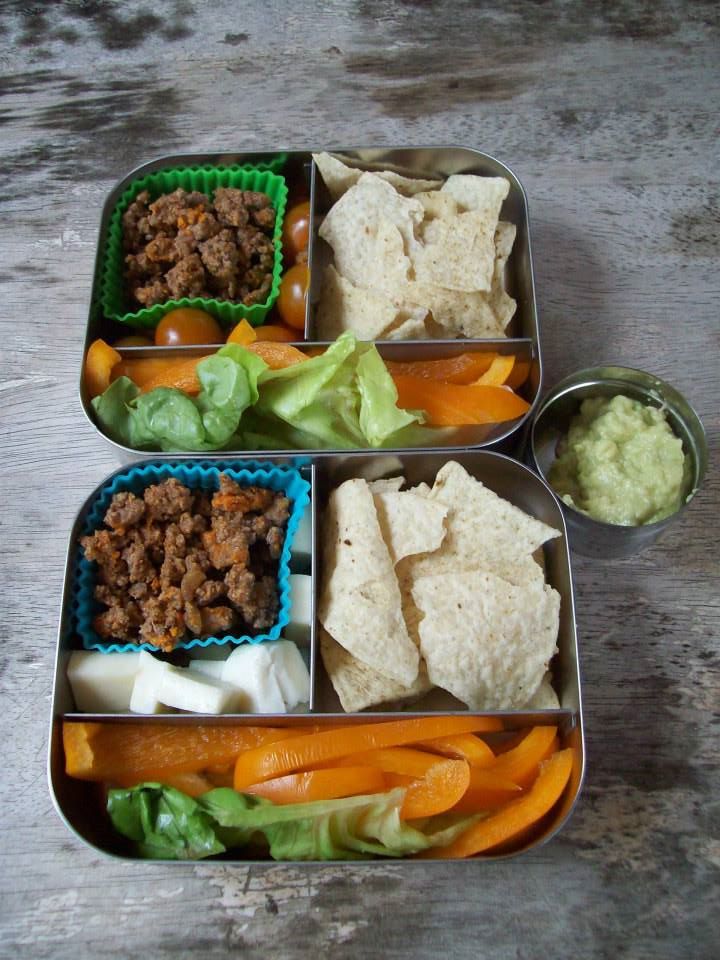 Proving that often, it's the simplest concepts in lunch-packing that resonate the most, these DIY Nacho lunches were hugely popular with readers. All I did was take the leftovers from a taco night and assemble them in a kid-friendly way in our LunchBots, but clearly, these are lunches that many readers felt would be a hit with their own families – which is the point, after all!
Contents:
Grass fed beef taco meat
Lettuce
Peppers
Tomatoes (for one kid)
Cheese cubes (for the other)
Tortilla chips
Guacamole
Fruit leathers (not pictured)
#3. The Scrambled Egg Rollup Lunch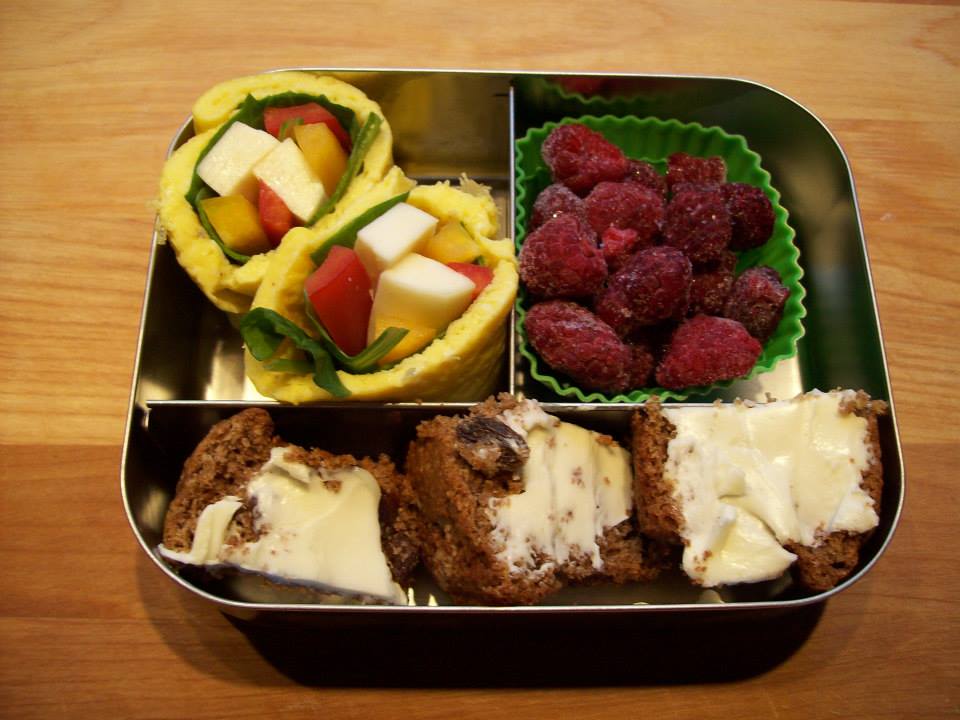 People loved this lunch. They loved the idea, they loved the photo, and it got passed around on Facebook and Twitter – all this attention for a lunch that was born of honest desperation! Still, it was a great lunch and not a scrap was left at the end of the day.
Contents:
Scrambled egg sheet, rolled around cheese slices, peppers, and greens
Berries
Whole wheat cinnamon raisin muffin with butter
Yogurt and banana parfait (not pictured)
#2. The Rollup Lunches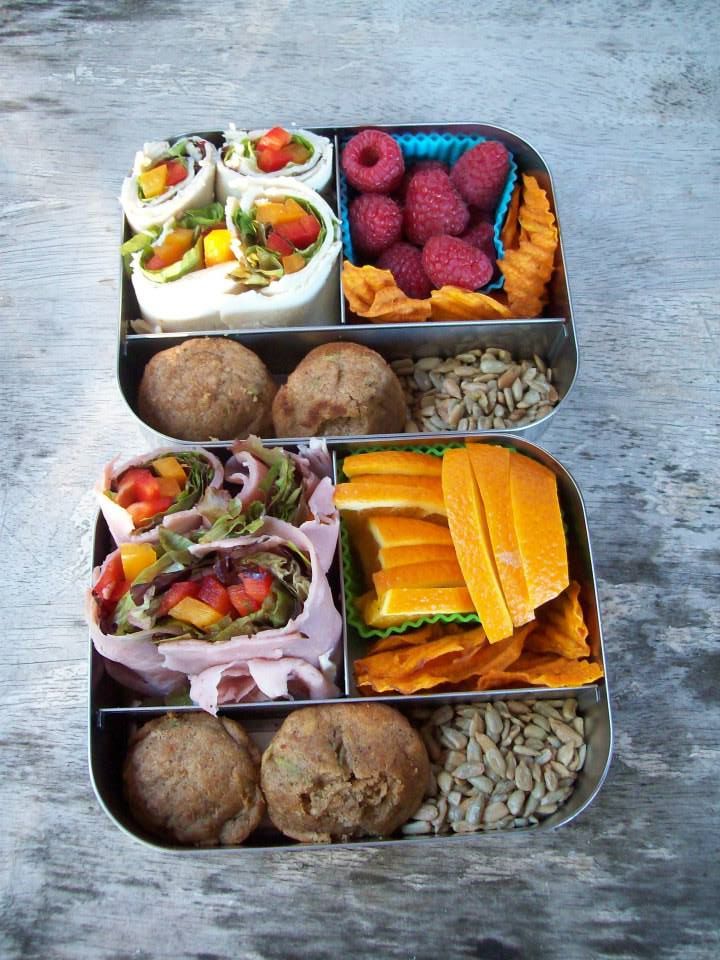 Personally, I think this is my favorite of all the lunches I've posted here. Nutritionally dense, fun for the kids, pretty to look at, and easy to pack – it's like the Holy Grail of lunches!
Contents:
Rollups of either ham or turkey around peppers and mixed greens
Miniature spelt zucchini muffins
Sunflower seeds
Sweet potato chips
Oranges or berries
#1. The Baguette Lunches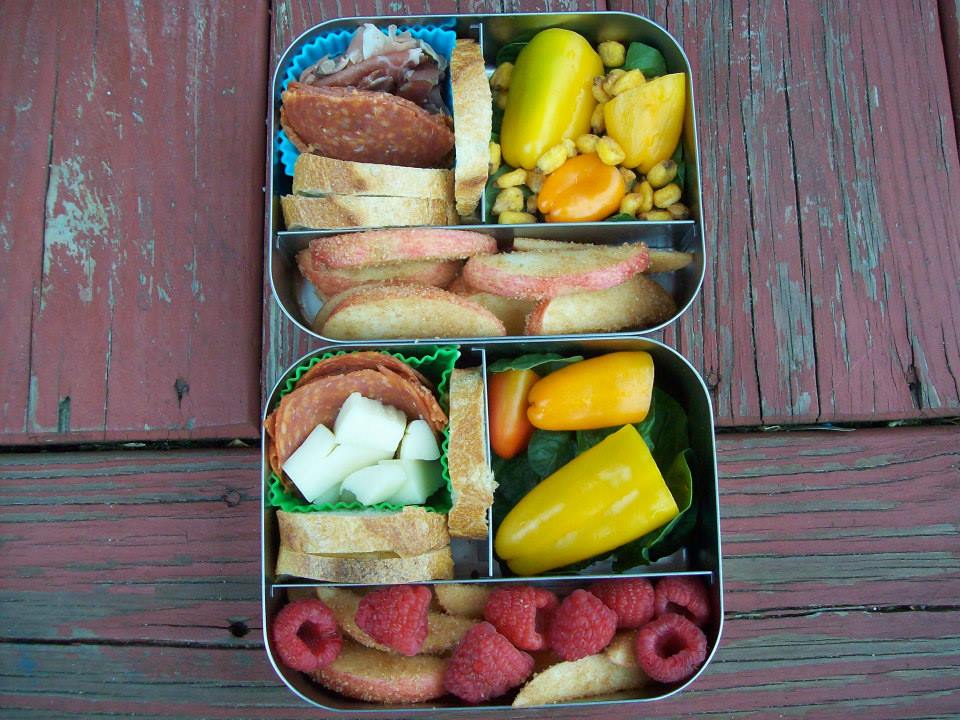 Although I'd have chosen the rollup lunches as my number one favorite of 2014, these lunches were HUGE with my kids and highly "liked" on Facebook and Twitter – so I guess they win, or at least it's a toss-up. I guess part of the appeal is that conceptually, these are just sort of like a Lunchable on steroids – so as far as ease and kid-friendliness go, they do take the top spot. (Not to mention….I'd sort of like to eat these myself!)
Contents:
Baguette slices with butter
Pepperoni and/or prosciutto
Cheese cubes (for one kid)
Spinach
Miniature bell peppers
Apple slices with cinnamon sugar
Toasted corn snacks (for one kid)
That's it – the rundown of the 14 best lunches I packed in 2014, which will hopefully provide some much-needed 2015 packing inspiration for all of you! Agree? Disagree? Tell me your favorite RRG lunch ideas in the comments!