We've completed our December pantry challenge!
If you're just getting up to speed, the quick recap of the concept is that each year, J. and I try to offset the costs of holiday shopping and baking by eating exclusively from our freezer and pantry stores for a week or more at a time. Typically, we do a little in November and a little in December, but this year we decided to try to do a whole(ish) month – with only some staples and desperation items coming in for groceries until the holidays.
So what have we eaten? It's probably not very exciting, but I think I owe you all a look at what comes out of that freezer and pantry when I have to rely on them. After all, I doubt I'm the only one who stores things up and then realizes belatedly that I haven't used what I've bought – so now's my chance to convince any skeptics out there that it really is possible, and even more than that, fairly un-traumatic to take a break from groceries and just eat what you've got.
The good news is that nobody starved. The bad news, or indifferent news, is that there was a lot more moaning and groaning about dinner than I'm used to dealing with. Both of my boys are fairly good sports about eating what they're served, but several weeks of Mommy winging it entirely based on whatever was available definitely tested their patience. Thankfully, it's now the holidays, so they can take solace in indulging!
First, a note about breakfasts:
We're not fancy when it comes to breakfast around here, and I really don't mind if the kids just want a bowl of cereal every morning for a week. Over the course of the pantry challenge, things are much the same as they would be during other weeks – lots of cold cereals (like single ingredient brown rice krispies, shredded wheat, and organic o's), oatmeal, fruit and yogurt, and eggs.
Now, the rundown:
Monday, December 1:
LUNCH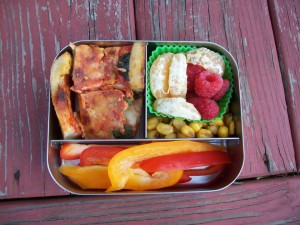 Leftover pizza
Bell pepper strips
Clementines, berries
Toasted corn snacks (from Whole Foods)
DINNER
"DIY" Salad platter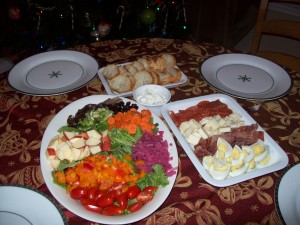 Tuesday, December 2:

LUNCH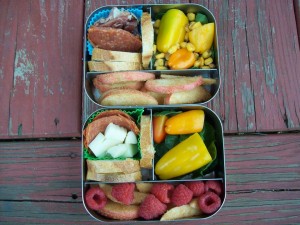 Nitrate-free pepperoni (and a little prosciutto for one kid)
Baguette with butter
Miniature peppers
Spinach
Apple slices with cinnamon sugar
One kid: Berries and cheese cubes. Other kid: Toasted corn snacks
DINNER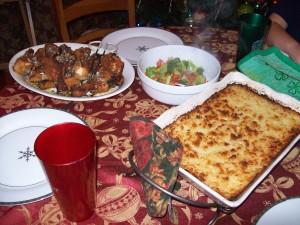 Oven fried chicken drumsticks, cheesy mashed potatoes, sauteed vegetable medley
Wednesday, December 3:
LUNCH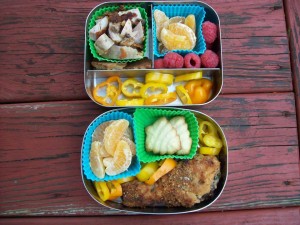 Oven-fried chicken
Clementines (and berries for one child)
Miniature pepper rings
Christmas cookies
DINNER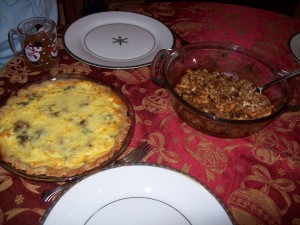 Quiche Lorraine(ish)
Apple and pear crumble
Thursday, December 4:
LUNCH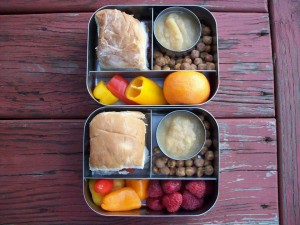 Mini sandwiches on dinner rolls – goat cheese and jam for one kid, pb&j for the other
Applesauce
Mini peppers
Clementines or berries
Cinnamon roasted chickpeas (from Whole Foods)
DINNER (no photo available)
Vegetable fried rice, miso soup
Friday, December 5:
LUNCH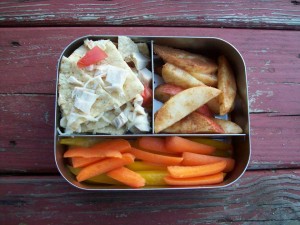 Turkey nachos with tomatoes and cheese
Peppers and carrots
Apple slices with cinnamon sugar
DINNER (no photo available)
Spaghetti, salad, bread
Saturday, December 6:
LUNCH
Bacon and eggs
DINNER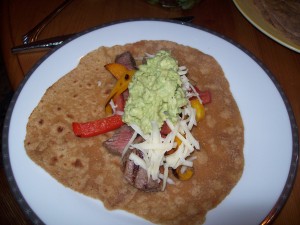 Steak fajitas
Sunday, December 7:
LUNCH
Breaded chicken strips
Fruits and vegetables
DINNER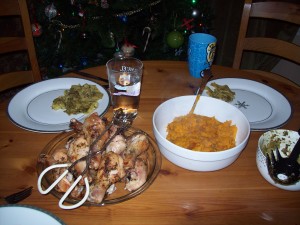 Roast chicken drumsticks
Tagliatelle with pesto
Butternut squash and apple mash
Monday, December 8:
LUNCH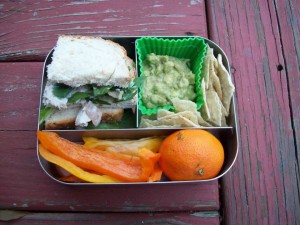 Chicken salad sandwiches with greens on oat bread
Tortilla chips with guacamole
Bell pepper strips
Clementines
DINNER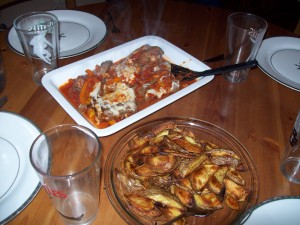 Steak Pizzaiola
Roasted potatoes
Tuesday, December 9:
LUNCH (no photo available)
Steak pizzaiola wraps with spinach
Clementines and berries
Leftover roasted potatoes with ketchup
Cinnamon roasted chickpeas
DINNER (no photo available)
Chicken and dumplings
Wednesday, December 10:
LUNCH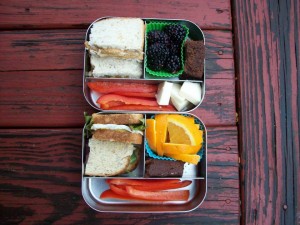 Sandwiches on oat bread – pb and banana for one child, fried egg and greens for the other
Peppers
Miniature homemade peppermint brownies
Berries and cheese cubes for one, oranges for the other
DINNER
We actually went out! J. found a gift card to b.good and offered to use it so I could have a break. I'm dedicated, but not crazy. 😉
Thursday, December 11:
LUNCH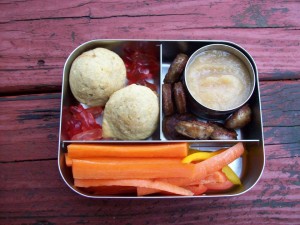 Miniature corn muffins
Herb sausage
Applesauce
Carrots and peppers
Annie's fruit snacks
DINNER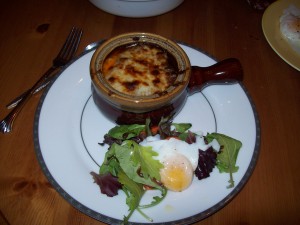 French Onion Soup
Salad with poached eggs
Friday, December 12:
LUNCH (no photo available)
Macaroni and cheese with crispy sausage
Mixed greens
Peppers and carrots
Orange slices
DINNER (no photo available)
Shells stuffed with ricotta and blanched mixed greens (chard and kale) from the freezer, topped with a beef ragout
Saturday, December 13:
LUNCH (no photo available)
Grilled cheese sandwiches
DINNER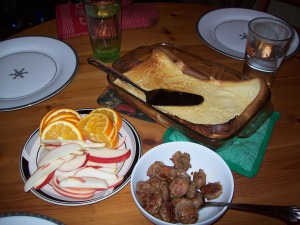 Oven puffed pancake
Fruit
Herb sausage
Sunday, December 14:
LUNCH
We "cheated" a bit – after the kids' performances in the church Christmas pageant, we treated them to pizza at our favorite place.
DINNER (no photo available)
Braised turkey legs
Rice
Glazed carrots
Monday, December 15:
LUNCH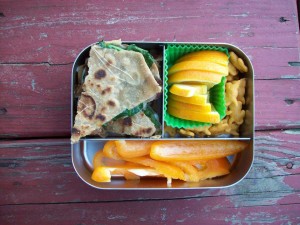 Sausage and spinach quesadillas
Oranges
Bunny crackers
Peppers
DINNER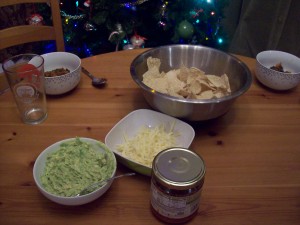 Beef chili with sweet potatoes and kale
Guacamole, salsa, cheddar for toppings
Tortilla chips
Tuesday, December 16:
LUNCH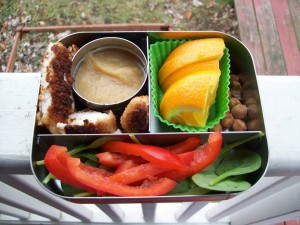 Breaded chicken strips
Applesauce
Spinach and peppers
Oranges
Roasted cinnamon chickpeas
DINNER (no photo available)
Beef stew over mashed potatoes
Wednesday, December 17:
LUNCH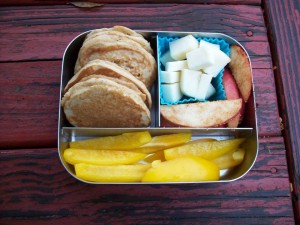 Miniature whole wheat pancakes with pb and honey
Cheese cubes
Peppers
Apple slices with cinnamon sugar
DINNER (no photo available)
Alphabet soup and grilled cheese sandwiches
Thursday, December 18:
LUNCH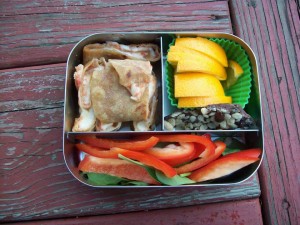 "Pizza rolls" on homemade spelt tortillas
Spinach and peppers
Oranges
Salted caramel krispie bark
DINNER (no photo available)
Bacon, egg, and cheese sandwiches with peaches and raw vegetables
Friday, December 19:
LUNCH

Spelt banana mini muffins with chocolate peanut butter
Peppers
Apple slices with cinnamon sugar
Oranges or raisins
DINNER (no photo available)
Roasted chicken drumsticks
Brussels sprouts
Roasted potatoes
Aaand….that's a wrap. After the 19th, we have spent every major mealtime with friends and/or family, so we haven't been responsible for providing the food – which is, frankly, a good thing! Constantly scanning the freezer and pantry and trying to figure out how to best stretch our existing resources all month long has been a fun challenge, but "challenge" is certainly the operative word. I have to confess that I'm looking forward to writing a January meal plan and getting back into our usual routine, so I don't have to expend quite so much mental energy each day on the "what to cook" question.
With that, I sign off for the holidays – Merry Everything, whatever you may celebrate, and look for a new meal plan next week!