Okay, I admit it. Things have been really boring around here lately. If you're a reader of mine, you're probably not reading anymore, because there's been nothing TO read.
Yes. I'm hibernating. I've been taking a blogging break. It wasn't intentional, and I wouldn't say that I think it's been a strictly fantastic idea from a pure audience-engagement standpoint (a quick look at my Facebook page tells me that nobody's particularly impressed). But it happened.
The best way I can explain it, without being EVEN MORE BORING THAN SILENCE, is that there are times when life takes more from you than you expect it should. Even though there's nothing currently "wrong" and there's nothing for anyone to be concerned about in my life, particularly, there have been a lot of things that have needed my focus and my energy. Some of that is work-related, as my freelancing takes off and I find myself often working seven days a week. Some of that is winter-related, as we've done constant battle with record-breaking cold and snow and the physical and emotional juggling that goes with that. (Yes, snow depression is, I swear, a real thing – or it should be.) Some of that is the stuff that goes with parenting two kids who don't fall into the "typical" category, and who sometimes present me and J. with more intensity before breakfast than most families see in a whole day.
It doesn't really matter what it all is, it's just been a moment in time when I needed to not be blogging because I needed to be doing oh-so-many-of-the-other-things. I wish I could say that it's going to all suddenly be better. But there are no guarantees. So I say only, THANK YOU for sticking around, if you're one of the people who's reading this and feeling glad to see something on this page. And: I'm sorry I've hibernated. I just needed to. And for needing to, I'm not sorry.
In the meantime, of course, there's always dinner.
Here's what we're eating this month: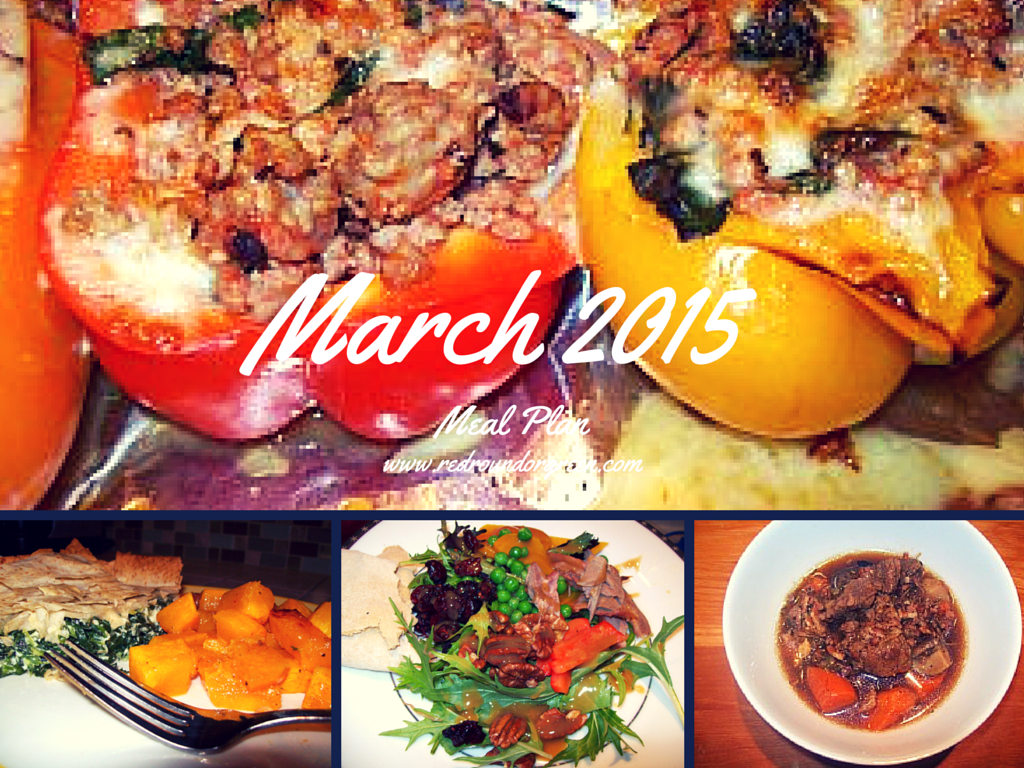 WEEK ONE:
Sunday, 3/1: Roast boneless turkey breast, rice and vegetables
Monday, 3/2: DIY Salad night
Tuesday, 3/3: Turkey tacos
Wednesday, 3/4: Roast chicken and vegetables
Thursday, 3/5: Bourbon beef stew over mashed potatoes
Friday, 3/6: "Date nights" with the kids! J. and P. will do something together while I take L. to a performance at the local symphony.
Saturday, 3/7: Lamb chops, risotto Milanese, and vegetables
WEEK TWO:
Sunday, 3/8: Lasagna
Make it GF: Use gluten-free pasta sheets or substitute slices of roasted eggplant or zucchini for the pasta
Monday, 3/9: "Stuffies" (New Englandese for stuffed clams) and salad
Make it GF: Use a mixture of cornmeal and ground oats instead of breadcrumbs
Tuesday, 3/10: Slow cooker – ribs, cornbread, and broccoli slaw
Make it GF: Use masa harina in place of any flour in cornbread recipes
Wednesday, 3/11: "No-fuss" chicken, rice and vegetables
Thursday, 3/12: Simplest stuffed peppers
Friday, 3/13: Fend night/kids cook
Saturday, 3/14: Fajita casserole
WEEK THREE:
Sunday, 3/15: We'll be at a family gathering
Monday, 3/16: Spaghetti and salad
Make it GF: Use your favorite gluten-free pasta
Tuesday, 3/17: Homemade corned beef dinner
Wednesday, 3/18: Salmon fingers and vegetables
Make it GF: Roll the salmon fingers in crushed pecans
Thursday, 3/19: Reubens and fruit
Make it GF: Put the reuben toppings over hash brown potatoes
Friday, 3/20: Fend night/Kids cook
Saturday, 3/21: Dinner out to celebrate birthdays – mine and P.'s!
WEEK FOUR:
Sunday, 3/22: Eggplant parmigiana
Make it GF: Omit the breading on the eggplant, or use almond meal for breading
Monday, 3/23: Falafels, pita and tabbouleh
Make it GF: Omit the pita and use quinoa instead of bulgur wheat in the tabbouleh
Tuesday, 3/24: Burgers and sweet potato fries
Make it GF: Serve bunless burgers or burger lettuce wraps
Wednesday, 3/25: Slow cooker – Chicken and lentil soup
Thursday, 3/26: Raspberry-balsamic glazed chicken and vegetables
Friday, 3/27: Fend night/Kids cook
Saturday, 3/28: Homemade pizzas
Make it GF: Try using polenta for pizza crust
WEEK FIVE:
Sunday, 3/29: Beer braised beef over mashed sweet potatoes
Monday, 3/30: Spanikopita casserole and roasted vegetables
Make it GF: Stuff the filling for the casserole into portobello mushroom caps and bake
Tuesday, 3/31: Pasta "Poulet"
Make it GF: Use your favorite gluten-free pasta