I've been asking a lot of the same rhetorical question lately:
"What is WRONG with me?"
Why did I think it would be a good idea to take a position on the production team for Listen To Your Mother Providence, be IN the show, then just a few days later enter into "hell week" for the season-end concert of "Carmina Burana" that I'm performing with the Providence Singers and the RI Philharmonic, all while juggling a heavy client workload for my freelance business and keeping the home fires burning? What is WRONG with me?
As my 8-year-old would say, "All good things. All good things." I'm happy and productive and so fortunate to have the opportunity to do all the things that I am doing. But I am tired. So I'm relieved to look ahead at this month and (while I know the end-of-school-year rush will come soon enough with its final performances and events for both boys' school and extracurricular lives) see that there's breathing room coming. Just another week or so, I tell myself. Just a little more pushing through to do, and then a blissful break in the action.
Perhaps unsurprisingly, all this busy-ness made it hard to buckle down and write a meal plan. I knew I had to do it, because frankly, without a plan to follow "busy" would turn to "chaos." But I had this feeling that May was some sort of unfamiliar animal. What does one eat in the month of May? What will the ever-fickle New England weather do? How will the start of the farmer's market season shape up? I was too tired to answer any of those questions for myself. So it is what it is, to coin my father's least favorite phrase. But in the midst of the insanity, at least we'll eat.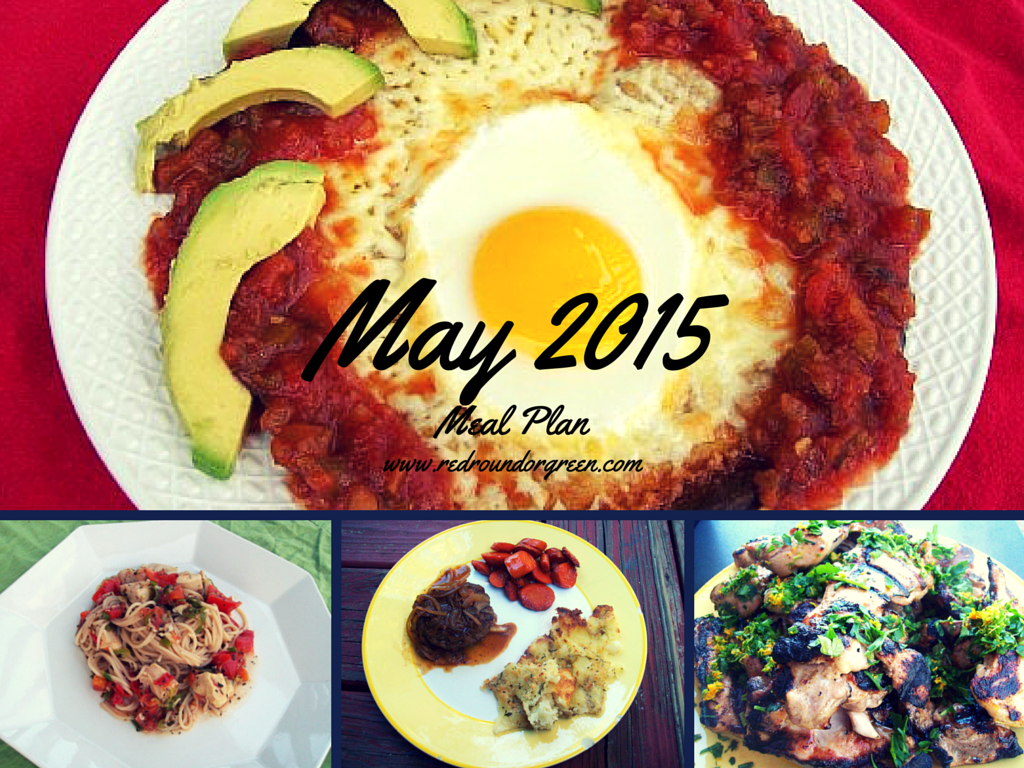 WEEK ONE:
Friday, 5/1: Fend night/Kids Cook
Saturday, 5/2: Greek-style grilled pork chops and salad
Sunday, 5/3: Sunday Roast Chicken dinner
Monday, 5/4: Pasta with Beets and Goat cheese, salad
Make it GF: Use your favorite gluten-free pasta
Tuesday, 5/5: Tacos! What else? 🙂
Wednesday, 5/6: DIY Salad Night
Thursday, 5/7: Simplest stuffed peppers
WEEK TWO:
Friday, 5/8: I'll be getting ready for a performance, but I'll leave baked chicken parmigiana for the family
Saturday, 5/9:  I have a performance. J. will be out of town on business. My parents will be here. I abdicate dinner. 🙂
Sunday, 5/10: Mother's Day! We have reservations!
Monday, 5/11: Breakfast tostadas and fruit
Make it GF: Use corn tortillas instead of flour
Tuesday, 5/12: Ginger-honey grilled chicken and stir-fried vegetables
Wednesday, 5/13: Salisbury Lamb with Balsamic gravy, dill potatoes
Thursday, 5/14: Pasta Poulet
Make it GF: Use your favorite gluten-free pasta or try zucchini noodles
WEEK THREE:
Friday, 5/15: Fend night/Kids cook
Saturday, 5/16: Homemade chicken nuggets and vegetables
Sunday, 5/17: Spoon roast, mashed potatoes and vegetables
Monday, 5/18: Crispy chicken salads
Tuesday, 5/19: French dip sandwiches and fruit
Make it GF: If you don't want to use a gluten-free bread substitute, pile the meat and gravy on grilled portobello mushroom caps
Wednesday, 5/20: Coconut pork lettuce wraps
Thursday, 5/21: Spaghetti and salad
Make it GF: Use your favorite gluten-free pasta
WEEK FOUR:
Friday, 5/22: Fend night/Kids cook
Saturday, 5/23: Ribs, cornbread, tahini coleslaw
Make it GF: Use masa harina in place of any flour in the cornbread
Sunday, 5/24: Citrus grilled chicken and vegetables
Monday, 5/25: Memorial Day! Burgers and fixings, per the guys' request. 🙂
Make it GF: Serve bunless burgers or burger lettuce wraps
Tuesday, 5/26: Pasta primavera and salad
Make it GF: Use your favorite gluten-free pasta or omit the pasta altogether and just make a vegetable medley in creamy sauce
Wednesday, 5/27: The kids' spring concert at school! We'll make a quick dinner of souvlaki before we go
Make it GF: Omit any pita bread and simply serve the grilled meat atop salad or potatoes
Thursday, 5/28: Steak with chimichurri sauce, salad
WEEK FIVE:
Friday, 5/29: Fend night/Kids Cook
Saturday, 5/30: Fajitas
Make it GF: Use corn tortillas
Sunday, 5/31: Farmer's Market risotto and salad