Recently, I had a complete privileged-white-lady moment when my beloved local Whole Foods delivery team stopped their grocery delivery service.
(I KNOW, RIGHT? ADULTING IS HAAAARRRRD.)
Yes, I know it's whiny and self-indulgent to be brokenhearted about not getting your groceries delivered to your front step anymore, and it's PARTICULARLY galling to be whining about this when said groceries have come from WHOLE FOODS, of all places. But still, it's been an adjustment, because:
In quite simple terms, when you've been getting your groceries delivered every week for something like four years, it becomes part of your rhythm;
As the boys get older and even busier, finding those hours for driving and shopping feels even less convenient than it did before;
I truly, genuinely adored Holly and Lauren, the two women who took care of our every grocery need for all these years. Losing my Friday chats with them has been like losing dear friends.
However, there have been silver linings to losing our delivery service, one of which is money.
No, I flatly do not believe that Whole Foods is necessarily "Whole Paycheck." I understand why it has that reputation, and I laugh at much of the pricing in the store myself. But I have done my research and I've price-compared most of our staple items across the various stores that are available to us, and a look at my spreadsheets (yeah, I'm a nerd) shows that for many of the things we buy, Whole Foods — particularly the 365 store brand — is competitively priced in our area.
BUT…and this is a big "but"…it's not the best pricing out there for everything. And by giving in to the convenience factor for all these years, which I did desperately need to do for the sake of my own sanity if nothing else, I was definitely compromising on budget somewhat. Losing the ability to just place an order and see it arrive, without even having to sign for the bill, has honestly been a reality check for me. And the reality is, we've just been spending too damned much money on food.
So I'm adjusting. We all are. I still shop at Whole Foods for much of our needs, but as long as I need to find the hours to drive to a store and buy my own stuff, I'm also fitting in a once-a-month pantry staple stock-up at Trader Joe's, looking forward to the return of the farmer's markets in our neighborhood, scoping out stores like Aldi to broaden my horizons, and most importantly, consciously trying to lower my budget no matter where I'm doing the shopping. We're working hard to make do with less, without making it feel like an exercise in deprivation.
This month's meal plan reflects that shift. We're working on scaling back our meat consumption, eating more simply all around, and I'm doing even more baking, stock-making, and general stretching of food resources than ever before. We can do better, we can waste less (food and money), and we can — I hope, I hope — make it look and feel easy.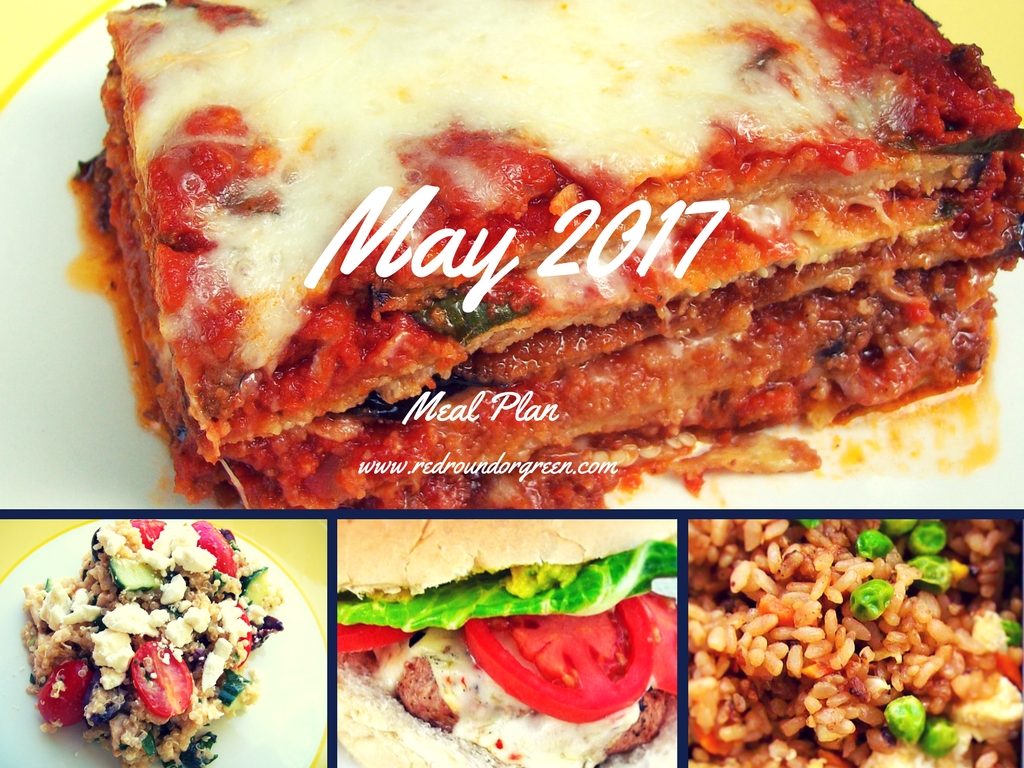 WEEK ONE:
Monday, 5/1: Miso soup, rice and stir-fried vegetables
Tuesday, 5/2: BLT Panzanella
Wednesday, 5/3: Pizza turkey burgers, roasted potatoes and vegetables
Thursday, 5/4: I'll be performing at the FINAL Listen to Your Mother: Providence event! Leaving an assortment of cold salads (egg, tuna, chicken), bread and vegetables for the guys.
Friday, 5/5: "No-fuss" chicken, cous cous and vegetables
Saturday, 5/6: Eggplant parmigiana, pasta and salad
Sunday, 5/7: We'll be eating with family tonight.
WEEK TWO:
Monday, 5/8: Orzo with roasted vegetables and turkey polpette
Tuesday, 5/9: Greek-style chicken and quinoa salad
Wednesday, 5/10: I have a dress rehearsal for a choral concert, so we're making DIY wraps and potato salad
Thursday, 5/11: Simplest stuffed peppers, bread and salad
Friday, 5/12: Another dress rehearsal, so it's turkey taco burgers on the run!
Saturday, 5/13: Sunday roast chicken dinner
Sunday, 5/14: I'll be performing all afternoon and, since it's Mother's Day, I'm asking the guys to get takeout from a favorite place when I get home!
WEEK THREE:
Monday, 5/15: Pasta primavera
Tuesday, 5/16: Chicken gyros with the leftover chicken from Saturday
Wednesday, 5/17: Sheet pan nicoise, bread
Thursday, 5/18: Beef and Bean Taco salad and fruit
Friday, 5/19: Grilled chicken sausages, egg noodles and vegetables
Saturday, 5/20: Hummus, tabbouleh, grilled vegetables and pita
Sunday, 5/21: Herb-rubbed steak and salt baked potatoes
WEEK FOUR:
Monday, 5/22: Hibachi fried rice and fruit
Tuesday, 5/23: Tuna melts and cold salads
Wednesday, 5/24: Roasted garlic chicken pasta salad, tomato and cucumber salad
Thursday, 5/25: Italian wedding soup and garlic bread
Friday, 5/26: Homemade pizzas
Saturday, 5/27: Fish tacos
Sunday, 5/28: Not making plans yet due to Memorial Day weekend!
WEEK FIVE:
Monday, 5/29: Memorial Day — not sure yet what we're doing.
Tuesday, 5/30: "Sushi" rice bowls
Wednesday, 5/31: Crispy chicken thighs with baked white beans and focaccia bread