There's a little rush of relief I feel every year around this time. It's not always right at the end of May or beginning of June, because God knows that's no easy time for families with kids — as I remarked to a friend recently, the number of permission slips/donation requests/special occasion reminders pouring into our household seems to be inversely proportional to the number of days left in the school year. (I'm currently writing this from my position buried underneath an avalanche of projects, progress reports and reminder notices that have come home in the last week or so. I assume I'll dig out in time to pick up the children on the last day of school.)
But I digress. That rush of relief…it's the thrill of seeing the color-coded blocks on my Google calendar gradually shrink and disappear. Whole white spaces open up before my eyes. Sometimes we're flat out, running the rat race right until the last day of school, and at other times I'm able to watch commitments drop off earlier. This is one of those years. Yes, we've got plenty to attend to over the next few weeks, but it's all really nothing compared to the gauntlet of track practices, flag football games, play rehearsals, orchestra rehearsals, piano lessons, guitar lessons, Sunday school events, etc. etc. etc. etc. that we've been dealing with all spring. I'm actually daring to dream of pulling the weeds in the backyard and maybe taking the kids to a movie sometime soon. We're almost FREE.
The sigh of relief my soul breathes with this realization is also accompanied by a little spark of joy at the thought of summer food. Fresh vegetables, lots of fish, things tossed on the grill and eaten while lazily sprawled on the back deck. Picnics, food trucks, cold suppers, everything doused in olive oil. Homemade ice cream. Lemonade. Life.
Is there anything so sweet as summertime? Not to me, not today.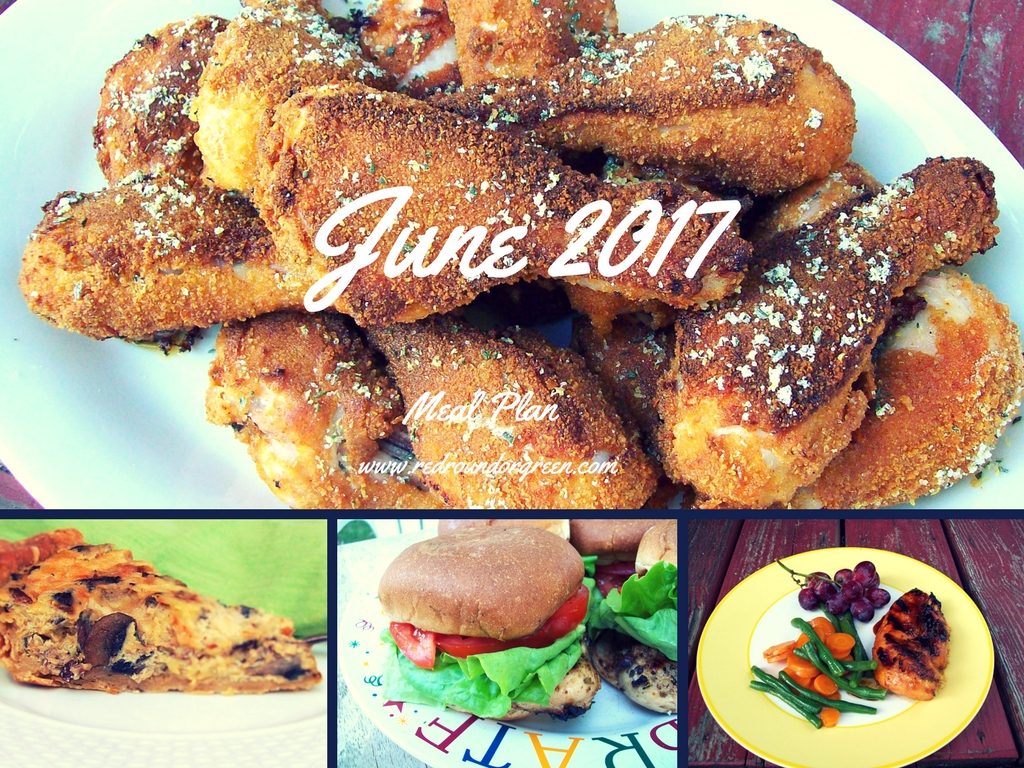 WEEK ONE:
Thursday, 6/1: DIY Salads and homemade bread
Friday, 6/2: Chicken and Zucchini Parmigiana
Saturday, 6/3: Burgers and baked fries
Sunday, 6/4: Teriyaki chicken, rice and broccoli
Monday, 6/5: Vegetable fajitas, red beans and rice
Tuesday, 6/6: I've got a potluck event tonight. Not sure yet what I'll make, but I'll leave extras for the guys!
Wednesday, 6/7: Sausage and potato frittata, salad
WEEK TWO:
Thursday, 6/8: Homemade Pizzas
Friday, 6/9: Easy Grilled Chicken Sandwiches, fruit
Saturday, 6/10: Vegetable risotto and salad
Sunday, 6/11: Oven-fried chicken, corn and grilled vegetables
Monday, 6/12: Quiche and salad
Tuesday, 6/13: Buffalo-style lettuce wraps and cornmeal-crusted potato wedges
Wednesday, 6/14: Zesty Chicken and Pasta Toss
WEEK THREE:
Thursday, 6/15: Honey-mustard chicken and potato skillet, homemade rolls
Friday, 6/16: Last day of school! We're celebrating at our neighborhood food truck festival.
Saturday, 6/17: Fresh seafood from the farmer's market
Sunday, 6/18: Father's Day — we'll lavish attention on J. in a number of ways, including spaghetti and meatballs and peanut butter pie.
Monday, 6/19: I'm turning dinner over to P., who wants to make a feast from his "Redwall" cookbook!
Tuesday, 6/20: Tacos
Wednesday, 6/21: Meatball subs and salad
WEEK FOUR:
Thursday, 6/22: Chicken Caesar salads with homemade croutons
Friday, 6/23: BLTs, salads and fruit cobbler
Saturday, 6/24: Fresh seafood from the farmer's market
Sunday, 6/25: J. and I have a date tonight. 🙂 No cooking for me!
Monday, 6/26: Pasta with spinach pesto, tomatoes and mozzarella
Tuesday, 6/27-Friday, 6/30: We're spending time with family this week, so I'm not planning anything at the moment.