Five days into October (sorry for the delay) and already, the freezer meals I started putting by in August and September are SAVING MY BUTT.
Sidebar for a second here: It feels weirdly cool to sit in a meeting where people are chatting about all the ways they're trying to get dinner on the table despite, y'know, life, and be the person who can say "I hear you. We've been nuts lately too, but I've got all these foil pans of pre-made meals stacked up in my chest freezer, so when life gets too crazy I know I can just grab one of those!" I mean, okay, it feels partly cool and partly totally geeky, but I'm comfortable with who I am.
So anyway. If you pay attention to me on Facebook (if not, why not?) or if you read this week's school lunch plan, you know that I was away for a couple of days for business. I'm also recovering from a rotten cold and things have just been busy beyond busy. So I ended September by deviating from the planned meals one night and grabbing a pan of chicken-zucchini parmigiana from the freezer to save my sanity. Now this week, we've had one scheduled freezer meal night, and tomorrow we'll do another because I just happened to find some containers of homemade soups in there that need to get used up, plus half a loaf of cheesy garlic bread I popped in there for a rainy day. Oh freezer, you are so good to me.
OK, I know I'll need to REPLACE the meals we're eating…but I'm not worried about that just yet. Right now I'm just appreciating my own hard work. And isn't it nice when you can do that?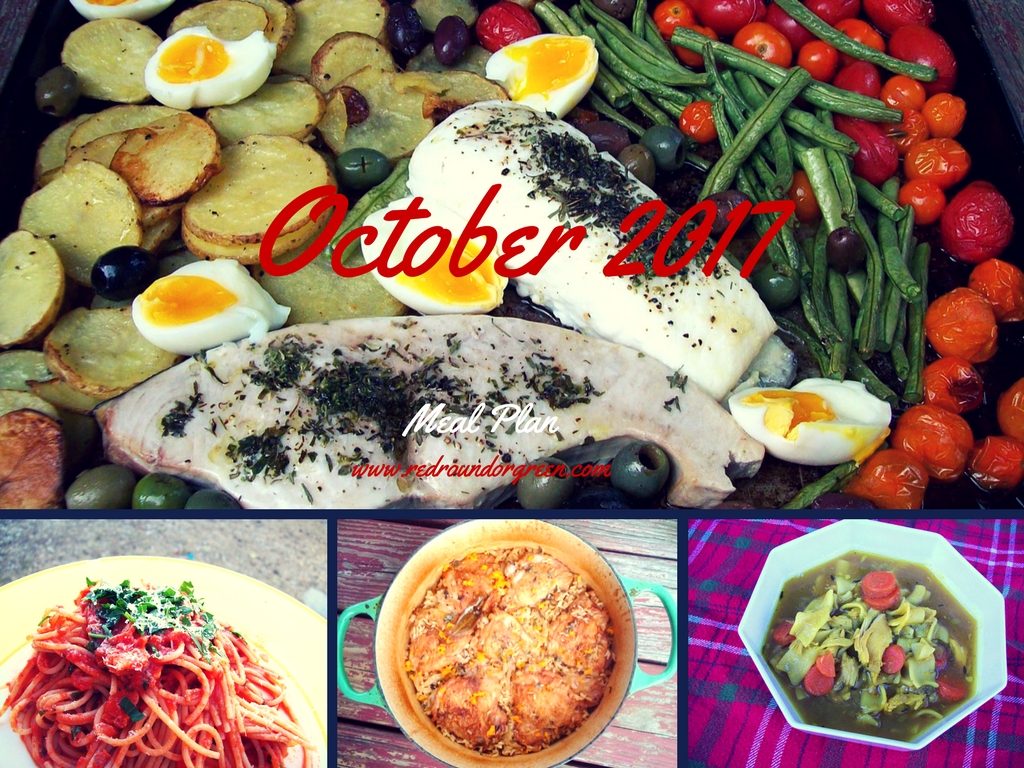 The October Meal Plan
WEEK ONE
Sunday, 10/1: Chicken cutlets with fresh tomatoes and garlic, mashed butternut squash with apples
Monday, 10/2: Out of town, but leaving a California chuck roast with  vegetables in the slow cooker for the guys
Tuesday, 10/3: Still out of town — freezer meal for the guys!
Wednesday, 10/4: Pasta with creamy mushroom sauce, salad
Thursday, 10/5: Shredded beef burritos (using the leftover chuck roast from Monday), yellow rice
Friday, 10/6: Freezer soups (chicken noodle and chicken/bean minestrone) and garlic bread
Saturday, 10/7: Fresh seafood from our farmer's market
WEEK TWO
Sunday, 10/8: Goat Cheese Chicken and roasted potatoes, salad
Monday, 10/9: Egg noodles with Brussels Sprouts and Bacon
Tuesday, 10/10: Slow cooker Apple Barbecue Pork with navy beans, rice and apple-cabbage slaw
Wednesday, 10/11: Turkey Club Patties and sweet potato fries
Thursday, 10/12: Monte Cristos and apple crisp
Friday, 10/13: Sheet pan nachos
Saturday, 10/14: Fresh seafood
WEEK THREE
Sunday, 10/15: Sunday roast chicken dinner
Monday, 10/16: Spaghetti all'amatriciana
Tuesday, 10/17: Chicken Lentil Soup and corn muffins
Wednesday, 10/18: Mom's friend Jeremy's Chinese pepper steak and rice
Thursday, 10/19: Brown Butter Chicken with Broccoli Rabe, couscous
Friday, 10/20: Turkey helper
Saturday, 10/21: Fresh seafood
WEEK FOUR
Sunday, 10/22: Orange-thyme baked chicken and rice, asparagus
Monday, 10/23: Butternut squash and pear soup, grilled cheese
Tuesday, 10/24: Chicken and broccoli alfredo
Wednesday, 10/25: Sausage and pepper burgers, potato wedges
Thursday, 10/26: Mushroom and asparagus risotto
Friday, 10/27: Chicken and potato tikka masala with raita over rice
Saturday, 10/28: Last seafood day of the season!
WEEK FIVE
Sunday, 10/29: Lentil and sausage stew, sourdough bread
Monday, 10/30: Vegetarian chili
Tuesday, 10/31: Halloween night — our usual trick-or-treat dinner of "mummy dogs"