Things that are predictable about March around here:
There will be a random spate of busy weekends
There will be a birthday (okay, a dual birthday — mine and P.'s)
There will be a Saint Patrick's Day dinner with my in-laws, one of my very favorite meals to cook and eat all year long
Things that are unpredictable about March around here:
The weather — by P.'s birthday late in the month, we could be wearing shorts or having a snow day
Everyone's moods as winter seems to drag on endlessly
How much free time I will actually have
Given the predictably unpredictable nature of the calendar, season and general household spirits, March is always a month of frustrations in meal planning. By this point in the year, I'm ready to give up braises and casseroles and warming food in favor of salads, quick meals on the grill and super-fresh local produce. But of course, Spring in New England is a fickle tease, so I have to be equally ready for days when we'll want the windows open and a light supper on the table, and days when we'll be stamping the snow off our boots and reaching for mugs of soup.
How's a girl supposed to plan anything under these conditions?
This month's plan came together as a combination of factors: 1) Plugging in a couple of "known quantities," like nights when we'll need a freezer meal due to busy schedules, or days when my dad might be visiting and want some of his favorites; 2) Flipping back through recent meal plans to look for inspiration; 3) Adding in a few extra low-meat or meatless meals, despite the season, because I'm always caught between the dueling forces of hungry, meat-loving boys and my desire to eat less meat and lower the budget around here. I scratched this whole thing out into my notebook while I was hanging out in various waiting rooms while kids were at activities and whatnot, so it's been a while since I looked at it. On closer inspection, I think I did okay.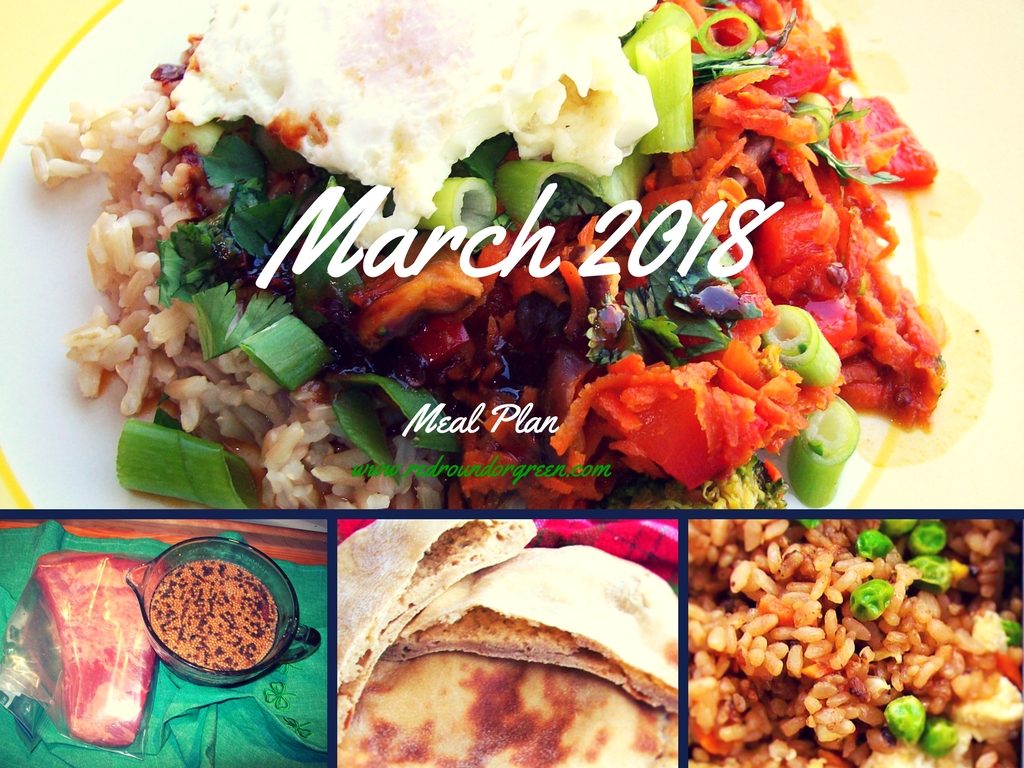 WEEK ONE:
Thursday, 3/1: Tomato-basil risotto, salad
Friday, 3/2: Homemade pizzas (we were supposed to have these last weekend, but didn't, so I moved them here)
Saturday, 3/3: Shrimp "oreganato" over pasta, salad
Sunday, 3/4: L. is participating in a master class at his music school, so dinner needs to cook while we're gone — Slow cooker California Chuck Roast and cornbread or sweet potato dinner rolls
Monday, 3/5: Spanakopita casserole, roasted vegetables
Tuesday, 3/6: Breakfast burritos and fruit
Wednesday, 3/7: Teriyaki pork chops, rice and broccoli
WEEK TWO:
Thursday, 3/8: Chicken quesadillas, rice and beans
Friday, 3/9: Chopped salad and garlic bread
Saturday, 3/10: A low-effort, high-reward dinner before my evening concert — Sunday Roast Chicken, baked beans (from the freezer), dinner rolls and salad
Sunday, 3/11: Freezer meal, as I've got a concert this afternoon and won't be home until dinnertime
Monday, 3/12: Vegetarian Bibimbap
Tuesday, 3/13: DIY Salad bar
Wednesday, 3/14: Falafel, pita and quinoa tabbouleh salad
WEEK THREE:
Thursday, 3/15: Goat cheese chicken, roasted potatoes and broccoli
Friday, 3/16: I'll be out with a friend, so I'm leaving the guys to figure it out for themselves!
Saturday, 3/17: Saint Patrick's Day dinner with the in-laws — Home-brined corned beef, scalloped potatoes with Irish cheddar, glazed carrots, brussels sprouts and soda bread
Sunday, 3/18: Penne vodka and salad
Monday, 3/19: Vegetable fried rice
Tuesday, 3/20: Cornflake crusted chicken, potatoes and vegetables
Wednesday, 3/21: Birthday dinner for me and P.! We're going out.
WEEK FOUR:
Thursday, 3/22: Mixed grill sheet pan dinner
Friday, 3/23: Spanish tortilla with chorizo, salad
Saturday, 3/24: Sheet pan nachos
Sunday, 3/25: Salisbury Lamb Patties, potatoes and vegetables
Monday, 3/26: Pasta with sweet potatoes, red peppers and goat cheese
Tuesday, 3/27: Turkey tacos (I'll make extra taco meat and freeze)
Wednesday, 3/28: Szechuan shrimp and rice
WEEK FIVE:
Thursday, 3/29: Half-lentil sloppy joes, sweet potato fries
Friday, 3/30: Quiche and salad
Saturday, 3/31: Lemon chicken paillard over antipasto salad, garlic bread