Red, Round, or Green is officially one month old!  It's funny how fast the month has gone, and yet, how I feel that I've been writing this blog forever.  Maybe it's just because what happens on this blog is so much a continuation of my inner monologue, and the only thing that's really changed is that now I'm sharing it with all of you.  Things are going well here on the blog, though, which is important to me (oh, validation, a la Sally Field…you like me!  You really like me!), and worth a one-month celebration.
In musing about what to do in honor of the occasion, it occurred to me that I have not yet posted the recipe that got this whole thing started.  Red, Round, or Green was a thought that lived in the back of my mind for a while before I finally decided to just get down to it already — I guess I was waiting for some sort of sign from the universe that it was time to  give in to the allure of the blogosphere.  My sign came a month ago, when Farm Fresh RI published one of my recipes in its monthly newsletter, and suddenly everybody was talking about making beet muffins.  (Yes, that's right, beet muffins.  Try them before you judge.)  The feedback was good, and when I realized that I was getting messages from people asking if their blog could link to my blog (what blog? I don't have a blog), it seemed like the Sign had arrived.
However, it would be a cop-out to just say "thanks for reading my stuff this past month…here's a cool recipe."  So over the weekend, as I was performing my usual dance of madness and alchemy over boiling pots and blazing ovens, I decided to try out a new muffin recipe as well.  What fun would it be, after all, to just give you a recipe I've done before?  That's not how we roll here at Red, Round, or Green…
The stories of both these muffins — one beet, one tomato — are rooted in nostalgia and my ever-increasing nods to bygone eras.  If you're a faithful RRG reader, you've no doubt encountered before my discussions of "wholesome" vs. "healthy" designations for food, and my musings on emulating my great-grandmothers' philosophies on feeding growing boys.  As you've probably also figured out already, I'm the type of nut who'd bake fresh bread every morning if I could summon the will to get out of bed early enough to get the process started, rather than rely on label-reading of grocery store slices.  So when it comes to making something really oddball, like muffins filled with vegetables that heretofore have had no business being in muffins, I am inclined to reach back into history — or at least the history I imagine — and try to channel the kitchens of my foremothers to make the thing work.
With the beet muffins, I had no clue where to begin — I just thought, vaguely, that there had to be some good ways to make beets more friendly to the childhood palate.  When I tried to beam myself back to the kitchens of the Depression era and before, I remembered hearing — though I don't know if it's true or not — that beets were once used to make the red color in red velvet cakes.  Knowing that they are also used to produce sugar in some parts of the world, I mused on these two facts, or quasi-facts, and decided that beets + chocolate + some good old-fashioned molasses and spice = (hopefully) something delicious.  Luckily, I was right, and beet muffins went down BIG.  My kids not only loved them, but L. enjoyed telling everyone that he was eating beet muffins, because he got such a great gross-out reaction.
Now, with tomatoes…I'm sure everyone thinks that a tomato muffin sounds equally, if not more, disgusting than a beet muffin.  Either that, or you're expecting that I did something savory.  But again, I refer to the imagined culinary wisdoms of my great-grands, and it just so happens that one of my great-grandmothers used to make a widely enjoyed Tomato Soup Cake.  This is one of those heirloom recipes that some of you may be familiar with, and if you're not, it's easily searchable on the internet; it certainly had its heyday of popularity among housewives.  Also, it definitely falls into the "don't knock it until you've tried it" category — I remember eating it as a kid and thinking it was the greatest spice cake ever.  Unfortunately, Great-Gramma's recipe didn't get handed down, so no one's been able to replicate her exact formula.  Including me — don't get your hopes up.
However, the basic idea of the tomato soup cake was that Campbell's Condensed Tomato Soup would provide moisture and some sweetness to the cake, which would then be strongly flavored with a spice mixture, ostensibly to cover up any odd tomato-y-ness (yes, I went there — what other word would you use?).  So I made a somewhat lightened muffin version, using fresh tomatoes rather than the dreaded condensed soup, and my own spice blend.  I'll say this: they didn't taste like Great-Gramma's cake, but they were good, and it's only at the end that you get the hit of tomato flavor…which J. and I found oddly enjoyable.
I don't know what the kids will think of the Tomato Muffins — they haven't tried them yet, because they've been munching on the homemade granola bars I made yesterday (tell ya more about that tomorrow, folks).  But chances are that P., at least, will love them, and L. will probably like them to at least a 2-star rating level, possibly more.  At any rate, it's an interesting use for tomatoes as the season winds down.  That's the spirit here at Red, Round, or Green, anyway — my inner mad scientist just keeps trying things; sometimes the kids love it, and sometimes they don't — but all in all, everybody ends up getting fed.
Tomato Muffins
1 cup packed dark brown sugar
1 cup vanilla yogurt
1/2 cup canola oil, coconut oil, or ghee
2 eggs
2 cups pureed fresh tomato (about 3-4 medium ripe)
2 1/2 cups all-purpose flour
1 tsp. baking soda
1 tsp. baking powder
1 tsp. salt
1/4 tsp. ground black pepper
1/2 tsp. ground cardamom
3/4 tsp. each ground ginger, allspice, and cloves
1 tsp. ground nutmeg
2 tsp. cinnamon
Preheat the oven to 375 degrees and line or grease 24 muffin cups (or you could make mini-loaves; the recipe will make 4 mini-loaves).  Beat the sugar, yogurt, and oil until smooth; add the tomato puree and mix until completely combined.  Whisk together the dry ingredients and gradually add to the wet mixture until fully incorporated.  Pour into prepared muffin cups or loaf tins and bake at 375 for 30 minutes (muffins) or 45 minutes (loaves), just until set and a toothpick comes out clean.  These muffins are very delicate and may sink slightly in the centers, but will still be delicious.  I recommend storing in the fridge.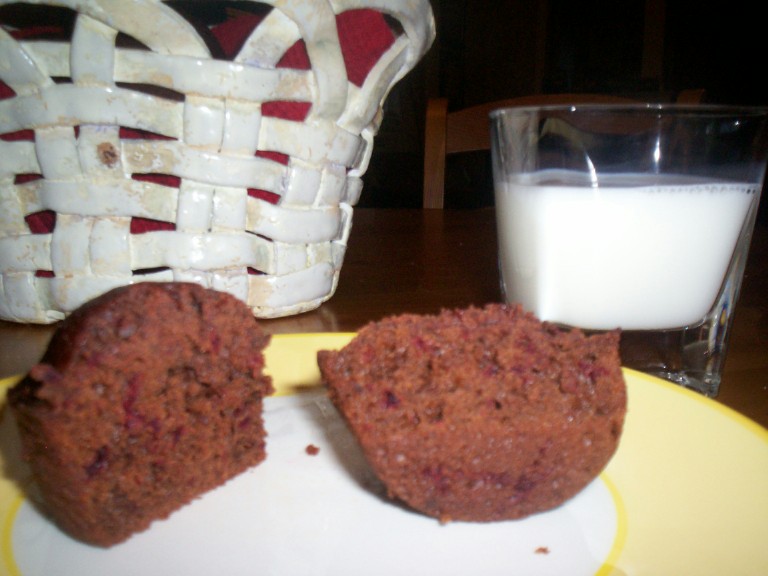 Surprisingly Sweet Beet Muffins
6 tablespoons unsalted butter, softened
6 oz. plain yogurt
1 cup granulated sugar or 3/4 cup pure maple syrup
1 cup grated raw beets
1 1/2 tsp. vanilla
2 eggs
1 cup very hot water
1/2 cup molasses
2 1/2 cups flour
1 tsp. baking soda
1/2 cup cocoa powder (unsweetened)
1/2 tsp. salt
1 tsp. ground ginger
1 tsp. cinnamon
1/2 tsp. allspice
1/4 tsp. each cloves and nutmeg
Preheat the oven to 350 degrees and prepare 18 muffin cups, either by greasing or lining.  Cream together the butter, yogurt, and sugar until smooth.  Add the beets and mix thoroughly; add the eggs, one at a time, and vanilla.  Combine the dry ingredients in a separate bowl.  Dissolve the molasses in the hot water.  Add half the flour mixture to the beet mixture and mix briefly, then add half the molasses and water.  Repeat with the remaining flour and water, mixing just until all the ingredients are incorporated.  Spoon the batter into the prepared muffin cups and bake at 350 degrees for 20 minutes, just until a toothpick comes out nearly clean.