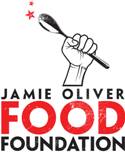 You guys…I'm helping Jamie Oliver.
Okay, not DIRECTLY.  Jamie himself may not even know I'm alive.  But I'm helping the Jamie Oliver Food Foundation, which is probably the closest brush I'll ever have with J.O. himself.  I was invited to join a team of bloggers, headed by Kim of Out of the Box Food, who are working as Real Food Advocates to raise money for the J.O.F.F.  Each of us has committed to raising a minimum of $500 by May 1 for the following cause (language comes directly from the J.O.F.F.):
"All money raised will go towards funding the Jamie Oliver Food Foundation's Food Education Program. The Food Education program funds all projects of the Food Foundation including their network of Food Revolution kitchens, the Food Revolution Cooking Classroom Big Rig, Training tools and education for the Food Revolution community leaders, Groceries and supplies for the cooking classroom, School Kitchen Garden pilot program and an overall growth of their grassroots movement. Every donation you make helps the Food Foundation continue to work and improve the health prospects of the next generation."
In other words, this is something tangible that we can all do to help promote home cooking, healthier eating for children, and improved access to high-quality food for all kids.  Not too shabby.
To start working towards my fundraising goal, I'm hoping to be able to host another dinner-and-donations event like the $5 Taco Party J. and I enjoyed with our friends back in September.  I may also try to work with our church and with the Wellness Committee at my office to organize some smaller events that I'll explain in further detail as they come together.  But I have to ask for your help, RRG folk — since this is a cause that I know is near and dear to many of us, I don't feel too guilty about asking this community to pitch in a bit if at all possible.  I'm even offering something in return.
There's a donations page set up for the Real Food Advocates team over at Causes.com.  If you are able to at all — in any amount, even $1 — please take a moment to make a donation and fill out a card on that page indicating that you're donating on behalf of Red, Round, or Green.  Then come back here and post a comment letting me know that you donated.  The first 10 readers who comment here to notify me of a donation will receive a personal email consultation with me to help find a solution to the single biggest challenge they can identify in providing real, from-scratch food for their families every day.
I appreciate your help in this incredibly worthwhile endeavor, and encourage you all to spread the word!  If you're interested in learning more about the Real Food Advocates, check out the team Facebook page.  This is an amazing group of people with a real passion for changing the face of food in America.  Please help us reach our goal of supporting Jamie Oliver's Food Foundation in its endeavors to improve the state of childhood nutrition and food education across the country.