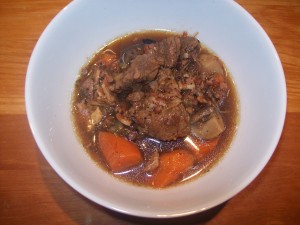 I'm breaking the rules of Monday Menus tonight.
Originally, the Monday Menus were something I started to share lunchbox recipes during the run-up to the school year.  When that passed, readers on the RRG Facebook page convinced me to keep the feature going, but to provide easy weeknight meals rather than lunchbox ideas.  Tonight, however, I'm going a bit rogue and using Monday Menus as an excuse to share something that is DEFINITELY not a quick and easy weeknight meal.   This is slowly cooked food, cold Sunday food, wintertime warmer food.  This is the kind of thing you want on the stove when your kids come in from sledding.  It will make your house smell amazing, and it will make your whole family happy.  At least, that's what it did in our house.
I created this recipe totally by accident.  I'd planned to make a steak and Guinness pie, but J. and I had decided just the day before that we wanted to try removing wheat from L.'s diet again, not with major vigilance, but with a "let's-at-least-be-mindful-about-this" sort of mindset.  (More to come on that, I suspect, at another time.)  I hadn't bought the Guinness for the pie anyway, so it was easy enough to just decide that we'd omit the crust and make a stew.  But when I went to make the stew, I started thinking about how sad I was that I didn't have the beer to add to it for a nice flavor component.  Somehow, that led me to thinking about boeuf bourgignon, and from there it was a short leap to rummaging in my refrigerator for bacon and raiding the (rarely used) liquor cabinet.
I wanted red wine and Cognac; what I ended up with was bourbon.  What a revelation in stew!  This Bourbon Beef Stew is not a stew for the timid.  It's smoky from the bacon and packed with meat, and the broth has a rich flavor that had J. asking "What's IN this?" as he slurped up a second bowl.   I served it over mashed potatoes because I was feeling indulgent, but I ate the leftovers plain for lunch and it was no less satisfying.  I recommend making it with homemade stock to get the deepest flavor — ours was made with marrow bones I'd roasted in the oven, then cooked in the slow cooker with herbs and vegetables for 18 hours.  That's the kind of food that makes winter worthwhile.