Let there be light!
Light in the morning when I wake up…light in our backyard until well after we've called the boys in from playing to get ready for bed…a light at the end of the long, dark tunnel that was a New England winter without abundant fresh produce from my favorite farms.  It's June, and I'm unreasonably happy about it.
June means the start of our CSF — Community Supported Fishery, which is just like Community Supported Agriculture except that we get to choose our share of freshly caught local seafood.  Every Saturday now becomes about possibility, as I plan simply to cook and eat fish, and then let my menu develop when I see what Joe at the market stall has for me (and what his farming compatriots are selling, too).  In June, every weekend reveals just a bit more of a tantalizing peek at the fruits and vegetables to come.  In June, eating local food begins to turn back to being utterly and simply pleasurable.  This is the time of year for which local foodies like me hang on through the dark winter months, and I am itching to get at it already.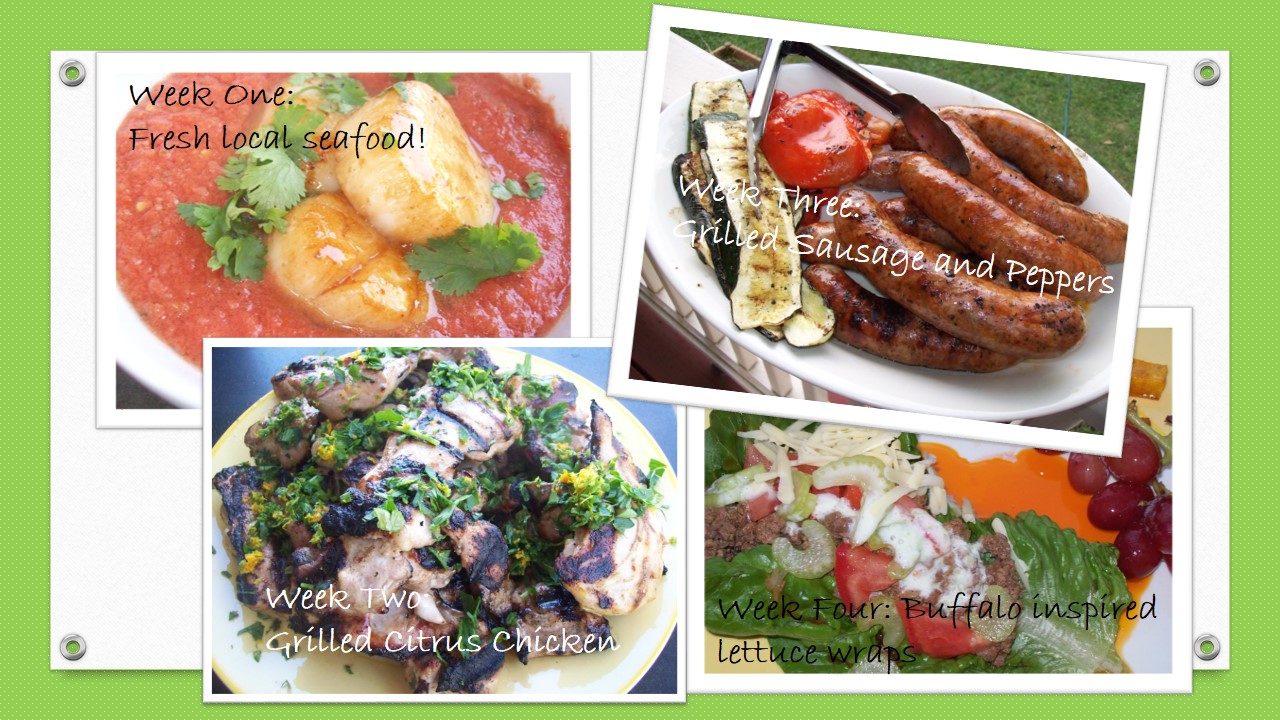 WEEK ONE:
Saturday, 6/1: Seafood!  We're going to bring our first share up to my in-laws' house, too, and cook for them while we take advantage of their pool and air conditioning on what's supposed to be a hot day.
Sunday, 6/2: Chicken under a brick, herbed potatoes, vegetables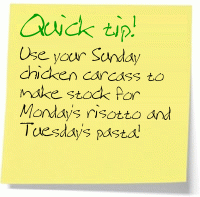 Monday, 6/3: Risotto with local greens and poached eggs
Tuesday, 6/4: Pasta poulet, salad
Make it GF: Use a wheat-free pasta such as Jovial or Tinkyada brands
Wednesday, 6/5: DIY salad night
Thursday, 6/6: Slow cooker meal before L.'s Spring Concert at school — California Chuck Roast
Friday, 6/7: Fend night
WEEK TWO:

Saturday, 6/8: Seafood
Sunday, 6/9: Local vegetable lasagna and salad
Make it GF: Use roasted eggplant planks instead of noodles for layering your lasagna
Monday, 6/10: Grilled citrus chicken, quinoa, vegetables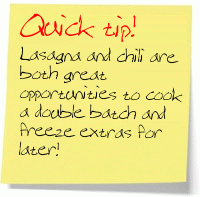 Tuesday, 6/11: Slow cooker — turkey chili
Wednesday, 6/12: DIY Pizza quesadillas
Make it GF: If you don't want to use a gluten-free tortilla or dough substitute, try making gluten-free crepes and stuffing them with your pizza toppings
Thursday, 6/13: Grilled antipasto kebabs and salad
Friday, 6/14: Fend night
WEEK THREE:

Saturday, 6/15: Pasta with roasted vegetable sauce and fresh mozzarella
Make it GF: Use a wheat-free pasta such as Jovial or Tinkyada brands
Sunday, 6/16: Father's Day!  I'm saving our seafood for tonight.  I'll get something extra-special that J. particularly likes and make a big fuss over him. 🙂
Monday, 6/17: Lamb burgers with quinoa tabbouleh
Make it GF: Serve the burgers bunless or in lettuce wraps
Tuesday, 6/18: Grilled sausage and peppers, garlic bread
Make it GF: Omit the garlic bread and serve with pan-fried polenta instead
Wednesday, 6/19: L.'s last day of school!  I'm making his favorite homemade chicken nuggets and packing a picnic dinner to eat in the park.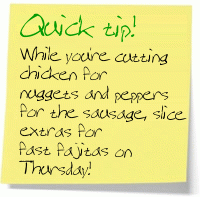 Thursday, 6/20: Fajitas — I haven't decided yet whether they'll be chicken or beef.
Make it GF: Use corn tortillas instead of flour tortillas for your fajitas
Friday, 6/21: Fend night
WEEK FOUR:

Saturday, 6/22: Seafood
Sunday, 6/23: Sunday roast chicken dinner
Monday, 6/24: Buffalo-inspired lettuce wraps, fruit
Tuesday, 6/25: Sesame noodles with shredded chicken and vegetables
Wednesday, 6/26: Grilled sourdough pizzas, salad
Make it GF: Make pizza burgers instead!  Top your burgers with sauce, mozzarella, and all your favorite pizza fixings and serve without buns.
Thursday, 6/27: Chicken with spinach pesto, crispy potatoes, vegetables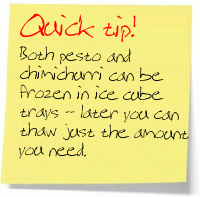 Friday, 6/28: Fend night
WEEK FIVE:
Saturday, 6/29: Seafood
Sunday, 6/30: Steak with chimichurri sauce, vegetables