I'm just going to be honest here: The more locally and seasonally you eat, the more the end of winter kind of drags.
At least, that's true for me.  Don't get me wrong – I love not buying Evil Winter Tomatoes, and I love not spending an arm and a leg on so-so out-of-season asparagus, and all of that. I love eating seasonally and I ESPECIALLY love eating locally (just ask the farmers around here).  It's just that, well, I start to really, really miss a bit of variety in my fruits and vegetables at this time of year.
February is still cold and dark and there's not much more than kale and carrots at the markets to get me through the month.  So this meal plan is my attempt to make the end of winter, and all those dark leafy winter greens and the last of the root vegetables, as interesting as possible.  I am just counting down the days until Spring.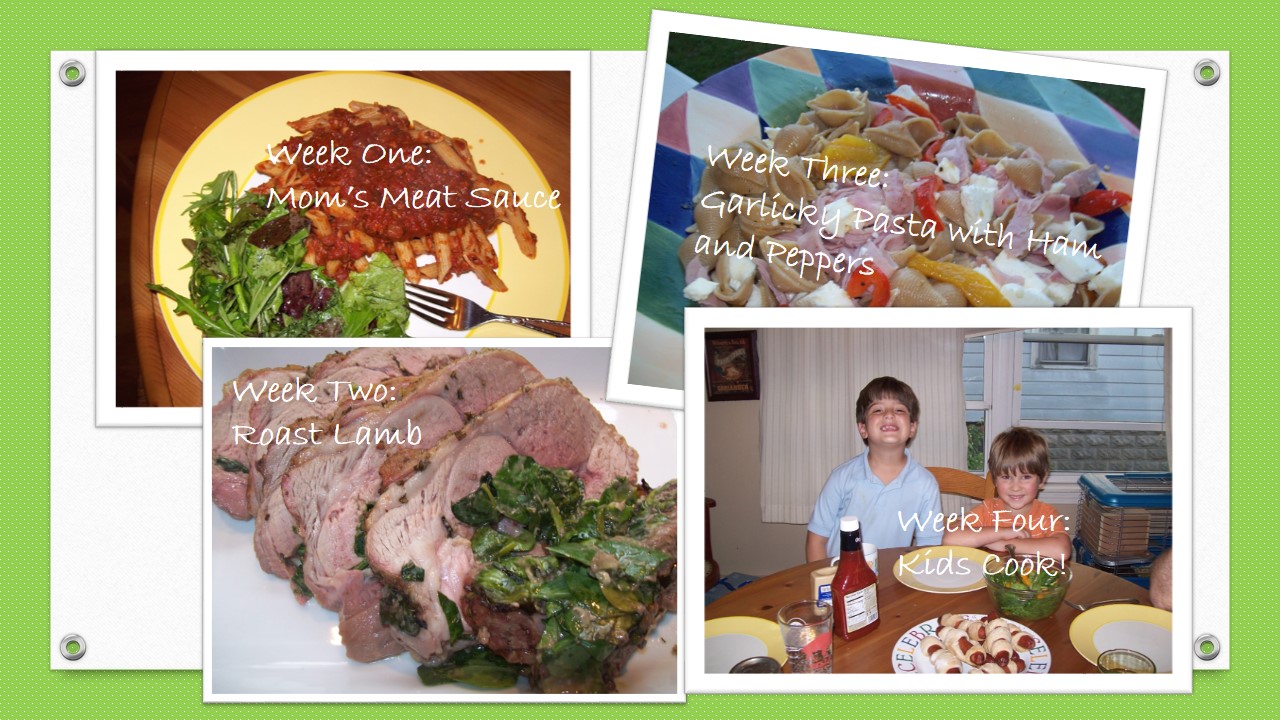 WEEK ONE
Saturday, 2/1: Homemade chicken nuggets, roasted root vegetables
Make it GF: Use the gluten-free breading substitution I suggest in the recipe
Sunday, 2/2: Super bowl Sunday! We'll do something munchy and fun, but I haven't decided what, yet!
Monday, 2/3: Miso soup and vegetable stir fry
Tuesday, 2/4: Slow cooker — Mom's meat sauce over penne, salad
Make it GF: Use brown rice or quinoa pasta (We like Jovial and Tinkyada brands)
Wednesday, 2/5: Weekend warmup — 7-layer quinoa bake
Thursday, 2/6: Local seafood from our farmer's market
Friday, 2/7: Kids cook/Fend night
WEEK TWO
Saturday, 2/8: Turkey burgers and sweet potato fries
Make it GF: Serve the burgers without the buns
Sunday, 2/9: Roast lamb and potatoes, vegetables
Monday, 2/10: Tomato-poached eggs, sourdough bread, greens
Make it GF: Omit the bread
Tuesday, 2/11: Slow cooker – Chicken chili
Wednesday, 2/12: Weekend warmup – Lamb pita pockets
Make it GF: Serve the lamb and fixings over salad or quinoa
Thursday, 2/13: Pasta with chicken and winter greens pesto
Make it GF: Use brown rice or quinoa pasta
Friday, 2/14: Valentine's Day — I think we'll have some fun with fondue!
Saturday, 2/15: Rabbit fricasee (L. is loving rabbit right now, and since it's a healthy local meat we can easily get, I'm willing to cook it now and again)
WEEK THREE
Sunday, 2/16: Sunday roast chicken dinner
Monday, 2/17: Baked potato soup and salad
Tuesday, 2/18: Slow cooker — Asian pork lettuce wraps, orange slices
Wednesday, 2/19: Weekend warmup – Chicken cheesesteaks
Make it GF: Serve over crispy roast potatoes instead of on buns
Thursday, 2/20: Garlicky pasta with ham and peppers
Make it GF: Use brown rice or quinoa pasta
Friday, 2/21: Kids cook/Fend night
WEEK FOUR
Saturday, 2/22: Goat cheese chicken over a bed of greens
Sunday, 2/23: Tagliatelle bolognese, salad
Make it GF: Use brown rice or quinoa pasta
Monday, 2/24: Veggie pita pizzas
Make it GF: If you don't want to use GF bread/pizza substitutes, you can pile the toppings on baked chicken or make pizza omelets
Tuesday, 2/25: Slow cooker — Pot roast and potatoes
Wednesday, 2/26: Weekend warmup – Ham and spinach stuffed shells
Make it GF: Ham and spinach scalloped potatoes would be equally delicious!
Thursday, 2/27: Sausage and peppers
Friday, 2/28: Kids Cook/Fend night