Every once in a while, I manage — in all the meal planning I do — to either completely mess myself up for the week, or make my life ridiculously easy.  There are weeks when it just seems as though everything is either more expensive or more laborious than it should be; and then there are weeks like this one, when suddenly, I feel like I've given myself a vacation in the kitchen.  It may be due to the double-duty food experiment, which I devised primarily to save us a bit of money this month; but it's had the unexpected benefit of just making everything, dinner-wise, a whole lot easier.
Aside from Monday night's sweet potato bisque, which took about 40 minutes from start to finish (but which, accompanied by ham and cheese melts on English muffins, was a pretty satisfying weeknight meal), everything I've made this week has required under 30 minutes of actual work from me.  That's AMAZING.  I mean, it's the goal, most weeknights, but often I feel like I either run a bit behind schedule, or I practically trip over myself trying to stay on track.  Not so these past few days; and lunches have been easy and abundant, too.
Here's how the Easiest Week Ever has played out.  I can barely believe it myself, but it's been some stroke of luck (I won't say it's got anything to do with skill):
Monday: Dinner from fridge to table in 40 minutes.  From-scratch sweet potato bisque made with homemade chicken stock; English muffin melts.  Extra sandwiches went straight into lunchboxes for the kids, while all remaining soup and sandwich fixings were packed up and served as two days' worth of lunches for me.  After dinner, another 10 minutes of effort got Mom's meat sauce all set up in the slow cooker, ready for the next day.
Tuesday: Dinner from fridge to table in 20 minutes.  All I had to do, when I got home from work and was greeted by the smell of the simmering sauce, was boil up some water for pasta and make a salad and a fruit plate.  Simple.  So simple, in fact, that I even had time to play with the kids a little after dinner, before getting out the door for rehearsal.  Leftovers got packed up for lunches, and there was enough sauce for a whole second dinner.
Wednesday: Dinner from fridge to table in less than 30 minutes (but could have been 15).  The gorgeous DIY salad platter above would have taken almost no time, but part of the point of a dinner like that is to use up all the odds and ends of vegetables that are in the fridge.  I happened to have the broccoli and beets on hand with no particular plan in mind for their use, so I chopped them up and roasted them quickly to add to the platter.  Lucky thing, too: L. chose four different vegetables for his plate, but ended up only eating the beets and broccoli.  (I know.  BEETS.  And he asked for more.  He scarfed down everything that was left on the platter!)  The leftover broccoli and a bit of the chicken were picked off the plate and put in lunchboxes, while the remainder of the salad became lunch for me and J. today.
Thursday: Dinner from fridge to table in 20 minutes.  I've been hearing a lot lately about the USDA's apparent decision to attack pizza as a major part of the American obesity problem; while I have to agree that regular consumption of take-out slices isn't the best choice, I do think there are homemade alternatives that are not so bad.  Tonight's dinner was a good example, and a crowd-pleaser: toasted whole-wheat ciabatta bread, topped with the leftover meat sauce and shredded mozzarella cheese, baked until bubbly.  We'd all had good servings of vegetables throughout the day, so I was a bit lenient tonight and offered just a big plate of fruit alongside: blood oranges, dried dates, applesauce, and banana were on offer.  (You can also see, from the picture, that I was starving: I almost forgot to take a photo for the Share Ur Meal site, so I'd already bitten into my slice.)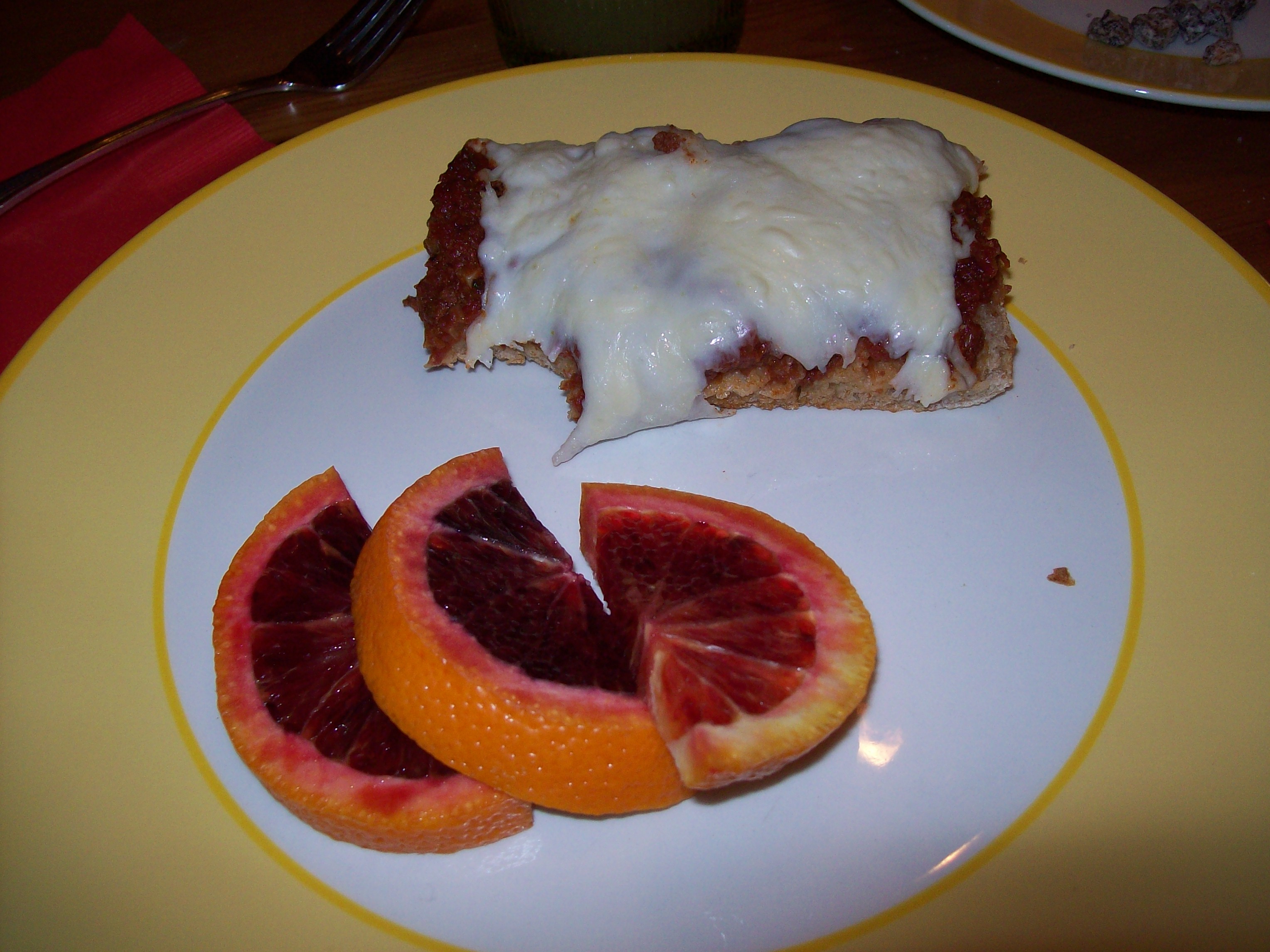 There was a ton of pizza left, too, so we'll all probably eat it tomorrow for lunch.  Which means, by my calculations, that only 2 hours of total work — some of it relatively light, at that — have yielded four days' worth of completely homemade, unprocessed lunches and dinners for the whole family.
Seriously.  Easiest dinners ever.  So easy, in fact, that I even invented a new breakfast for myself, which got shared on the Kellogg's Share Your Breakfast site this morning:
A combination of oats, fruit, and pantry items made up what I think is going to be my new official favorite morning meal (at least for the next few days, until I get bored and move onto something else).  I don't know what to call it, other than a sort of Mock Muesli, but it's a darned tasty way to enjoy oatmeal without having to cook a single thing.
Looking back on the week, it's been such a good one, food-wise.  I feel really proud of each and every item that's gone onto the family's plates this week; we've had variety, nutrition, color, and great flavors every time we've sat down to a meal.  Better yet, we've done it all for a bit less money than our average week, without compromising a single principle of ours.  When the plan works out, the plan REALLY works out.  I can only hope the rest of the month keeps going this way.