Note: This post is part of the #FoodDay #DinnerParty event hosted by yours truly, as well as Bettina Siegel of The Lunch Tray, Grace Freedman of EatDinner.org, and Jeanne Fratello of The Jolly Tomato.  To catch up on what this virtual progressive dinner party is all about, check out my last post. 

Welcome to my place!  Sorry about the crumbs on the rug; I've been busy enjoying appetizers over at The Lunch Tray, and I haven't had a chance to run the vacuum.
If you're willing to overlook my housekeeping foibles, however, I've got a couple of great entrees cooked up to follow Bettina's gorgeous salad with Bosc pears and roasted vegetable soup.  I couldn't decide whether or not I wanted to go totally meat-free with tonight's recipes, but I've never been one to leave the vegetarians out in the cold, picking at their side salads while everyone else enjoys a real meal.  So I'm offering up two recipes that I think will pair perfectly with the soup and salad options, one with meat and one without.  There's something for everyone at the RRG house!
The meat-based dish is something I designed just today, inspired by the opening course to this progressive dinner party.  It's partly in homage to my sister, D., and partly the product of me looking forward, already, to the upcoming holiday season.  D. is a great lover of lamb (probably owing in no small part to the large amounts of time she's spent inGreece).  I've developed a taste for it as well, over the years, and since this whole progressive dinner party is about cooking things from scratch with responsibly sourced ingredients, I was happy to recall that it's easy to get gorgeous lamb here in RI — we've got a great farm in Jamestown that supplies one of the farmer's markets I like to visit.  While I'd usually do something like an impressive leg of lamb for a dinner party, I like the neatness and easiness of working with chops – plus, the speed with which a lamb chop dish can be put together means you could actually serve this meal on a weeknight if you were feeling slightly fancy.  The flavors and colors of these Cranberry-Brined Lamb Chops with Braised Kale are pure holiday to me; reds, greens, sweetness and tartness from cranberry and earthy pine notes from fresh rosemary, plus a little salty and sour here and there just to keep things interesting.
 The entire trick to this dinner is the brine.  Over the weekend, my folks were in town, and we decided to scrap the planned roast beef dinner in favor of a center-cut pork roast.  My mom has dabbled in brining poultry before, so I thought it was the perfect opportunity to whip up some cider brine for the pork and introduce her to the pleasures of brining things other than the Thanksgiving turkey.  Our conclusion, over the remnants of the meal, was that "Brining is the right answer to pretty much everything."  Fresh off that experience (and the culinary high I get from the awesomeness of brine), I couldn't think of anything more suitable than a foray into BRINED LAMB CHOPS.  I know some people say that red meats don't benefit from brining, but as far as I'm concerned, a brine is really just a glorified marinade – and who doesn't love a marinated lamb chop?  (Apologies, again, to any vegetarians.  Of course.) 
In this case, because we're talking about red meat (and small, quick-cooking red meat to boot), I don't recommend brining for an extended period of time.  Just a couple of hours will be enough to moisten, flavor, and season the meat.  Any more than that, and you might risk the acid from the cranberry juice actually breaking down the lamb and turning it mushy.  Which would be a shame, really, because these chops are AMAZING.  Subtly flavored, tender, juicy, and perfectly seasoned; J. and I couldn't help gnawing a little at the bones when I tested this recipe. 
The second entrée option tonight is slightly less fancy-schmancy, but it's elegant in its own right AND completely delicious.  We love this pasta for a weeknight supper, but it's unusual enough and special enough that you could easily serve it to company.  A co-worker initially presented me with a recipe for Spaghetti with Beets which he'd found in a newspaper or magazine somewhere; I've tinkered with it over time and made it more pleasing to my family's palates and to my general pantry stash.  The result is my Whole-Wheat Pasta with Beets and Goat Cheese, which is particularly beautiful for the fall or for holiday tables because the beets stain the pasta a gorgeous, almost magenta-pink color.  (I served it for Valentine's Day in my household last year, and L. nicknamed it Valentine Heart Noodles because of its vivid hue.)  If you'd like to add a crunchy element to it, you could sprinkle chopped walnuts, hazelnuts, or even pecans over the top before serving, but we like it just the way it is.
I hope you 're enjoying our virtual dinner party!  Of course, a party wouldn't be much fun without conversation, so leave a comment on this post – either sharing your favorite dinner party/holiday entrée, or just saying hello – to be entered to win a copy of Food, Inc. on DVD.  I'll be using a random number generator to choose the winner on Wednesday afternoon, so you have until 12 p.m. Eastern Time on Wednesday to comment if you'd like your own copy of Food, Inc.  Now, I don't know about the rest of you, but I can't wait to see what Grace Freedman of Eatdinner.org has to offer us for side dishes.  Make sure to check out her site for the next course, and to head over to the Jolly Tomato on Thursday for a delicious dessert to finish our party in style!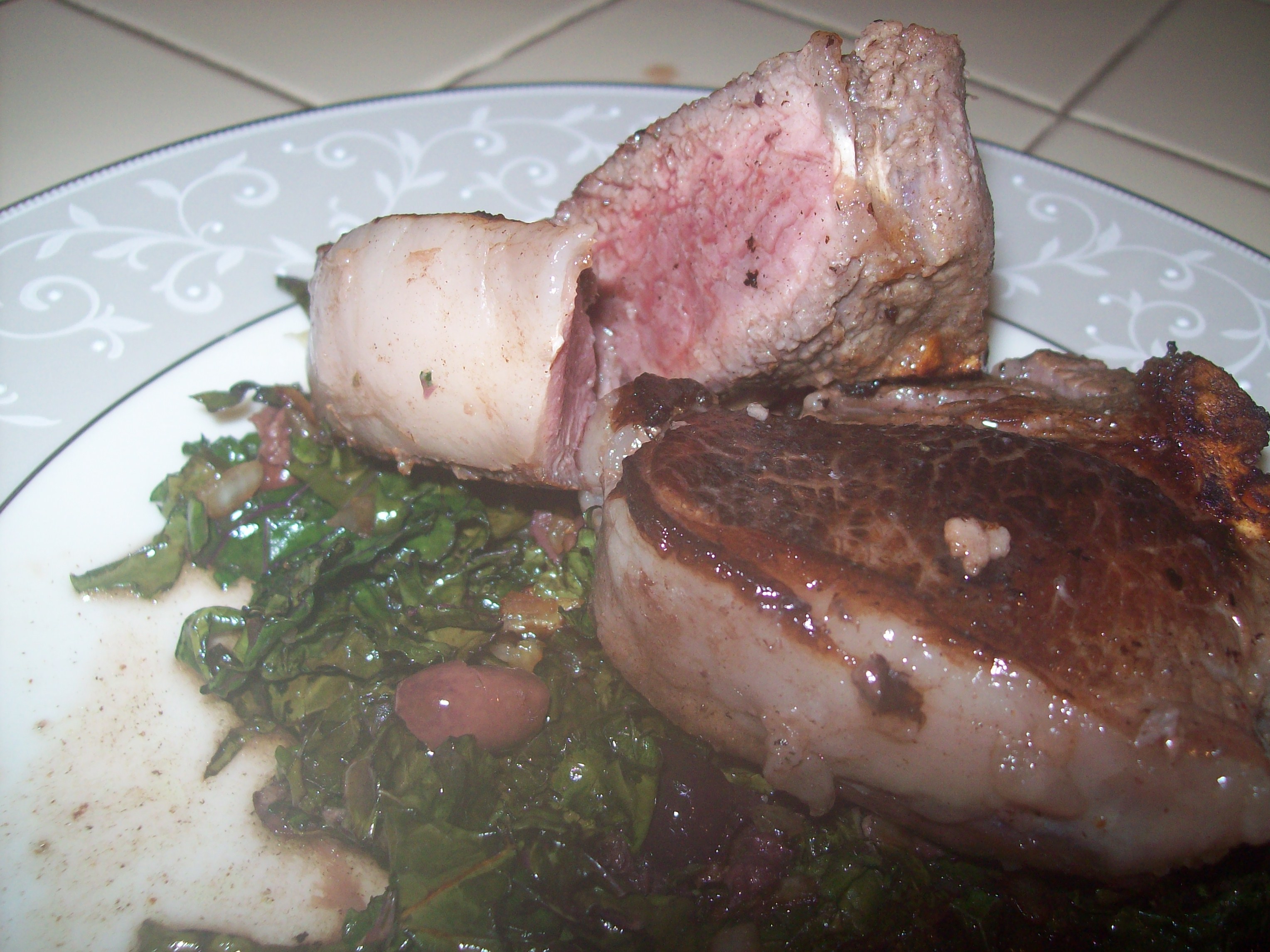 Cranberry-Brined Lamb Chops with Braised Kale
12-18 lamb loin chops (depending on the size of your chops and the appetites of your guests, you'll want 2-3 chops per adult)
6 tablespoons olive oil, divided
For the brine:
6 cups water, divided
3 cups cranberry juice – NOT cranberry juice cocktail, but something that's 100% juice.  (You may be hard-pressed to find one that contains ONLY cranberry juice; in that case, look for a juice product that has no added sugar and has as few varieties of fruit juice in it as possible.  The one we chose for this was labeled 100% Cranberry Juice, but its label revealed that it contained cranberry AND grape juices.)
¾ cup kosher salt
4 cloves garlic, minced
3 sprigs fresh rosemary
2 tsp. peppercorns, crushed
2 tsp. ground mustard
For the kale:
1 cup diced yellow onion
6 cups tender-leaf kale, washed, stemmed, and sliced thinly
2 tablespoons red wine vinegar
Salt and pepper
½ cup pitted, chopped nicoise olives (you could also use kalamata if you'd prefer)
For the pan sauce:
2 tablespoons honey
4 tsp. Dijon mustard
1 cup cranberry juice
In a large pot over high heat, combine 3 cups of water, 3 cups cranberry juice, kosher salt, garlic, rosemary, peppercorns, and ground mustard.  Bring to a boil; stir to dissolve salt.  Simmer for 5 minutes.  Remove from the heat, add the remaining 3 cups of cold water to cool the brine, and allow to cool completely.  (You may use ice rather than cold water if you're in a hurry.)  Reserve 1/4 cup of the brine for later use.  Submerge the lamb chops in the brine and refrigerate for 2-4 hours.
Remove the lamb chops from the brine and pat dry thoroughly.  Warm 2 tablespoons of olive oil in a large skillet over medium-high heat until very hot but not smoking.  Place 6 lamb chops in the skillet, being careful not to overcrowd the pan.  Allow the chops to cook until they've developed a deep golden crust, about 3-4 minutes; turn them and repeat on the second side.  Remove the chops from the pan, add more oil as necessary, and repeat the process with the remaining lamb chops, removing them to a plate as well.
Carefully pour off any excess fat from the pan until just a tablespoon remains.  Add the reserved 1/4 cup of brine and the cup of cranberry juice to the pan.  Use a wooden spoon to scrape any browned bits off the bottom of the skillet.  Add the honey and Dijon mustard; whisk vigorously to dissolve.  Bring the liquid to a boil, then reduce the heat to a simmer.  Add the lamb chops back into the pan and let them cook for 4 additional minutes in the sauce.  (Note: This method will yield very medium-rare chops; if you like yours done a bit more, you'll want to add an extra minute or two of cooking time.)
While the lamb is browning, heat a second skillet over medium heat and add 2 tablespoons of olive oil and the chopped onion.  Saute the onion until softened and translucent, about 5 minutes.  Add the kale, season with salt and pepper, and toss to coat with the oil.  Add the red wine vinegar to the pan, cover, and wilt the kale, shaking the pan and stirring occasionally, until bright green and very tender (about 4 minutes).  Transfer the kale to a bowl and toss with the chopped nicoise olives. 
To serve, make a bed of the kale and olive mixture either on individual plates or on a large platter; top with the lamb chops, and pour the sauce over the top.
Whole-Wheat Pasta with Beets and Goat Cheese
1 lb. whole-wheat linguine or spaghetti
3 tablespoons olive oil
1 medium sweet onion, diced
4 cloves garlic, minced
4 large beets, grated
1/3 cup white wine
8 oz. goat cheese
¼ cup fresh parsley, chopped
Juice of ½ a lemon
Salt and pepper
Cook the pasta according to package directions; reserve 1 cup of the starchy cooking liquid before draining.  In a large skillet over medium heat, sauté the onion and garlic in the olive oil until softened, about 3-5 minutes.  Add the beets, season with salt and pepper, and cook, stirring occasionally, for 5-7 minutes, just until the beets are somewhat tender.  Add the white wine and cook for an additional 3-4 minutes, until the liquid is mostly evaporated.  Toss the beet mixture with the pasta, add the goat cheese, and slowly add the reserved pasta liquid – a ¼ cup at a time – until the goat cheese begins to melt and the pasta is moist but not drenched.  Add the parsley and lemon juice, season one last time with salt and pepper, and toss to distribute everything evenly.  Serve immediately.