I'm quietly freaking out.   Except…now that I'm writing about it on a public blog, I guess it's not so much "quiet" anymore, right?  So now I'm PUBLICLY and NOISILY freaking out.
It's all good stuff that's making me this way.  But I'm looking at the calendar and realizing that I am just absolutely booked SOLID for the foreseeable future.  And since I'm the type of person who almost never acknowledges, for real, just how busy I am…you can imagine how bad things must be for me to be using the term "booked solid."  "Calendar stuffed fuller than a Thanskgiving turkey" is probably a more accurate way to describe the next few weeks of my life.  I'm blessed to be singing in a concert with my choral group (nine seasons and still going strong!).  I'm blessed to be preparing for the Family Dinner Conference, at which I will be — unbelievably! — presenting in just a few weeks.  And I'm blessed to have been invited to be a part of a fantastic event, Listen To Your Mother, which starts rehearsals this week and will be taking place in early May.  Plus there's, you know.  The full-time day job.  The kids.  J.  The house, the guinea pig, the laundry, and somewhere in there, I'm sure one day we'll find my sanity.
I'm not complaining, because REALLY?  How amazing is it to be able to have all of this?  What I am is…yup.  Just busy.  And the meal plan reflects that.  You'll see lots of make-aheads, lots of juggling, and some nights where I'm not even going to be around at all.  But this is the whole point, people.  The whole point of RRG in the first place was to prove to everyone that it IS possible, really and truly, to cook real food and take care of yourself and your family even when life is borderline insane.  So consider this meal plan living proof that "busy" does not have to equal "take-out."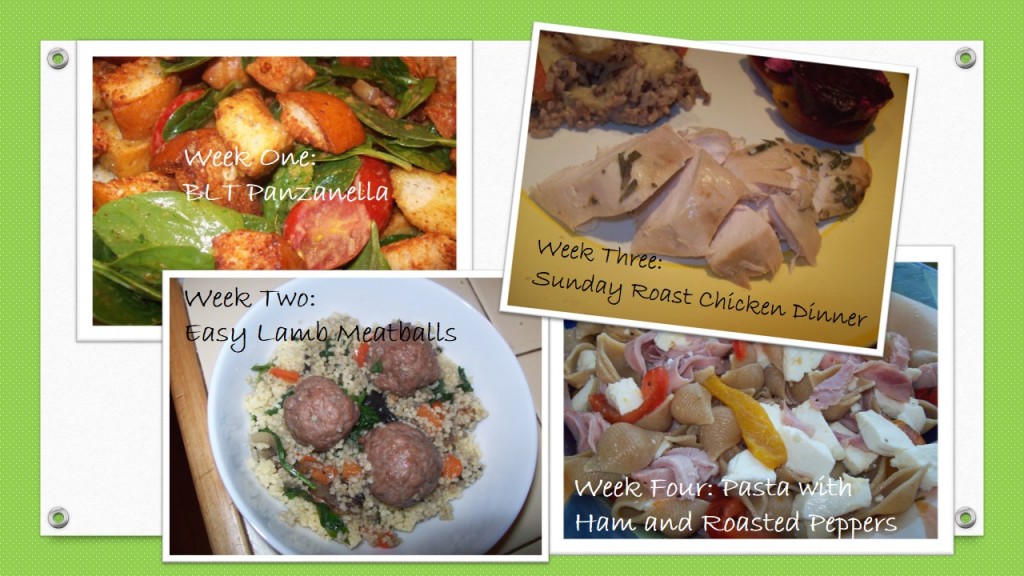 WEEK ONE:
Monday, 4/1: Tyler Florence's Spaghetti with pancetta and peas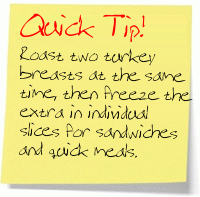 Make it GF: Use brown rice, kamut, or quinoa pasta – we prefer Jovial and Tinkyada brands
Tuesday, 4/2: Slow cooker – honey-mustard chicken thighs, roasted potatoes, and broccoli
Wednesday, 4/3: Weekend Warmup – Roast boneless turkey breast, sourdough dinner rolls, and salad
Make it GF: Don't bother with the dinner rolls; substitute either leftover potatoes from Tuesday night, or a quick-cooking grain like quinoa.
Thursday, 4/4: Another weekend warmup – Mom's old-school goulash
Make it GF: We always use Tinkyada brown rice pasta shells for our goulash, and they're perfect.
Friday, 4/5: Fend night
Saturday, 4/6: Easy make-ahead dinner – BLT Panzanella, using leftover sourdough from the week
Make it GF: I think you can make a great cornbread panzanella.  Just make any cornbread recipe you like, substituting masa harina for any wheat flour called for in the recipe, and cut it into cubes and toast before making the panzanella.
Sunday, 4/7: Another easy make-ahead – Homemade chicken nuggets, with salad and fruit
Make it GF: My favorite GF breading mixture is 50% ground up puffed brown rice cereal and 50% ground up popcorn.  You can also use pure oat flour in place of the popcorn, or ground almonds, pecans, or pistachios.
WEEK TWO:
Monday, 4/8: Farfalle with creamy wild mushroom sauce, asparagus
Make it GF: Use brown rice, kamut, or quinoa pasta – we prefer Jovial and Tinkyada brands
Tuesday, 4/9: Slow cooker – sloppy joes, sweet potato fries, salad
Make it GF: There's no law that says sloppy joes have to be on buns.  We have in the past served the filling over baked sweet potatoes, and it's delicious.
Wednesday, 4/10: Weekend Warmup – Chicken nugget Parmigiana, using the leftover nuggets from Sunday.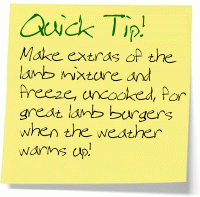 Thursday, 4/11: Easy Lamb meatballs, quinoa, roasted vegetables
Friday, 4/12: Fend night
Saturday, 4/13: Dinner out with friends!
Sunday, 4/14: Sunday Roast Chicken dinner
WEEK THREE:
Monday, 4/15: Grilled steaks, salad, and broccoli
Tuesday, 4/16: Slow cooker – Moroccan spiced chicken thighs over quinoa
Wednesday, 4/17 – Friday 4/19: I'll be in New York City for the Family Dinner Conference!  J. and my parents will be in charge of dinner back home.  (Yes, I'm aware that's very slightly ironic.)
Saturday, 4/20: Chicken piccata with artichokes and spinach
Sunday, 4/21: Porchetta, potatoes and vegetables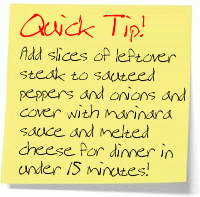 WEEK FOUR:
Monday, 4/22: Pasta with ham and roasted peppers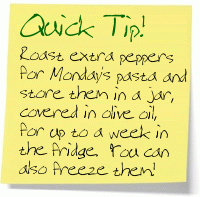 Make it GF: Use brown rice, kamut, or quinoa pasta – we prefer Jovial and Tinkyada brands
Tuesday, 4/23: Slow cooker – "Midwest" chicken and lentil soup, cornbread
Wednesday, 4/24: Weekend Warmup – Sourdough English Muffin pizzas, salad
Make it GF: If you don't like any gluten-free pizza dough recipes or alternatives (I don't blame you if you don't), then I'd recommend doing "pizza burgers" – always a hit in our house.  We simply melt the sauce and cheese over beef or turkey burger patties in a skillet and serve those instead of pizza.
Thursday, 4/25: Mom's fish dish, rice, asparagus
Friday, 4/26: Fend night
Saturday, 4/27: Herbed turkey burgers, broccoli salad
Sunday, 4/28: Provencal chicken, cous cous
Make it GF: Substitute quinoa for the cous cous
Monday, 4/29: Spinach ravioli with creamy tomato sauce, salad
Make it GF: Gnocchi would be a good alternative to pasta, and you could make them gluten-free by substituting an alternative flour for any wheat flour used to bind the dough.
Tuesday, 4/30: Slow cooker – Apple-barbecue Pork Shoulder tacos